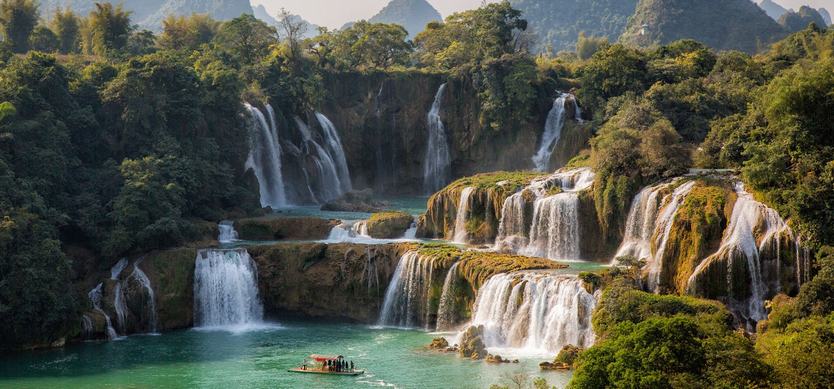 Ban Gioc Waterfall Vietnam is considered the largest and most beautiful natural waterfall in Southeast Asia. Coming here, you will be not only admired the majestic beauty of the waterfall but also immersed in the fresh air and stunning landscape. If you are planning to take a Vietnam combo tour, particularly Ban Gioc Waterfall tour, hopefully, our travel guides below will help you have an easy and convenient trip.
Overview
Ban Gioc Waterfall is known as the fourth largest transnational waterfall in the world, between Vietnam and China. It is divided into two parts: main waterfall and subordinate waterfall; of which the subordinate and a half of the main waterfall are located in Cao Bang, Vietnam. The waterfall not only is a famous tourist attraction but also has enormous hydropower potential.
When is the best time to travel Ban Gioc?
Ban Gioc's weather is divided into two distinct seasons: rainy and dry season. The rainy season runs from June to September; at this time, the waterfall is the most powerful, massively pouring down.
In the dry season (from October to May), meanwhile, Ban Gioc is quite peaceful; green water with golden rice fields at the foot of the waterfall creates an extraordinarily wonderful and impressive scenery.
Each season has its beauty so travelers can visit this waterfall at any time of the year. However, according to the experience of many backpackers, the best time to visit the Northwest is in August. The weather at this time is cool and pleasant, so besides admiring the majestic beauty of the waterfall, tourists also can take part in many exciting activities such as mountain climbing, exploring caves.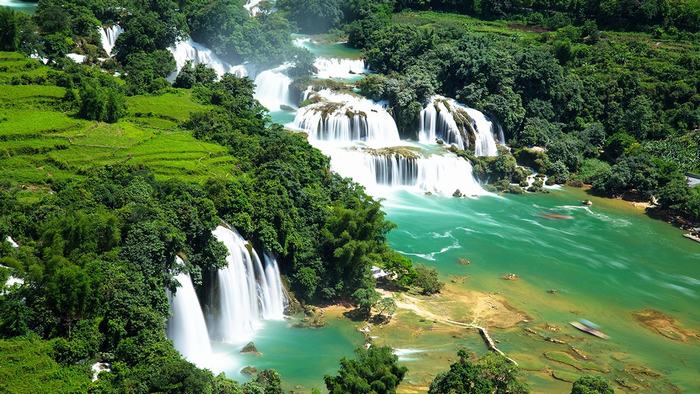 The magnificent beauty of Ban Gioc Waterfall
How to reach Ban Gioc Waterfall
From Hanoi, if you are a backpacker and want to go to Ban Gioc by motorbike, there are three routes to choose from:
National Route 1: Hanoi – That Khe – Trung Khanh – Ban Gioc (total of about 340km)
National Route 3 and 1B: Hanoi – Thai Nguyen – That Khe – Trung Khanh – Ban Gioc.
National Route 3: Hanoi – Thai Nguyen – Bac Kan – Cao Bang – Trung Khanh – Ban Gioc.
In case you travel by car, you go to My Dinh station to catch the coach going to Cao Bang City, then continue to pick up the vehicle to Trung Khanh and take a taxi or "xe om" to reach Ban Gioc Waterfall.
Where to stay
According to our experiences, you should spend at least three days sightseeing and discovering Ban Gioc Waterfall and nearby attractions. Trung Khanh town offers many hotels and guesthouses to stay so you should stop at Trung Khanh to book the hotel and leave your luggage before starting to visit the waterfall. Only about 20km from Trung Khanh, you can reach the waterfall by your motorbike. Otherwise, you can ask the hotel's receptionist to hire, the rental price ranges from 120,000 – 150,000 VND/day. Some recommended hotels, hostels for you:
Hoan Le Hostel (Tel: 0206.826221/0915425531)
Thien Tai Hostel (Tel: 0206.3826537)
Dinh Van Hotel (Tel: 0206.3602789)
Duc Trung Hotel (Tel: 0206.3853424)
Anh Duong Hotel (Tel: 0206.3858467)
Bang Giang Hotel (Tel: 0206.3853431)
Hoang Anh Hotel (Tel: 0206.3858969)
Hoang Gia Hotel (Tel: 0206.3858168)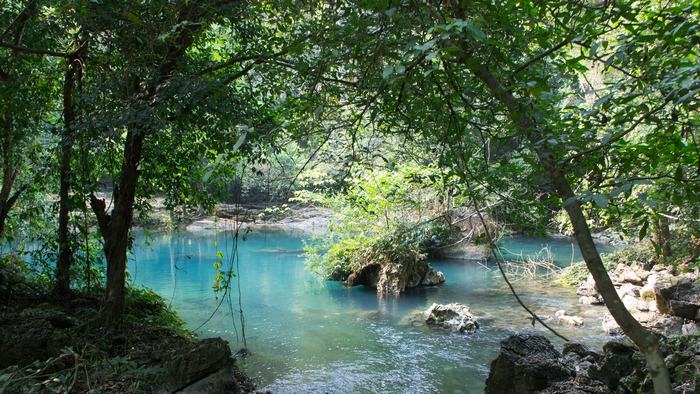 Lenin Lake
What to see
Ban Gioc Waterfall, of course, is the leading destination that you cannot miss. After enjoying fresh air, discovering the beauty of the waterfall and Nguom Ngao Cave at the fall's foot, you also should spend time visiting other well-known tourist destinations in Cao Bang such as Lenin Stream, Pac Bo Cave, Cac Mac Mountain, Thang Hen Lake, the grave of hero Kim Dong.
Suggested itinerary for four days three nights in Ban Gioc:
Day 1: Hanoi – Ba Be. Overnight in Ba Be.
Day 2: Ba Be – Ban Gioc Waterfall - Nguom Ngao Cave. Overnight in Trung Khanh.
Day 3: Lenin Stream – Pac Bo Cave – Cac Mac Mountain – Thang Hen Lake – the grave of hero Kim Dong. Overnight in Cao Bang.
Day 4: Cao Bang – Hanoi.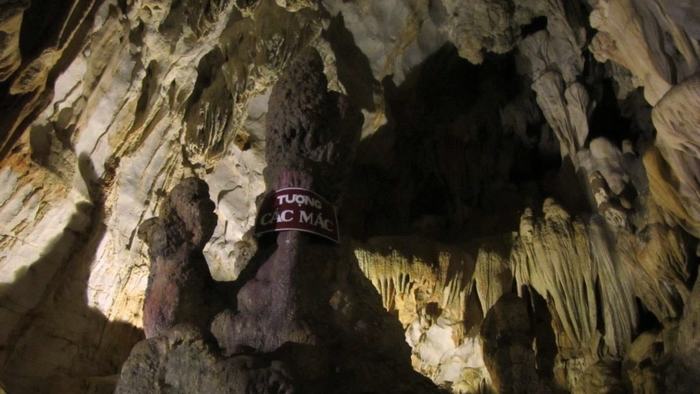 Pac Bo Cave
Must-try local specialties
It will be a big mistake if you travel somewhere without tasting its specialties. Coming to Cao Bang, the most famous dish you have to try is a roasted duck. Cao Bang roasted duck has a special flavor that you cannot find anywhere else. The duck is selected carefully, not too old, not too fat and then marinated with seven different spices, creating a fantastic dish.
Another renowned specialty of this province is Trung Khanh chestnut. Chestnuts can be boiled, roasted or stewed with pork leg, or chick. All are delicious and worth a try.
Besides Cao bang roasted duck and Trung Khanh chestnuts, there are many other tasty local foods that you should not miss like Xoi Tram (sticky rice), Khau Sli Cake, Khao Cake, Cong Phu Cake, etc.
Hopefully, some of our guides for visiting Ban Gioc waterfall Vietnam above will be helpful for you. If you concern more about the Vietnam tour package, please visit our website. Like and share if you like this post. Thank you!