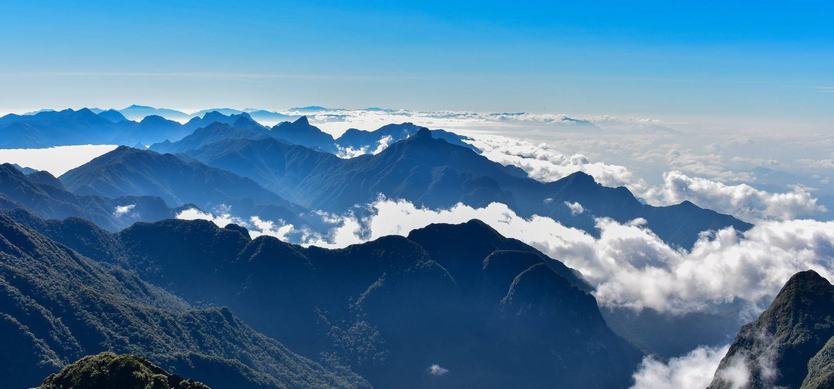 With the height of 3,143 meters, Fansipan peak is the highest mountain of Vietnam, dubbed as the roof of Indochina.
For the young who are into something adventurous, this spot is their desire to conquer once.
If you're about to come here but still do not know much about this spot, then our article below may help you.
Let's dive in.
Fansipan (locals call "Hua Xi Pan") means a huge and giant rock, belonging to the Hoang Lien Son mountain range, about 9 km southwest of Sa Pa town, bordering Lao Cai province and Lai Chau in northwestern Vietnam.
The best time to conquer Fansipan Mountain
The best time to conquer Fansipan Peak is from the end of September to the end of April, in which, the most suitable one is October and November when the weather is cool, sunny and not too cold.
However, the weather in Fansipan is also quite unusual. If you're lucky, you will see beautiful natural phenomena such as a double rainbow.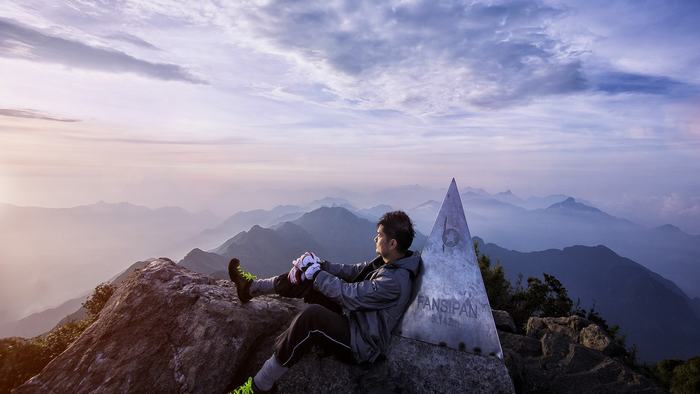 Conquer Fansipan Peak
What to prepare when conquering Fansipan Mountain
Physical health
Climbing is not an easy activity; it requires a lot of participants' health. Therefore, whether you are a person who does not work out much or practices regularly, spend about a week before climbing to train your body with simple sports activities like walking, jogging, yoga or some simple exercises for muscles. If you have time, you can also invest in fake mountain climbing or climbing in the house.
Doctors advise that people with cardiovascular disease, blood pressure, respiratory failure, or pregnancy should not climb mountains.
The days before the trip, you should eat enough nutritious and vitamin C food, drink enough water, avoid drinking beer or alcohol and, importantly, sleep 7 hours a day.
Metal health
Prepare a good spirit and comfort. If you can add close friends to climb the mountain, you will create an outstanding team spirit.
Medicine
You should prepare some types of diarrhea, flu medicine, wind medicated oil, medical alcohol, cotton, gauze bandages, Salon pass vermicelli and some high-nutrient candies such as chocolate, energy-boosting candies, hot ginseng tea, or sunscreen.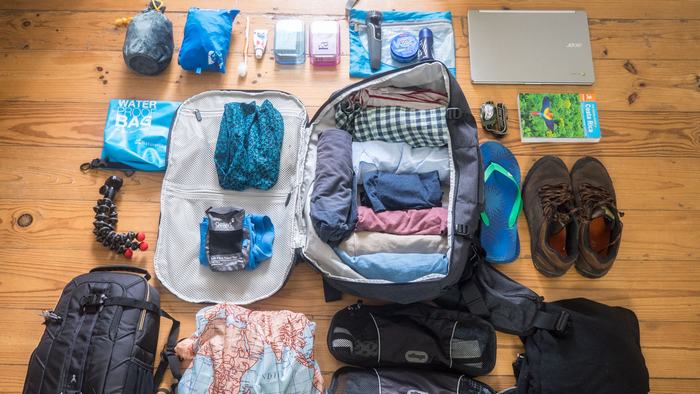 Preparation before traveling
Necessary equipment
Backpack
You should choose the proper clothes based on different ways to go to Sapa from Hanoi. The ideal ones are the soft and firm strap, a tight belt around the abdomen, and an edge bag to contain the bottle of water. The backpack should come with waterproof material. If not, there should be a waterproof backpack outside.
For ease of transportation, your backpack should contain a maximum of 5 kilograms.
Climbing shoes
You should choose specialized climbing shoes, turtlenecks (slightly higher than ankles) to keep the joints from sprains, rubber-covered spikes (better than soft plastic), good systematic ventilation and avoid water. You should also choose the shoe size that fits your foot, or larger than the average size.
Socks
Bring 3-4 pairs of sock. You should choose thick socks, turtlenecks covering the pants, both to keep warm, anti-bug, and to prevent the blistering condition of rubbing with shoes.
Gloves
Because the road to conquer Mount Fansipan is a pass road, you will also have to climb over the cliff, so a pair of gloves is essential. You should choose protective gloves with rubber spikes.
Clothes
Depending on when you go, consider bringing suitable clothes. If you go in from May to September, the weather is quite hot, preferably a T-shirt (cotton material) and a windbreaker to wear when night falls (the temperature will decrease little sometimes).
Remember that this time is the rainy season, so you need to prepare raincoats or choose to buy a set of waterproof clothes.
Climbing routes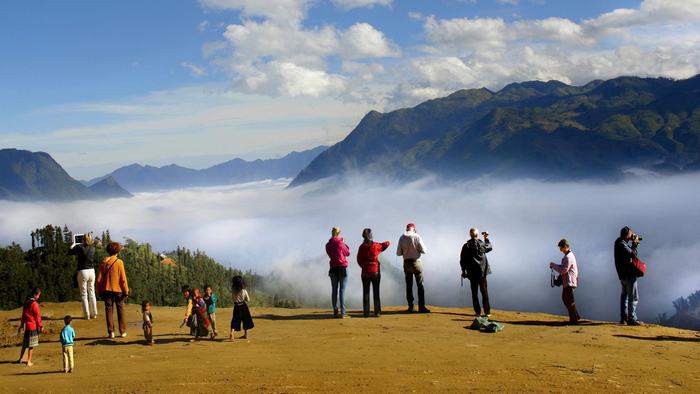 The route to conquer Fansipan Peak
There are three common routes, but depending on the season, the organizers will decide to allow which to go.
Tram Ton Route (The easiest route)
The route starts from Tram Ton at the height of 1,900 meters (takes 6 hours to reach 2200m and 4 hours to reach 2800m, and 2 hours to reach the top). This road is the most pleasant and less steep, but the scene is not too beautiful. Very compared to the above two lines.
This route will be suitable for those with limited time and an average fitness level.
Sin Chai - Tram Ton Route (The average difficulty)
The road starts from Sin Chai at an altitude of 1,260 meters, about 5 kilometers from Sapa Town Center (takes 3 hours to reach 2200m, four hours to reach 2800m and 2 hours to reach the top). This road is very steep, especially the first stage from Sin Chai village to an altitude of 2,200m. The landscape is relatively diverse, through many hilltops with golden bamboos!
This route will be suitable for those with good physical strength but limited time because compared to Cat Cat route, the conquest time is shorter than one day.
The route from Cat Cat Village (The most challenging journey)
The road comes from Cat Cat valley, about 3km from Sapa town, at an altitude of 1,245 meters, and ends at Sin Chai or Tram Ton (takes 8 hours to reach 2150m, 8 hours to reach 2680, and 2 hours to reach the top). It is the longest and steepest route. Although it is the most challenging route, it is considered the most interesting one by the most diverse landscape and terrain.
What else are you looking for? Let's take your backpack and conquer the roof of Indochina now. If you concern more about tour North East Adventure 5 days, please visit our website. Share this article with others if you find it helpful. Thank you!