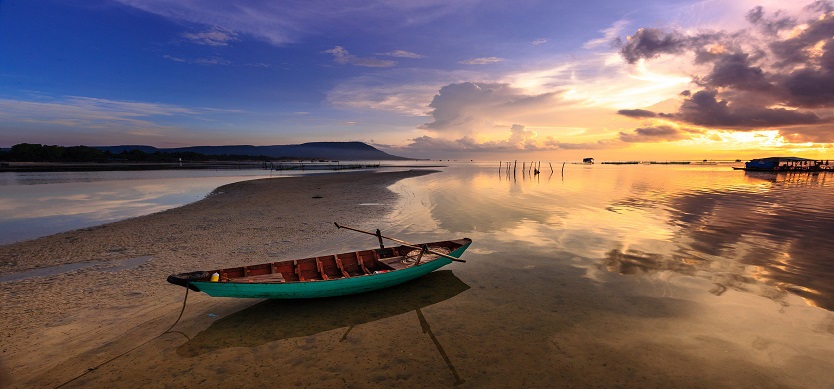 Phu Quoc island is one of the famous and attractive destinations in Vietnam, especially the summer season. Therefore, there are a lot of tourists flying to Phu Quoc each year.
But, "where to go in Phu Quoc island?" is always the best concerning of tourists when intending to visit the pretty island.
Read out the article to know the best answer for your own.
1/ North area of Phu Quoc Island
When speaking of where to go in Phu Quoc island, famous and wonderful destinations in the northern area of Phu Quoc island have to mention first.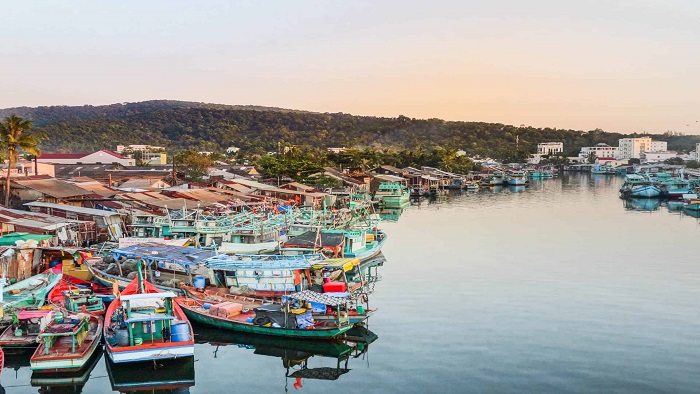 Where to go in Phu Quoc island
Northern Phu Quoc Island is a rich land with primeval forests and flora and fauna as well as countless beautiful beaches hidden behind forests. Coming to the North Island is untouched nature.
- Khu Tuong pepper garden
The famous Phu Quoc pepper has a stronger aroma than other cultivated pepper. On the way from Duong Dong to Ganh Dau looking at the two sides of the road, you will find the pepper gardens very beautiful. After visiting, you can also buy some dried pepper as a gift for relatives.
Location: The most pepper growing area is Khu Tuong, about 15km from Duong Dong town to the North
- Ganh Dau
The headland juts out to the northwestern island, attracting tourists by the most pristine and characteristic natural beauty. From here it is possible to see the border of Cambodia. An oil field with bow-shaped beach stretches 500m. This is also a place to enjoy great seafood for visitors.
Location: Ganh Dau belongs to Ganh Dau commune, Phu Quoc district. The place located about 15-20km from Duong Dong town to the North.
- Dinh Cau temple
Dinh Cau Cape is a famous landmark in Phu Quoc. In particular, watching the sunset at Dinh Cau is something that any tourist traveling to Phu Quoc should not ignore.
Location: Dinh Cau Cape is located in Duong Dong town, about 5 minutes walking from Duong Dong market.
- Thom island
Hon Thom island is located in the north of Phu Quoc. It is one of the most famous spots on a Phu Quoc island package tour. Here, you can snorkel and watch corals, see the aquaculture areas of fishermen, pearl farming area. About 10 minutes by boat from Hon Thom, you can see the famous fishing village in Phu Quoc.
Location: You will spend 30 minutes to transfer to Hon Thom island.
- Tranh spring
Tranh Spring created from many small streams, crept through the forest of ravine trees, with water from June to September every year. There are beautiful natural landscapes with grass flowers, mountains, seas and streams, which are interesting places for camping and picnics.
Location: Tranh spring is located on Ham Ninh Range, northeast of Phu Quoc Island. From Duong Dong town. You should follow Duong Dong - Ham Ninh route about 10 km to Suoi Tranh.
- Da Ba spring
Owning large and flat stones like tabletops, Phu Quoc people called Da Ban Stream. This is one of the attractions not to be missed when you visit Phu Quoc National Park.
Location: Starting from Duong Dong town, go back to the direction of North Island and follow the road with a sign showing up to Da Ban stream.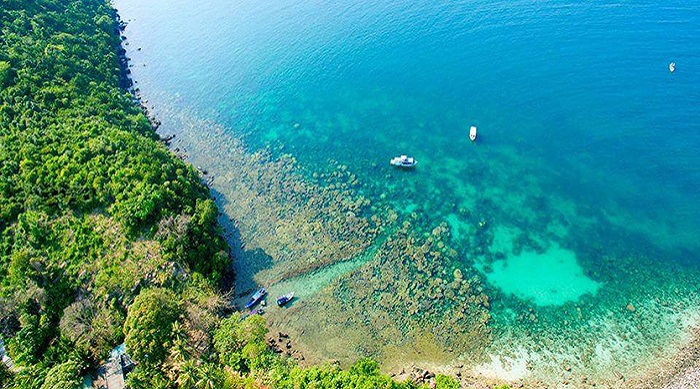 Where to go in Phu Quoc island
- Long beach
Soak up the sea and white sand of the beach voted by BBC as one of the 10 most pristine and beautiful beaches in the world, Phu Quoc Long Beach has a coastline of 1500m. Furthermore, along the beach with a sandy beach is a big blue ocean row, growing in straight lines.
Location: Ride a motorbike from Duong Dong center about 45 minutes to an hour, heading towards the resorts of Chen Sea, Chez Carole, and Mai Phuong.
2/ East and south of Phu Quoc island
East and South of Phu Quoc Island is a lowland area intermingled with secondary forest, which is a concentration of the island's population. Beautiful beaches attract people like Truong, Bai Sao, Khem, Gieng Ngu beaches that are mentioned as a special charm of Phu Quoc Island.
- Sao beach
Sao Beach is one of the most beautiful beaches in Phu Quoc. This place possesses smooth white sand like ice cream longer than 7 kilometers, the shape is curved like a moon. In high season, Sao Beach is crowded with tourists, so if you prefer to go to the beach, you should go early to rent a hammock to rest.
Location: Suited about 30km from Duong Dong town. According to experience for everyone, if you want to go to Sao beach, you should hire a taxi or go from the side of An Thoi, small road but not dusty. Furthermore, big cars sometimes run through some but still more comfortable than going dirt roads. You can also follow Beach-Bai Truong is closer but road dust is more than the inner road.
- Khem beach
Khem beach is unspoiled, white sand and smooth like powder. A minus point is a beach Khem has a lot of garbage and leaves, the feeling of the sea is not clean. In return, eating Khem Khem seafood is great. It specializes in selling grilled fish and herring salad with quite a cheap price. You can visit Cuc Man's restaurant to taste the good food and then lean back and relax in a hammock. In Bai Khem, you should also visit the pearl breeding area, very interesting
Located: Located south of Phu Quoc Island, 25 km from Duong Dong, and 5 km from An Thoi port.
Hope that after the post, tourists will find a suitable answer for "where to go to Phu Quoc island?". If you need further information, don't hesitate to let us know. Please like and share the article with others if you find it useful. Thank you.