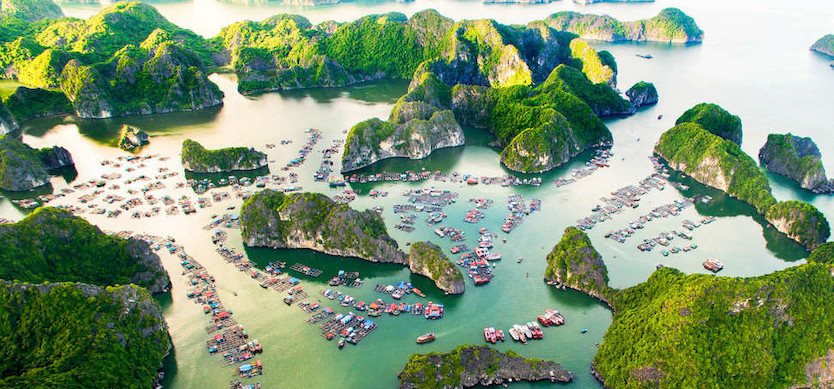 If you want to travel to Halong Bay but prefer a more quiet beach and peaceful fishing village, then Lan Ha Bay of Cat Ba island is your best bet.
However, to go to Lan Ha Bay from Halong, the way will be not as simple as traveling to Halong Bay since you will have to catch a ferry to Cat Ba island, and then rent a boat to reach the island's attractions.
Therefore, we'll provide you with our guidelines of how to visit Lan Ha Bay from Halong city as well as the details of ticket prices, the ferry time, etc. So, make sure you don't miss any necessary things in the article.
Ways to move to Lan Ha Bay
From Halong city to Cat Ba Island
From Tuan Chau harbor
Traveling from Halong city, you should move early by private means such as motorbike or car to Tuan Chau harbor to buy ferry tickets to avoid crowding and overloading. The ticket price is VND 80,000/guest.
Evenly, in Halong Bay tourist area, there is Halong Bay cruise 1 or 2 nights or a service of Halong - Cat Ba boat, which is extremely convenient (depending on your location). Hence, you can combine the journey of exploring both Halong Bay and Cat Ba island.
Note: The last ferry in Tuan Chau ends at 3.00 pm, so you should arrange to depart reasonably.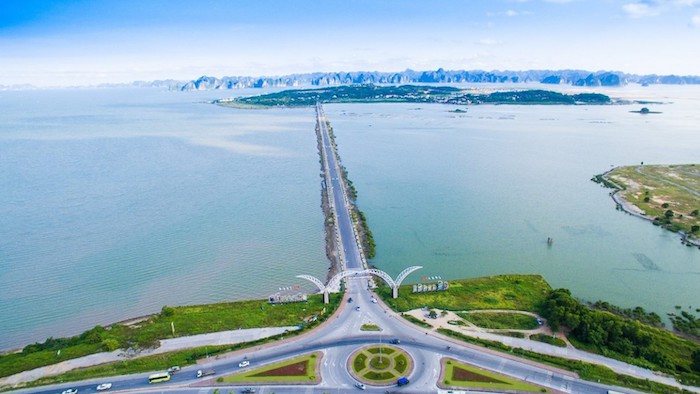 Tuan Chau harbor
From Dinh Vu wharf
You ride to Dinh Vu wharf and buy ferry tickets to Got pier of Cat Hai, and then from Cat Hai to Cat Ba. From Halong city center to Dinh Vu wharf is about 20km away.
Dinh Vu wharf operates from 6.30 am to 5.00 pm, and Got pier works from 6.00 am to 6.00 pm. Every 1 hour will have 1 trip, and the time of each journey is 2-2.5 hours.
The ferry tickets at these ports are very cheap, so you don't need to worry about the transfer cost here.
From Cat Ba Island to Lan Ha Bay
When you arrive in Cat Ba, you ask for directions or take a taxi to Beo wharf which costing about VND 30,000. Then, you buy a boat ticket to go to Lan Ha bay at VND 40,000/guest.
How to visit around Lan Ha Bay
After that, you go to your accommodation and continue to rent a boat to start traveling, discovering the places you want. If you don't know where to rent, you can ask the staff at the hotel to do it for you.
However, with Lan Ha Bay travel experience, if you go with a few people, you should hire a motorboat of the local people to be more economical and convenient. It will cost about VND 350,000-500,000/5-6 people. The bigger ships are only suitable for travel groups with a large number of people.
What to explore
Cua Van fishing village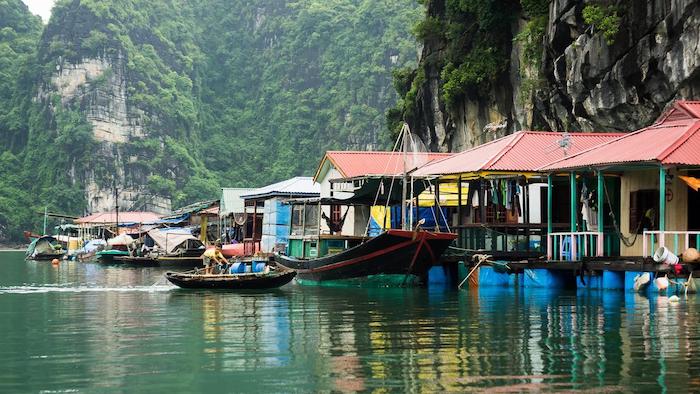 Explore the life in Cua Van village
Cua Van fishing village is an ideal destination for tourists to visit. In here, you can not only explore the natural scenery but also have the opportunity to participate in many exciting activities here such as kayaking, sailing to explore underground caves, etc.
Monkey island (Pineapple island)
Being a small island, with a circumference of about 3km, the spot is a favorite destination of many visitors. Possessing white sandy beaches stretching along the coast, this place is an ideal bathing place. Both beaches on Monkey island are fresh and cooling, drawing the attention of tourists when traveling in Cat Ba.
Luon cave
Luon cave is one of the famous sightseeing and tourist places in Lan Ha Bay. With charming natural scenery, tourists coming here can go kayaking to pass through the cave and see the surrounding landscape.
Van Boi beach
Besides the beaches of Monkey island, Lan Ha Bay is also famous for the beach of Van Boi. It is a cooling blue beach, suitable for swimming and sailing. Besides, around the beach, there are many impressive sights for visitors to explore.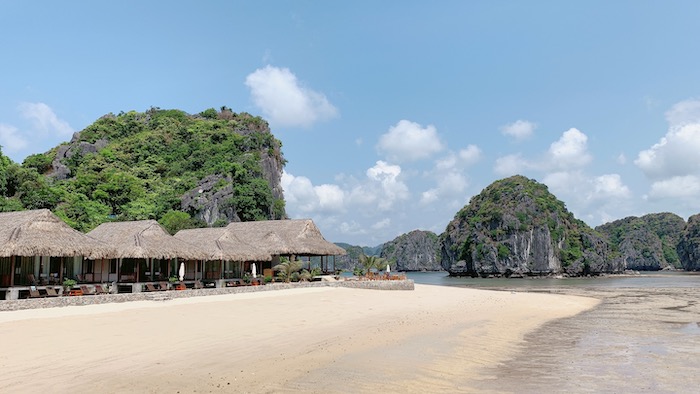 The white sand of Van Boi beach
Nam Cat island
Owning a pristine beauty, Nam Cat island has become one of the famous sightseeing places in Lan Ha Bay, leaving a lot of breathtaking impressions for tourists. When coming here, visitors will experience a lot of exciting activities such as swimming, snorkeling, and watching coral, etc.
Lan Ha Bay is a peaceful sea area with small fishing villages that live as separate from the rest of the world. If you love the beauty of the bay, don't hesitate to take a visit here with our useful guides of how to go to Lan Ha Bay from Halong. Please like and share the article with others. For further information about where is Vietnam located, don't hesitate to let us know. Thank you.