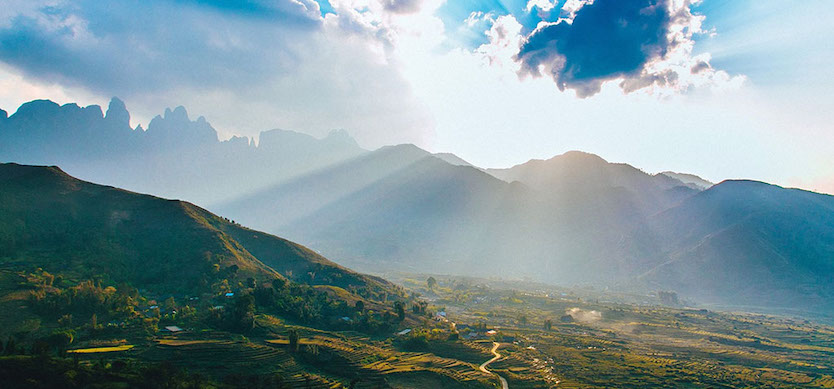 There are so many wonders when you first travel to the other country or the new land. Here are some questions travelers frequently ask when visiting Sapa Vietnam.
When is the best time to visit Sapa?
So many tourists wonder that when is the best time to go to Sapa Vietnam, and the answer to this question is from April to September. It is the best time to visit Sapa although the other seasons has its special beauties.
At this time, the temperature is varied from 15 – 25 degrees Celsius, it is sunny and less rainy in Sapa, so this is the ideal time to start the trekking routes and also the great opportunity to do trekking to conquer Mount Fansipan.
In the winter, the temperature is quite freezing, and it is better to bring the big items of clothing such as the hat, sweater, wool socks and scarf for trekking days. Also, Sapa has so much fog and drizzle during winter months. It is also the high chances to take fantastic photos.
Is there a day train to Lao Cai?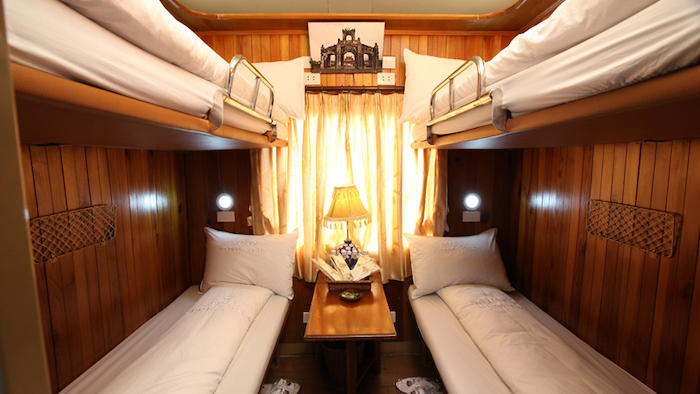 Trains to Sapa
There is only one train from Hanoi to Lao Cai but no sleeper train during the day. It only has a lot of seats and no air-conditioning. It is better to take a night train to Sapa.
There is also a night train to Sapa. However, it has a lot of seats and air-conditioning. There are four berths in each cabin, two lower and two uppers. The beds are soft, clean and come with a blanket and pillow. The beds are a bit small for Westerners.
Each cabin locks on the inside for security and has a fair amount of room for luggage storage under the beds and above the door.
If you want to change your bed, you can go to ask the travel consultants for the details.
The train is not too fast, and so it takes about 10 hours from Hanoi to Lao Cai. It is not too noisy if comparing to the other Vietnam trains. But you are still quite hard to sleep even when using headphone.
The train also serves the dining meal. But it is better to bring water, snacks, or anything else you want to eat.
Is there the local guide waiting for us at the train station in Lao Cai and how to know them?
The answer is yes, if you book tour at the travel agencies, your tour guide will wait for you outside the train station with your name board. They will lead you to the car and take you safely to Sapa. The tour guide is often the local people from the Sapa area who know clearly about Sapa. You will be received your tour guide number in advance in case you don't find out them in the Sapa train station.
What kind of shoes should we bring for trekking in Sapa?
There are many different types of trekking in Sapa, so before booking Sapa trekking tours Vietnam, you should ask our travel consultants to make sure which kind of shoes will work best.
It is a recommendation using sandals or walking shoes for the light or short trekking, but for the longer trekking trips, you have to wear appropriate shoes or sports shoes which must have solid grips for hiking. Many tourists use their expert hiking boots; however, it becomes very muddy in rainy weather. The best footwear using while raining is the local rubber boots which you can easily buy at the local market with the price around VND 60,000.
What is the homestay condition, are there the mosquito nets or sleeping bags provided in the homestay?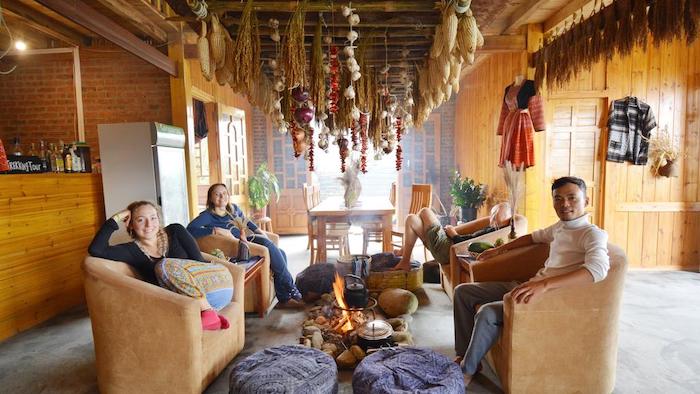 Sapa homestay
When staying in the homestay, the house owners will arrange all the necessary things for you like cushions, mattress, blankets, pillows, mosquito net, etc.
It is also recommended for those who have sensitive skin that you should bring your sleeping bags to ensure your sleep.
The house owners will serve meals for you if you order, but if you want to enjoy the local food, you can buy food in the local market. The toilet is a few steps from the homestay, there is a bucket of water for use, but you have to bring toilet paper.
Do we sleep with the local people in the same house? Do we eat with them at the homestay?
It is true that you will stay with the owner in the same house providing if you all are less than 4 people. If more than four, you will be divided into smaller groups to live in a different homestay.
According to some Sapa trekking and homestay reviews, you will soon love enjoying dinner and sleeping with the local family because they are friendly and kind.
What kind of activities are we expected to join at the homestay?
There are so many activities that tourists can join. It is fun to follow the local people going out of the field, and you have the experience of getting muddy when planting rice. Moreover, you can go trekking or have a short walk in the mountains. For others who want to rest, it is so poetic when you lay on the wood floor, read book and occasionally look out the landscape outside.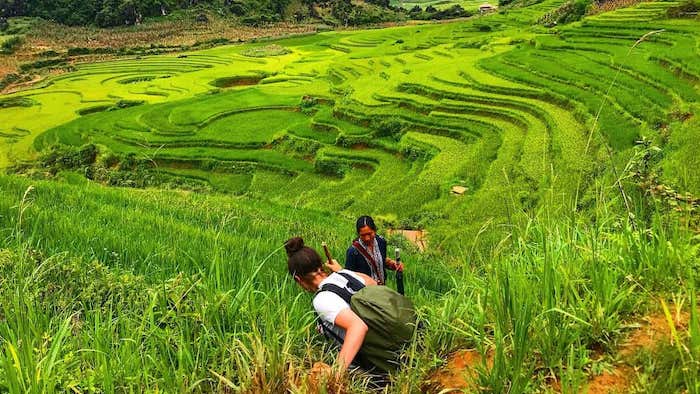 Trekking in Sapa
If you want to make more questions, please contact us. We will answer all your wonders. Hope you have a lot of amazing moments in Sapa and Vietnam. Have a nice trip!