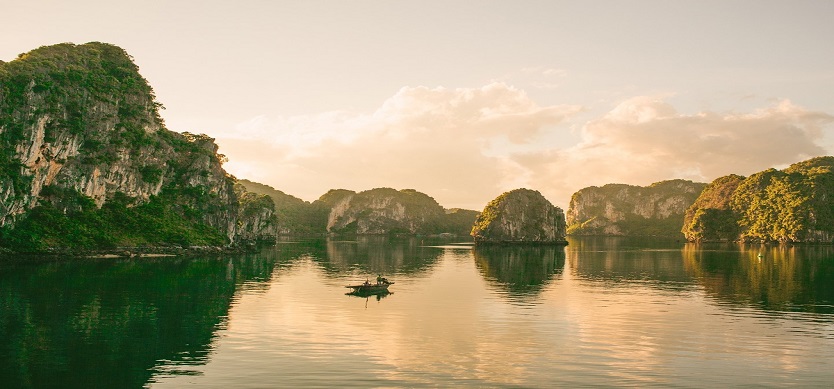 How to travel to Halong Bay? Where should you stay? Where to go and what to eat? How to travel Halong to save costs and time and still explore the most? As if it is all your questions about Halong Bay travel or not?
Today we would like to answer all inquiries about Halong Bay travel. Let's check this post below to get it clear!
Where is Halong Bay located?
Halong Bay is a small bay on the west coast of Tonkin Gulf in the Northeastern Vietnam area, including the sea zones of Halong City, Cam Pha City and a part of Van Don Island District, Quang Ninh Province.
Being the center of a large area with elements in geology, geomorphology, landscape, climate and culture, together with Bai Tu Long Bay in the Northeast and the Cat Ba Islands in the Southwest, Halong Bay covers an area of ​​about 1,553 km² including 1,969 large and small islands, most of which are limestone islands, in which the core area of ​​the Bay covers 335 km², dense with 775 islands.
The combination of environment, climate, geology, and geomorphology has made Halong Bay a cluster of biodiversity including tropical moist evergreen forest ecosystem and marine and coastal ecosystems.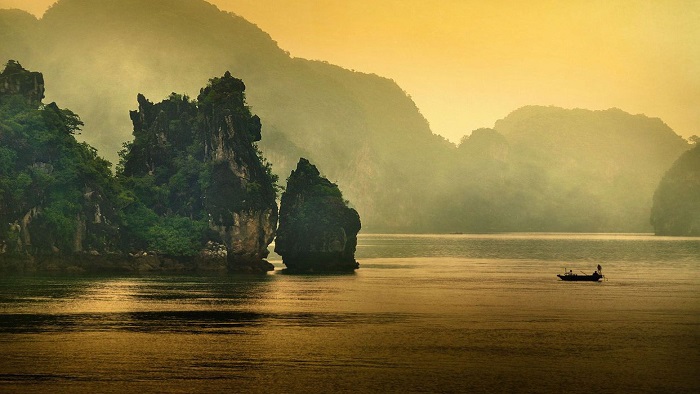 Halong Bay
When is the best time to visit Halong Bay?
Choosing the time to travel to Halong is also very important affecting directly your trip. Foreign tourists often prefer to go in winter, starting from November until the Vietnamese Lunar New Year vacation.
For domestic tourists, they often travel to Halong much in the summer, from May to July. This is also the time when Vietnamese students get a summer break, so they will go with their families.
However, objectively speaking, the most beautiful time in Halong is in the autumn, from August to October. In addition, from April to May, Halong Bay is also very beautiful with a warm and sunny climate.
If you travel to Halong in June-July, there are often typhoons pouring in the North. It rains like cats and dogs, the landscape on the bay is so gloomy.
How to travel to Halong Bay?
According to the experience of those who have traveled to Halong, you are able to travel to Halong on their own, you have to determine the most convenient means of transportation.
Halong City is 177 km from Hanoi with about 3 to 4 hours by car. Many people prefer the convenience, so they will go to travel companies with the tour with attentive service about all resort services. If you are traveling on your own, you can go to the bus station to buy a bus ticket to Halong or to take the bus always running regularly during the day.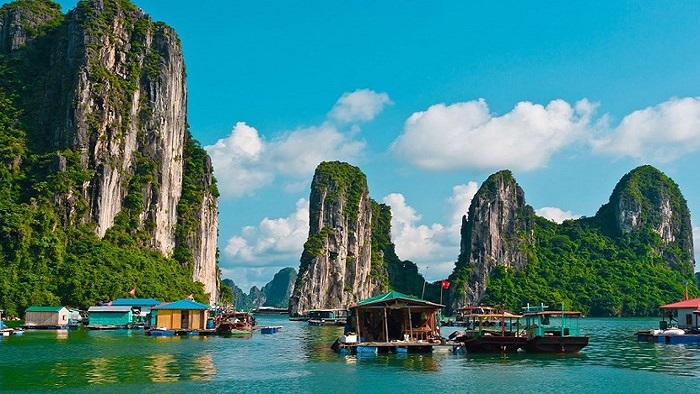 Halong Bay
Where to stay in Halong Bay?
Halong has many hotels located in the tourist area. According to the hotel booking experience in Halong, you should go at the beginning of the week or the middle of the week to avoid high room rates, because weekends are often crowded so the price will be high. To facilitate traveling and eating, guests should rent a hotel in the Bai Chay area.
What to eat in Halong Bay?
Basically, the most typical cuisine when traveling Halong is seafood dishes, besides you will also enjoy the specialties of Halong which are extremely attractive.
It has a shrimp-like shape but more legs, the mantis shrimp is a favorite dish of tourists when coming to Halong.
Sa sung (Sipunculus nudus)
A typical dish in Halong has earthworm-like shape, often dried with alcohol or cooked soup with sweet and very fragrant taste. Sa sung is quite rare, so the price is also very high, one kilogram of sa sung is charged at nearly VND 4 million.
Steamed, grilled austriella corrugata or austriella corrugata wine is very nutritious and delicious. The sea-acorn is used to cook delicious and cool soup.
To Halong, you can not help but mention the grilled squid dish, you can buy at the market to have hot and delicious grilled squid dishes.
Where to go and see in Halong?
You have a lot of things to do in Halong Bay and different choices of places such as cruising on the bay, exploring the bay, vacationing at resorts, admiring the islands and caves, visiting fishing villages. Here are suggestions of beautiful, famous sights in Halong you can refer to:
Halong Bay
Arriving in Halong Bay, you can take a Halong Bay cruise 1 or 2 nights to see the scenery. Here, there are many beautiful islands, especially the islands with different shapes. The famous attractions of Halong Bay such as Thien Cung cave, Sung Sot cave, Dau Go cave, Stone Dog islet, Cock Fighting islet, Titop island are the islands and caves with very beautiful shapes and stalactites that you should not ignore.
Tuan Chau island
Visitors can visit Tuan Chau Island when visiting Halong Bay. The beach here is very beautiful and relatively clean. You can also bring children here to watch shows of whales, crocodiles; attractive music shows; visit the port of Tuan Chau tourist ship - the largest artificial cruise ship port in Vietnam.
Bai Chay Bridge
A bridge connecting Bai Chay and Hon Gai tourist areas, the bridge has a length of 1.1km, 150m high, 25m wide with beautifully colored and impressive stay cables at night. From the top of the bridge, you can observe the entire Bai Chay and a part of Halong Bay.
Bai Chay bridge
Bai Chay Tourist Area
Coming to Halong, almost everyone wants to stay in the Bai Chay area, the place here is invested and built by many companies into a tourist area with many attractions, creating the highlight of Bai Chay in particular and of Halong in general. When you arrive here, you will be very surprised that Bai Chay changes constantly. In addition, in the Bai Chay area, there is Halong Park with many games. Hotels and restaurants are mainly concentrated in this Bai Chay area, there are thousands of motels, hotels located here attracting millions of tourists each year.
Sun World Halong Park
The leading entertainment complex in Vietnam with an area of ​​214ha, divided into 3 subdivisions are the coastal entertainment subdivision, the entertainment area of ​​Ba Deo combined with the Queen cable car, the existing game system subdivision.
Thank you for following us till the end of the post. We hope that this information will be useful navigation for you on your trip to Halong Bay. If you have any questions about the tour, don't hesitate to contact us via the Vietnam group tour.