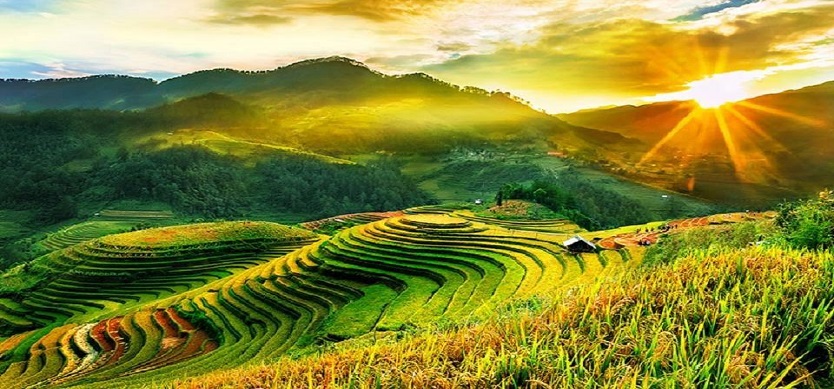 Mai Chau is a beautiful valley hiding in the heart of Hoa Binh province. It is a familiar name in the Vietnam tourism map due to the breathtaking scenery and the distinctive cultural identity of local people. Put aside the unfinished work and go away from the noisy city, you will have memorable moments in Mai Chau. Although where you are in Vietnam, there are convenient ways to get to Mai Chau.
Getting to Mai Chau from Hanoi
It is about 150 km from Hanoi in the northwest. There are so many ways for you to take Mai Chau tour from Hanoi. If you travel by motorbike or private car, you can adjust the stop along the way. Unless that, you also take the bus at My Dinh Station or Giap Bat Station, you will stop at Tong Dau junction and then you can call "xe om" (motorbike taxi) to Lac village or Pom Coong village.
If you first visit Mai Chau, you will be surprised by the landscapes along the road. You will definitely be obsessed with the beautiful majestic views running quickly when looking out the car. It is so easy to fall in love with the colors and shapes of small villages and the most beautiful rice terraces on the road. The local customs that are part of daily life here. It leaves the feeling that it looks familiar to home. All of it is fascinating.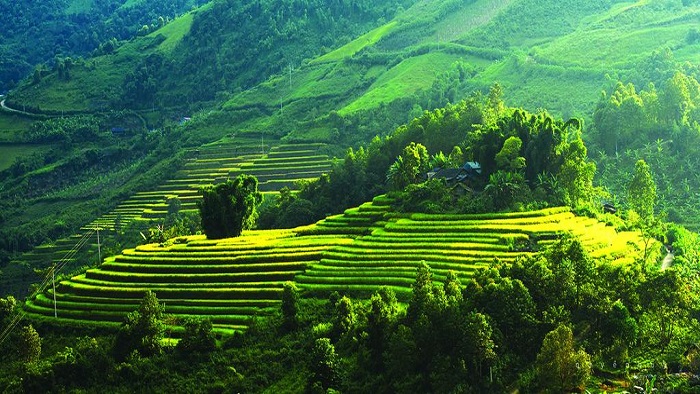 Mai Chau
How to get to Mai Chau from Ninh Binh
It takes over 4 hours driving from Ninh Binh. As Mai Chau trekking reviews, there is only one direct bus from Mai Chau to Ninh Binh, leaving at 5 am!
Besides that, there are many bus trips from Mai Chau to Tan Lac, and others from there to Ninh Binh. If you are the foreigners, it is necessary to ask someone who knows English to speak or write down useful phrases for you to show to people, including "Where is the bus for Ninh Binh?" You should search for the ticket price on the internet in advance in case that they overcharge the ticket.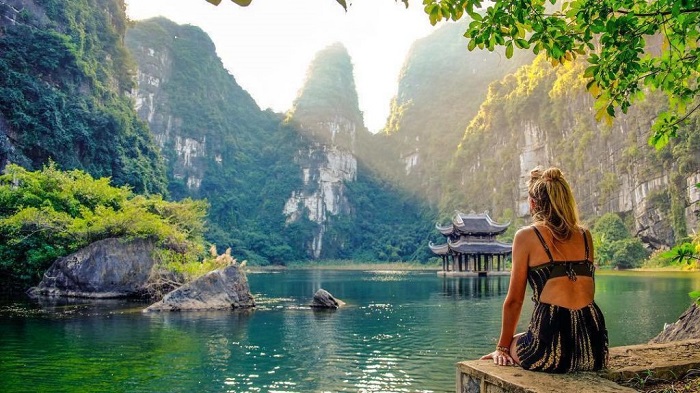 Ninh Binh
Mai Chau - Hanoi buses leave from My Dinh bus station. So, it is okay to catch a bus to Ninh Binh to Hanoi, then take a bus trip from Hanoi to Mai Chau. The journey times vary about 3.5 hours from Hanoi to Mai Chau and approximately the same from Mai Chau to Ninh Binh. Nevertheless, the buses are quite uncomfortable and inconvenient and you will be time-consuming.
Halong-Mai Chau, how to get there?
There are 2 options for you to go to Mai Chau from Halong.
The first option is catching the local bus. You can take the morning bus from Halong city to Hanoi. If you have more than 1 people you can tell the homestay owner and they can call the driver comes to pick you up.
The journey from Halong to Hanoi takes about 3.5 hours. Most of the bus stop a lot on the way to the toilet. So it is quite inconvenient if you don't have any time to linger in Vietnam. The bus will stop in Hanoi at Yen Nghia or My Dinh bus station. You can easily catch another bus from these bus stations to Mai Chau for another 3.5 hours
The second option is hiring a private car. You can contact the homestay owner or travel agent from Hanoi to book for this service. You need to book in advance if you want to be on time and at the right price. The distance from Halong to Mai Chau is about 300 km so it costs around 3 million VND in one way. To go back from Mai Chau to Ha Noi, you can catch a local bus or book for a private transfer for another 1.8 million VND.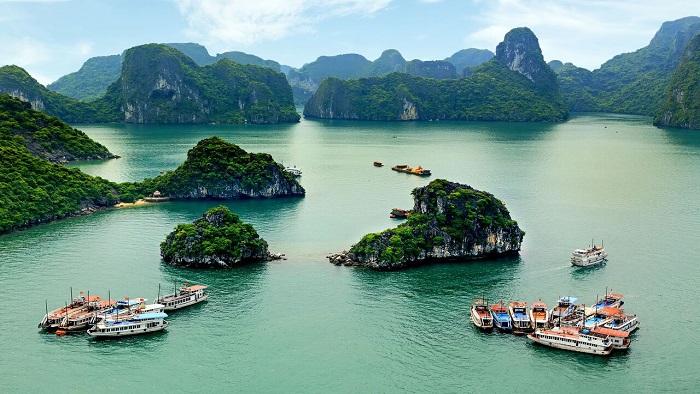 Halong Bay
How to travel from Sapa to Mai Chau
The distance between Sapa and Mai Chau is about 223 km but the road is quite dangerous and far, actually, the road distance is 384 km. It takes approximately 8 hours to get to Mai Chau from Sapa including transferring time because there is no direct bus from Sapa to Mai Chau. However, there are transportation services you can book via Ha Noi - Sinh Tourist Office to go to Mai Chau from Sapa.
The quickest way to get to Mai Chau from Sapa is driving which takes nearly 5 hours and costs $29 - $45. The cheapest way is catching a bus which costs $25 and takes 10 hours.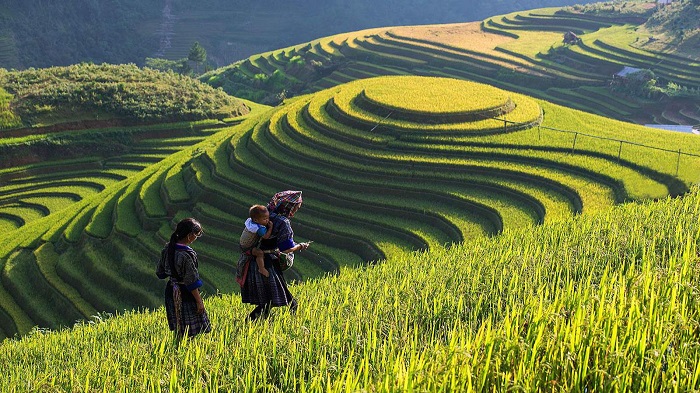 Sapa
There are so many ways to witness the beauty of Mai Chau. It is worthy for you to pack your luggage and come to Mai Chau. Visiting group travel to Vietnam to know more about Vietnam destinations or best time to visit Mai Chau if you are interested in this information. Please like and share with others to have memorable moments like you. Hope you have a wonderful trip to Vietnam. Thank you!