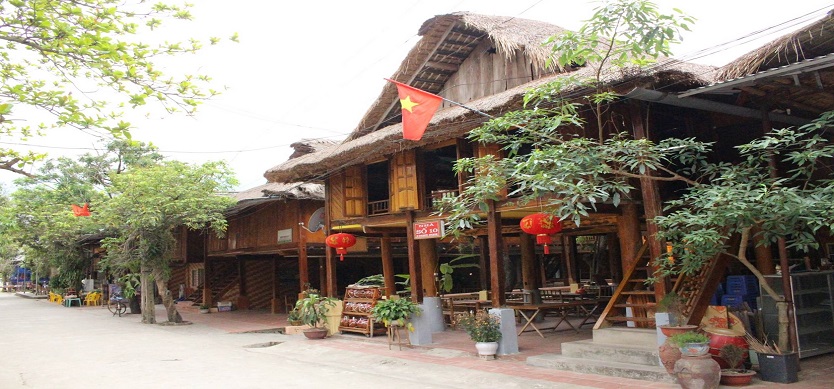 About 150 km from Hanoi, Lac village increasingly confirms its position in tourist's hearts as one of the most attractive destinations in Mai Chau. Traveling to Lac village, you will get away from the hustle of the city and let your soul be in the peaceful mountainous region. Instead of choosing the high-level hotels, you can book a homestay in Lac village to stay overnight. If you are worried about booking methods, let us show you some tips for renting a homestay on the best Mai Chau tour.
Lac village
Lac Village is the destination of Black Thai people's traditional cultures that existing through 700-year history. There are 5 clans of Thai people living here for generations: Ha, Lo, Vi, Mac, Loc.
Visiting Lac Village, tourists will have a chance to live in the traditional Thai stilt houses and enjoy the peaceful and quiet atmosphere of the village. It is also a good chance to eat the numerous local specialties, such as sticky rice cooked in bamboo cylinders, bitter bamboo shoots, famous Can wine (wine drunk out of a jar through pipes), etc.
At night, visitors immerse themselves in the Thai ethnic group's traditional culture, listening to traditional songs and dancing with the Thai boys and girls.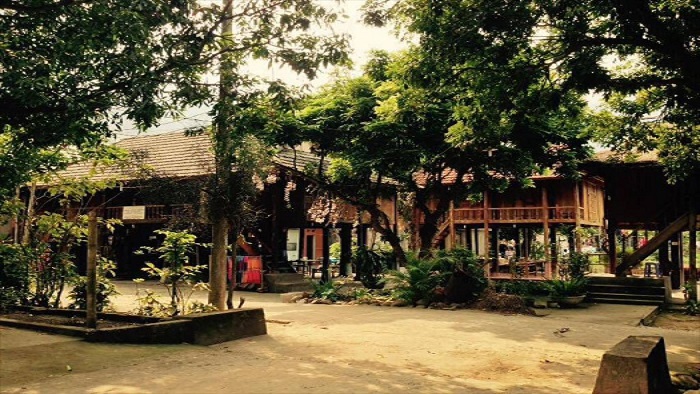 Lac village
The best tips to rent a homestay in Lac village
There are two homestay zones for tourists choosing in Mai Chau: Lac village and Pom Coong village. If you are the type of introvert people who love silence and peace, it is better to choose a homestay in Pom Coong village. Because it is more crowded and rustling in Lac village.
If you are still wondering about where you stay when traveling to Mai Chau, the simple answer is the local homestays with unique architecture, beautiful view and quiet space, this is where you should stay during your Mai Chau trip. Thai stilt house differs far from modern Vietnamese architecture. The beautiful rustic stilt houses here often built of rattan, bamboo, wood panels. It can contain 40 – 100 people in a Thai people stilt house. Although it looks quite simple outside, each house is fully equipped with pillows, cushions, fans, and a clean bathroom. Stay at the homestay, you not only can save money but also have the chance to make friends with local people as well as know more about their culture and lifestyle.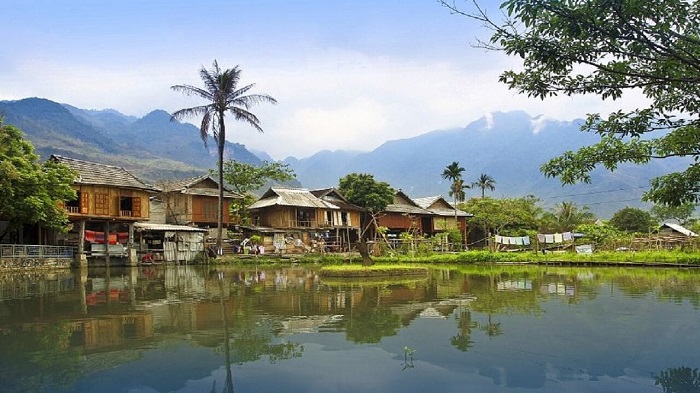 Stilt houses in Lac village
How much to rent a homestay in Lac village
You will be offered a variety of accommodation when booking a homestay in Lac village. It varies from budget to luxury which meets the needs of all travelers. The average price for a homestay is from 50,000 to 100,000/person/night. Nevertheless, it can be cheaper if you go along with a large group. In contrast, if you do not want to live with too many people, you also can rent a private room in a stilt house built for the single guest, it costs about 200,000 – 300,000 VND/person/night. In order to rent a homestay at the cheap price, you can contact directly with the house owners or book in advance at least several days before coming.
Here are some homestays in Lac village that you can consider:
Stilt House No.1 and Hung Mech Stilt House No.19: two the best stilt houses in Lac Village, offering spacious rooms, beautiful view looking the fields.
Stilt House No.32: it is for people who love the quiet place. It is located near the entrance gate of Pom Coong Village.
Thuong Mai Homestay (Stilt House No.6): having spacious space and rooms that very suitable for groups of friends or families. All rooms at Thuong Mai Homestay are equipped WIFI, blankets and full of personal amenities. However, there is no private bathroom at the homestay and you have to use the shared bathroom. Thuong Mai also has an on-site restaurant, souvenir shop and bicycle rental service.
Hoa Ban Homestay: Located in Lac Village 2, Hoa Ban Homestay impresses with green space in harmony with nature. The homestay offers 3 types of rooms: rooms for large groups of travelers, double rooms, and family rooms. Each room is furnished with blankets, TV, WIFI. A bicycle rental service is available for free.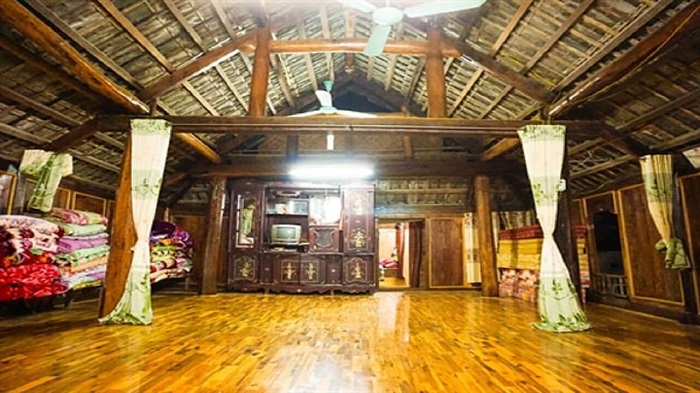 Homestay in Lac village
What to do in Lac village
Stay overnight in Lac village, you will be so busy to participate in many outdoor activities with local people. When the night falls down, it is time for campfires starting to light up. You can immerse into the group of tourist and local people singing and dancing around the campfire. Then taking a long sleep till the morning when the roosters wake you up. At that moment, the views in Lac village are so beautiful and poetic with the mist still longing in the air. The atmosphere is so cool and fresh. You can freely wander around the village and grasp the daily moments in this village.
Coming to Vietnam tour groups, you will have chances to discover and learn a lot of new things. If you have any questions, please ask us for more information. Have a nice trip!