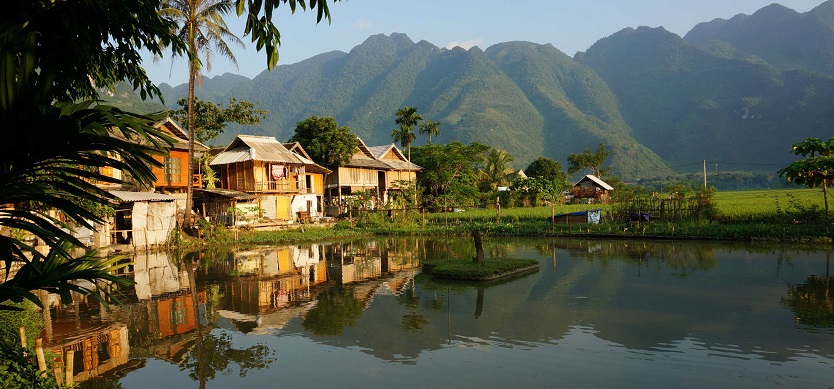 Mai Chau is a small green valley in the northwest of Vietnam. It is not famous for the majestic scenery as Moc Chau valley, tourists are impressed by its poetic and romantic beauty that urges them coming back. One of the things satisfying tourists in Mai Chau is the accommodation services. Here are some Mai Chau homestay reviews that you should note in your Mai Chau trek.
Mai Chau Friendly Homestay
Address: Lac village, Chieng Chau, Mai Chau
It is located in the center of Lac village, Mai Chau Friendly Homestay is surely an ideal place to stay for tourists. This homestay is very suitable for the groups of tourists because it is quite spacious with rustic stilt features. Like other stilt houses, this is also the place local people often gather to perform cultural programs for tourists. The house owner will be sure to serve the meal in time for tourists, and the guests are treated by the smile. The house floor is made of wood, it is quite large, clean and comfortable.
Mai Chau Friendly Homestay also offers the other attractive services such as smoking room, bicycle rental, car park, tours and family room. Besides that, Mai Chau Friendly Homestay also organizes many outdoor activities to make sure you enjoy your stay here.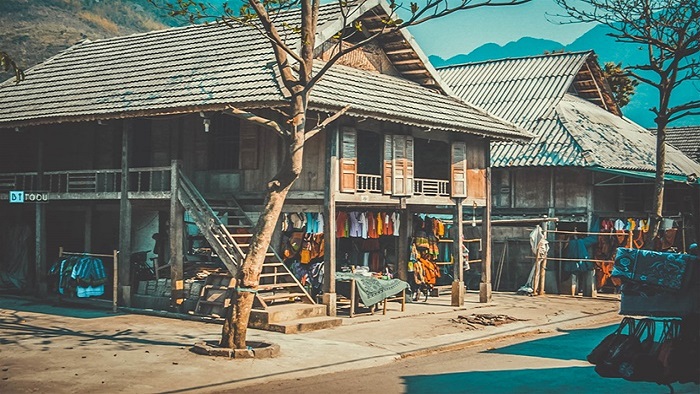 Mai Chau Friendly Homestay
Guesthouse 1
Address: Pom Coong village, Chieng Chau, Mai Chau
Guesthouse 1 is one of the best homestays we appreciate in Mai Chau. From Mai Chau homestay reviews, it has many features that impress tourists with modern equipment inside and the beautiful views looking out the rice fields. Moreover, its position is very easy to find, it is near the gate of Pom Coong village.
What you get when staying here is the various choices between a large communal room and two smaller rooms with pleasant views of the adjacent pond. Like the other homestays in Pom Coong village, showers are communal. However, there are more showers in this guesthouse than the others. The room and bathroom are always guaranteed extremely clean and the seating area is very cool. The owner has a plan to build a new place next door which will have en-suite rooms. It is a recommendation for groups of tourists to stay.
Mai Chau Riverside Bungalow
Address: Lac village 2, Chieng Chau, Mai Chau
It is located in Lac village 2, Mai Chau. Mai Chau Riverside Bungalow is a great place to stay according to the experience of many tourists. From this bungalow, you can easily go to the famous tourist destinations of Mai Chau such as Thung Khe Pass, Mai Chau flagpole, Chieu cave, etc.
Mai Chau Riverside Bungalow offers diverse services with all the essential amenities for tourists. People who stay in this bungalow can receive on-site features like Wi-Fi in public areas, bar/pub, laundry service/dry cleaning, concierge, and coffee shop.
It is divided into 8 rooms that you freely choose. All of the rooms expose an atmosphere of peace and harmony. Mai Chau Riverside Bungalow is such a good choice for tourists when traveling Mai Chau. It is also an ideal place to stay for those who want to seek for charm, comfort, and convenience. It is your one-stop destination for high-quality accommodations in Hoa Binh.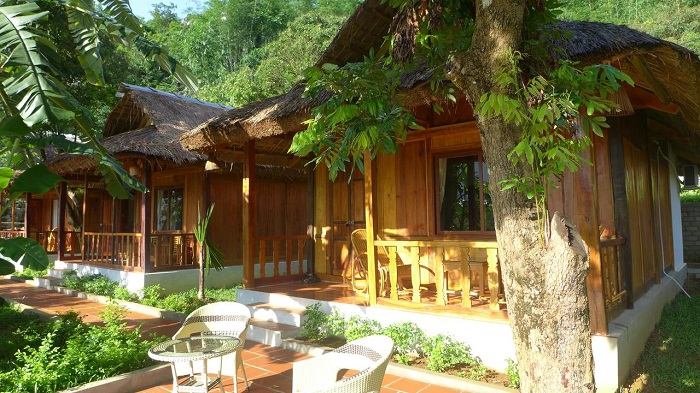 Mai Chau Riverside Bungalow
Sol Bungalow
Address: Chieng Chau, Mai Chau, Hoa Binh
Sol Bungalow is located in Mai Chau valley, surrounded by mountains and vast rice fields. The hotel is only 1 km away from Lac Village. It is about 3 hours driving from Hoa Binh and it is 170 km from Hanoi.
Sol Bungalow is a 4-star hotel with 17 spacious and luxurious rooms. The rooms are decorated to create a cozy atmosphere. Each room in this bungalow is set up a flat-screen TV, air conditioning, and a minibar. Private bathrooms look very modern with a modern shower, hairdryer, and free toiletries.
The receptionists in Sol Bungalow are always ready to meet the needs of tourists. If you want to have professional services such as room service, laundry, tour booking, luggage storage and children's playground design, you can call them on the front desk. In particular, you will have many things to do in Mai Chau, such as renting a bicycle here to explore the valleys or wander around the villages and houses of Thai people to learn their daily work.
The restaurant at Sol Bungalow serve Western dishes There is also a minibar serving refreshments and snacks.
Mai Chau Nature Place
Address: Lac village 2, Chieng Chau, Mai Chau
It is located in Lac village 2, which has been less crowded than Lac 1 and Poom villages. It is 300 meters from Lac village 1. Mai Chau Riverside Resort offers the private bungalows set around a lush green garden where you can easily look out the river and valley. Rooms are basically equipped with balconies and decent showers in the bathrooms. The room size is quite spacious. The price is quite cheap including breakfast and dinner, it is 120,000VND.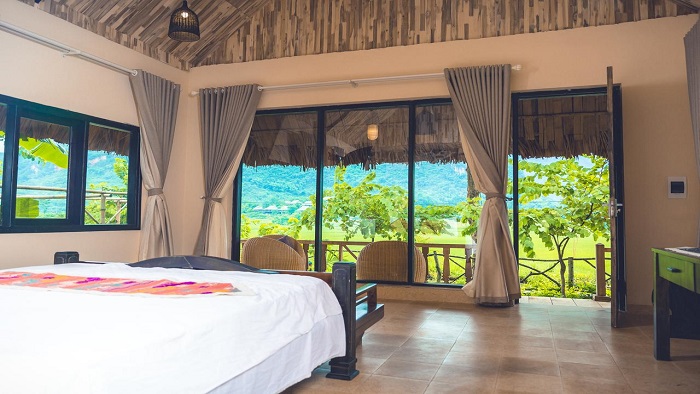 Mai Chau Nature Place
Come to Vietnam group tour to know more about Vietnam tourist destinations. If this information is helpful for you or you have any wonders, please feel free to contact us. Thank you!