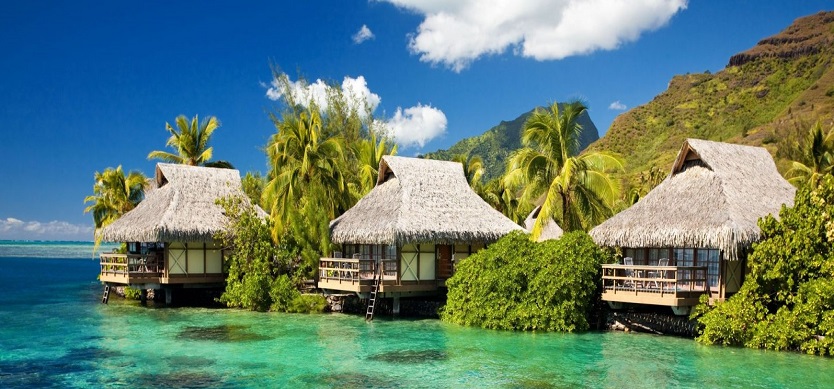 Phu Quoc is dubbed as the pearl island in Vietnam with plenty of charming and gorgeous landscapes and friendly local people.
These factors explain why there are a lot of tourists wanting to visit the place one time, especially in the summer season. But what to do in Phu Quoc island is still prior concerning for most tourists.
So, click out the post to look for the ideal things to do in the pretty island.
1/ Visit Vinpearl Safari
When speaking of what to do in Phu Quoc island, Vinpearl Safari is the ideal choice for you. It's largest open zoo model in Vietnam with an area of about 500 hectares, gathering about 130 species with more than 2,200 rare animals.
Vinpearl Safari is divided into two main sections: open zoo for visitors among open-zoo areas in harmony with nature; safari park carries visitors by specialized vehicles in the form of a unique animal drop for the first time in Vietnam.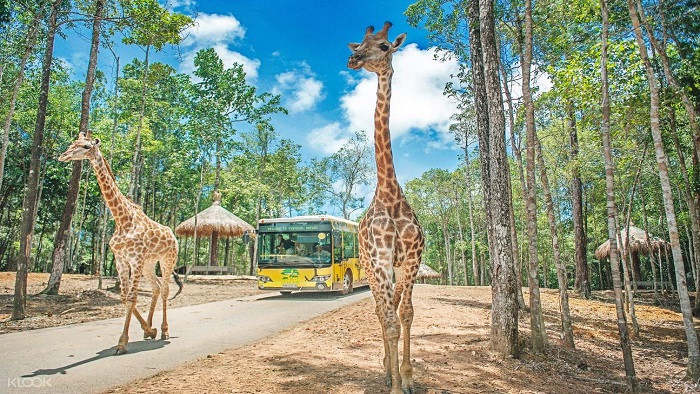 What to do in Phu Quoc Island
Vinpearl Safari Tour visitors will experience many interesting activities such as panoramic view of the park with modern tram system, enjoy attractive animal performances, practical experience for animals, take souvenir photos with rare animals and etc.
2/ Enjoy Vinpearl Phu Quoc entertainment and recreation area
Built on a total area of up to 170,000m², Vinpearl Phu Quoc entertainment area includes many interesting entertainment venues such as Water Park, Thuy Cung, Outdoor Playground, Cinema, Wet Street real and shopping, fairy castle and so on. In addition, Vinpearl Land in Phu Quoc also has a dolphin performance area with capacity for up to 1,152 seats and water music stage with up to 2,337 seats to meet the International cultural events.
3/ Explore Dinh Cau night market
Dinh Cau night market is a busy market on Vo Thi Sau street, starting from Bach Dang street to Tran Hung Dao crossroad, extending over 200m. The market is near the beach, the center of Duong Dong town, about 100 meters from Dinh Cau.
The market meets from 17:00 to 22:00. The whole area has more than 100 booths stretching on both sides of the road including souvenir shops, handicrafts, cosmetics, jewelry, and Phu Quoc pearls. The most famous is still the culinary area serving the unique dishes prepared from fresh seafood for dinner people such as seafood porridge, seafood rice, and fish cakes soup.
However, it should be noted that the price here is quite high. If you want a softer price, you can buy fresh seafood at Duong Dong market near the bridge at the end of Nguyen Trung Truc street and bring to Thien Hai Son resort by processing fees range from 50,000 to 100,000 / kg.
4/ Snorkeling coral
Diverse marine ecosystems belonging to the An Thoi archipelago in the south or the island of Mong Tay, Hon Doi and Hon Ba Buoi in the north of Phu Quoc Island are the ideal places for tourists to explore the ocean world. The most especially the coral reefs are at the top of the table in Vietnam in terms of abundance with 17 different types of hard, soft and various sea knots.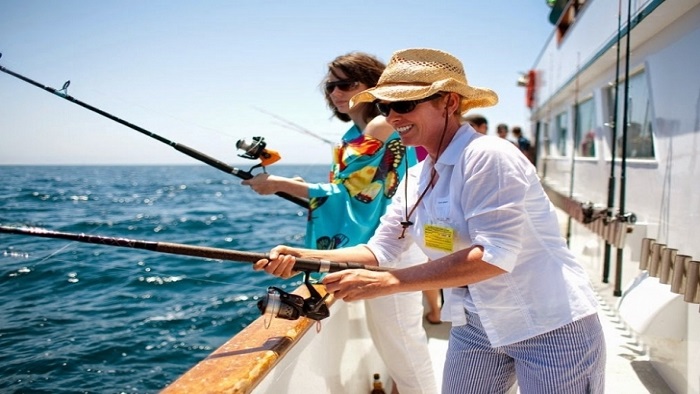 What to do in Phu Quoc Island
Coral diving tours are introduced by hotels and resorts in Phu Quoc and offered to tourists with prices from 350,000 - 500,000 VND/person.
5/ Fishing on a wild island
The weather in Phu Quoc is very convenient for fishing on the wild island. The activity will take you to an island or coast with many fish species such as grouper, cajuput, snakehead, and cobia. The spoils are the fish that will be served on the ship. While fishing, the group can organize camps, picnics and discover more surrounding lands. Some favorite places are Ong Doi Cape, Hon Dam, Hon Thom and so on.
6/ Discover the primeval forest
If you are an adventurous person, this is the choice for you. You can book a sunset and night squid fishing tour to explore North Island or go to Da Lanh Stream Conservation Area or Ganh Dau Ecological Reserve. Some adventurous travelers discover their own virgin or just hire a local guide during their journey.
7/ Night squid fishing
When night falls, it's time to experience moments of exciting relaxation with fishermen with night squid fishing. There is nothing like it when you can catch the squid that is hunting in the sea or catch the swordfish, blue and bonefish floating on the sea. Spoils are squid or catch fish that will be served right on the ship.
Hope that after the post, tourists will have more information about what to do in Phu Quoc island. Please like and share the guide with others if you find it useful. If you have further questions, don't hesitate to let us know. Thank you.