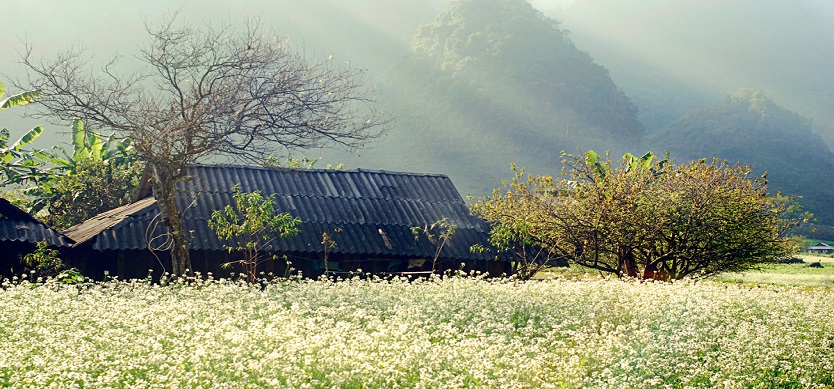 Located in the heart of an idyllic valley, Mai Chau is world – away from the modern bustle life. This is an ideal destination for not only the nature lovers who love to sightsee picturesque scenes but also those concerned with exploring the original culture of some Vietnamese ethnic minorities.
However, some people wonder when the best time is to visit this beautiful land. Actually, many tourists choose to visit Mai Chau in March or April because this time has a favorable weather condition, are the right season of ban flower (bauhinia flower) and many local traditional festivals.
Cool climate
This period which is the end of winter and the beginning of summer has the most favorable weather condition during the year. It is also a favorable time to visit Vietnam. The weather is not too hot but cool, with the temperature from 18 - 25°C. The cool weather combines with the fresh air, surrounded by greenish nature, you may have to utter "How wonderful and magic the Mother Nature is!"
Compared with other seasons, although winter is not as frozen as in other parts of Northern Vietnam like Red River Delta or some provinces along the coastline. However, for tourists who are not in favor of cold weather or travelers who come from the South and don't get accustomed to cold weather, this can be a disadvantage.
While in the summer, the weather is the hottest during the year, which can partly prevent you from taking part in outdoor physical activities. Being outside for a long time can make consume lots of your energy, sweat heavily and even exhausted. Apparently, you never like to stay in your room during your trip unless you want your journey to becoming meaningless.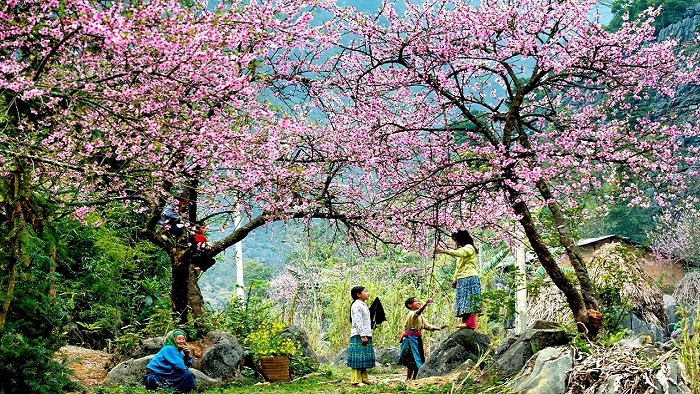 When is the best time to visit Mai Chau?
There are various traditional games organized here and ensure that you can participate in these activities as much as possible. How about the cool weather? This is the favorite kind of climate for many people. The temperature is either too low or too high. The sky is always blue and sometimes it's windy. So who doesn't like this weather?
If you want to explore the real resident's lives, you may have to be active physically. You can walk in greenish rice fields or go further to the village where most of the locals settle and is far away from tourism mainstream areas to have the most authentic travel experience. Perhaps you may like to ride a bicycle across stilt houses. All these things can just be done almost completely in the beautiful weather condition. Undoubtedly, March and April are the ideal time.
Ban flower
If you arrive in Mai Chau or some Northwest provinces without seeing ban flower, it's like that you visit Japan without seeing cherry blossom or travel to the Netherlands without seeing tulip. Ban flower is a special flower that can only be found in the mountainous Northwest. This flower is a representative beauty of life and people here. Pretty pure ban flowers with stripes of pink or light purple which burst into bloom, create bright white spaces.
Once you have contemplated this outstanding flower, its image will surely linger in your mind whenever you think of this land. Besides, if you visit Mai Chau in this season, you also have a chance to see the greenish lush rice field. For nature lovers and artist photographers, Mai Chau in March and April is a must-visit destination. You won't be more satisfied if you take pictures of the charming and poetic scene itself.
These beautiful landscapes can be the ideal background for your image. You will get lovely and stunning pictures more than you expect. Mai Chau always offers people the opportunity to get back to nature in the fullest way and nature become even more wonderful if you come here in March and April.
Local traditional festivals
Besides Ninh Binh festival tours, travelers can also enjoy many local traditional festivals in Mai Chau taking place in March and April. Every festival always consists of two parts: the ceremony and the game. In the part of the ceremony, unique traditional rituals that reflect the spiritual lives of the local community are done simply and quickly. The focus of the festival is traditional games that indicate the creativity and original cultural features of the resident perhaps you have never experienced. These games are mostly physical and team ones that show unity, closeness, the intimacy between people in the same community.
Despite being male or female; a child, teenager or middle-aged man, everyone takes part in games enthusiastically and happily. The life of the resident includes not only times for farming, cropping, and breeding but also times for entertainment after strenuous working hours. In the festivals, Mai Chau is animated and bustling with the sound of gong and drum.
Gong which is a traditional instrument brings lovely melodies that are full of mountainous liberal and simple spirits. Girls who are beautiful with elegant traditional dresses perform lively traditional dances or sing joyful local songs that mainly talk about the daily lives, praise humans and nature. All these things combine together and result in an energetic and relaxed atmosphere. Mingle with that atmosphere and ease your mind from all everyday troubles.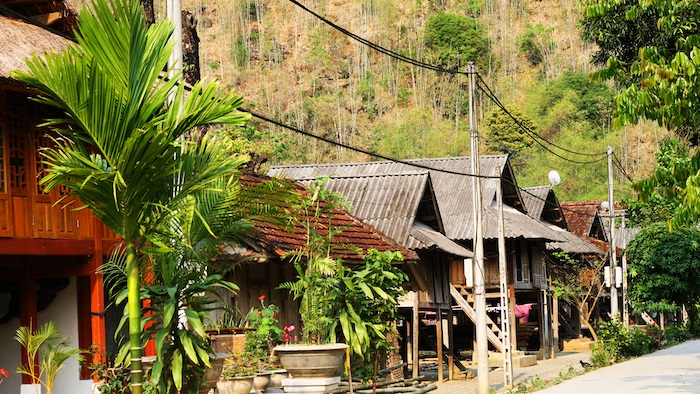 When is the best time to visit Mai Chau?
If you visit Mai Chau in March or April, the favorable weather condition will help you explore this beautiful land perfectly as much as possible. Sightsee pretty ban flowers and mix with amazing atmosphere of festivals. Now you must have seen why March and April are the best time to discover Mai Chau.
Why don't you stand up and take your backpack to come and visit Vietnam right now? Do not forget to take the Vietnam tour package to get more information about Mai Chau as well as other Vietnamese amazing destinations. Vietnam is waiting for you! Share the post if you find it useful. Have a nice trip!