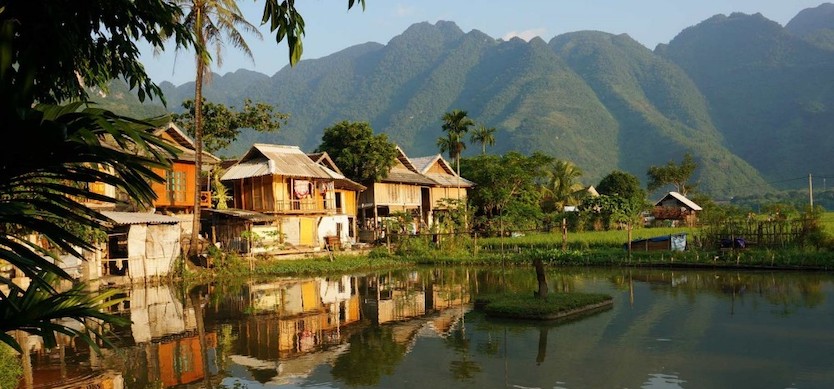 Located in the heart of an idyllic valley, Mai Chau is world – away from the modern bustle life. This is an ideal destination for the not only nature lover who loves to sightsee picturesque scenes but also those concerned with discovering the original culture of the Thai people in Mai Chau.
It's up to you to decide when the best time is to visit Mai Chau because each time has its own advantages and drawbacks. Here are our suggestions that you can base on to choose when the most appropriate time is for yourself. Then, have a satisfying trip as much as possible.
Winter
In Mai Chau, winter lasts from December to February of the next month. In this period, the weather is the coldest for the whole year. The temperature can come down to 18 – 25°C. However, don't worry too much. The winter of Mai Chau is not as frozen as other parts of Northern Vietnam such as Red River Delta or some provinces along the coastline because this place is in the West of the country. Moreover, Mai Chau is surrounded by high mountains that prevent wind from entering this location.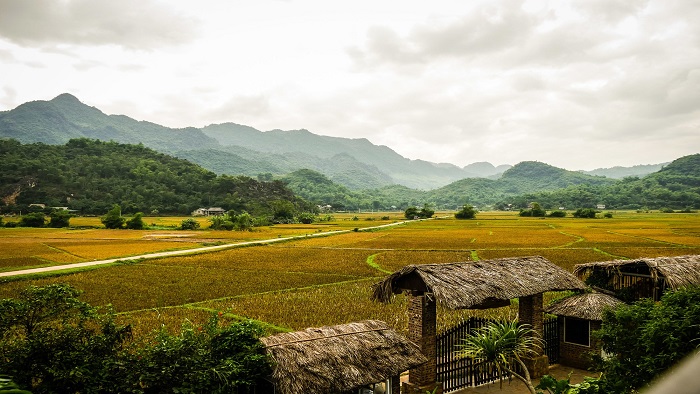 When should you visit Mai Chau?
Besides, at this time, the climate is considered dry and it rarely rains, which is a favorable condition for outside activities. You won't be scared of being disturbed by rains or forced to stay at home. The nature in Mai Chau is lush and rich.
Therefore, it's advisable for you to make use of the weather condition of this time and explore this land as much as you can. Cold weather encourages you to be active physically because you won't sweat heavily or feel tired like in the summer and even you need to take action more frequently in order to keep your body warm.
Coming to Mai Chau in this season, you also have a chance to see a wonderful natural landscape that peach blossom and plum flower are in full blossom. With the pure white color, peach blossom is quite popular in Southern Vietnam.
However, very few people have seen the plum flower and only by coming here or some Northwest provinces, you take an opportunity to enjoy the bright beauty of a plum flower that is much more attractive than you can imagine and you have to discover this by yourself. Another advantage if you arrive at Mai Chau in winter is that cold weather is perfectly suitable for your group to gather around the fire, dance, chat or roast com lam (tube rice) and you will have memorable moments in your trip. Winter is not a very bad time to explore Mai Chau, right?
June, July, and August
This time is known as "the tourist season" since summer holiday takes place at this time and visitors tend to go on holiday in summer. Therefore, many groups of traveler which are both native and foreign choose to arrive at Mai Chau.
Sometimes Mai Chau may become overcrowded. Imagine you visit a relic and you are reading the explanation but you can't stay here long because there is someone waiting for their turn. Maybe you decide to settle temporally in a homestay and you are in a shared room with other guests. There are too many people in this room and it's so stuffy.
Sometimes a crowded tourism destination can keep you away from having an expected trip. However, if you are a people person and like the noise, this won't matter. In this period, the weather is the hottest during the year. The temperature can be approximately from 25 to 35°C and it rains frequently.
Sometimes, it's funny; as a result; you will be exhausted in case of being outside for a long time. The hot weather may prevent you from taking part in outdoor activities enthusiastically.
However, this is also the time that Xen Ban festival takes place in. If you like to mingle with resident's lives, this is an amazing opportunity for you to discover the traditions and customs of the local community. Xen Ban festival not only is held to show gratitude toward ancestors that founded Mai Chau village but also organizes traditional exciting games.
Mix with the joyful and dynamic atmosphere here and you will have an unforgettable experience. If you arrive at Mai Chau in summer, remember to carry sunglasses, sun hat, sun cream to ensure that sunray won't be harmful to you.
March and April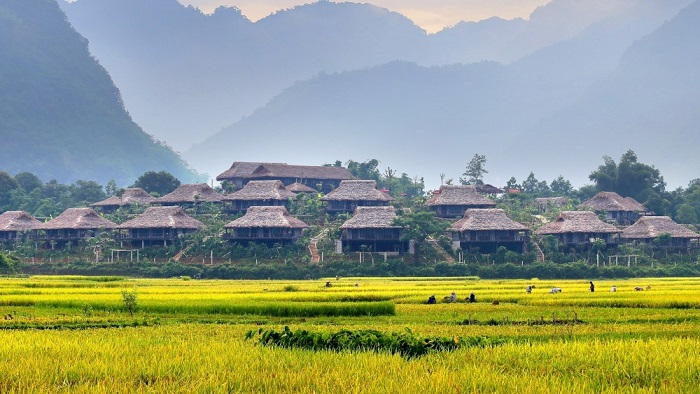 When should you visit Mai Chau?
This period which is the end of winter and the beginning of summer has the most favorable weather condition during the year. The weather is not too hot but cool, with the temperature from 18 - 25°C. The cool weather combines with the fresh air, surrounded by greenish nature, it's not difficult to wonder why many people choose to visit Mai Chau in March and April.
Moreover, it is strongly believed that Mai Chau in March and April is in the most beautiful state since this is the right season of ban flower (bauhinia flower) - a special flower of Northwest Vietnam, the representative beauty of this mountain area. Pretty pure ban flowers with stripes of pink or light purple which burst into bloom, create bright white spaces. Once you have contemplated this outstanding flower, its image will surely linger in your mind whenever you think of this land.
Besides, if you visit Mai Chau in this season, you also have a chance to see greenish lush rice field. Mai Chau always offers people the opportunity to get back to nature in the fullest way and nature become even more wonderful if you come here in March and April.
Furthermore, many local traditional festivals take place at this time. In the daytime, citizen works hard in the rice field while at night, Mai Chau is animated and bustling with the sound of gong and drum. Girls perform lively traditional dances or sing joyful local songs. All these things combine together and result in an energetic and relaxed atmosphere. Mingle with that atmosphere and ease your mind from all everyday troubles.
Mai Chau's weather is considered to be favorable, and suitable for tourist journeys at any time in the year. Think of what you like to get from the trip, base on our suggestion and make a decision when the most appropriate time is to visit this beautiful land.
Why don't you stand up and take your backpack to come and visit Vietnam right now? Do not forget to take Mai Chau group tour to get more information about Mai Chau as well as other Vietnamese amazing destinations. Vietnam is waiting for you! Share the post if you find it useful. Have a nice trip!