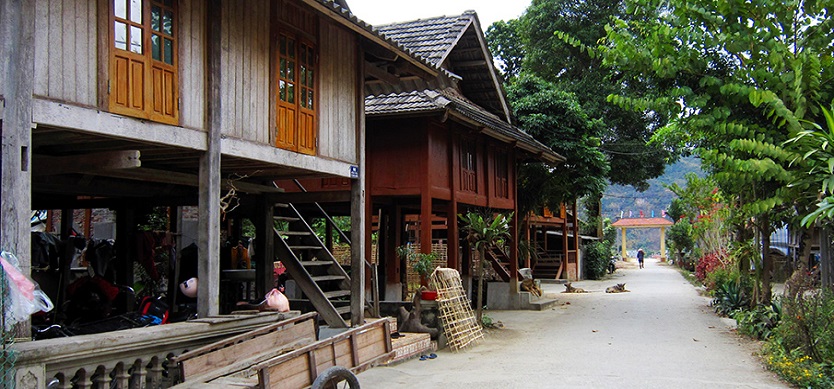 Being in the heart of an idyllic valley, Mai Chau is one of the most well-known tourist destinations in Northern Vietnam. Despite being over 100 kilometers away from Hanoi, Mai Chau looks like a totally different world. If you still wonder where Mai Chau is on the tourist map and what Mai Chau can give you as a visitor, this following article may be helpful to you.
Where is Mai Chau located?
Mai Chau which is a rural district of Hoa Binh province is 160 kilometers away from the capital Hanoi and 65 kilometers away from Hoa Binh city. Being a mountainous area in the Northwest of Hoa Binh province, Mai Chau is bounded by Da Bac and Tan Lac district in the east, Quan Hoa district (Thanh Hoa province) in the west and south, Van Ho district in the north. Being over 57,000 ha in area, Mai Chau is the home to several tribes such as Muong, Thai, H'mong and Kinh while Thai people are dominant. Like other mountainous sites in Northwest Vietnam such as Sapa town (Lao Cai), Dong Van town (Ha Giang), Mai Chau attracts the visitors by the breathtaking landscape and the diverse and original culture of the local communities.
How to get there?
By the shuttle bus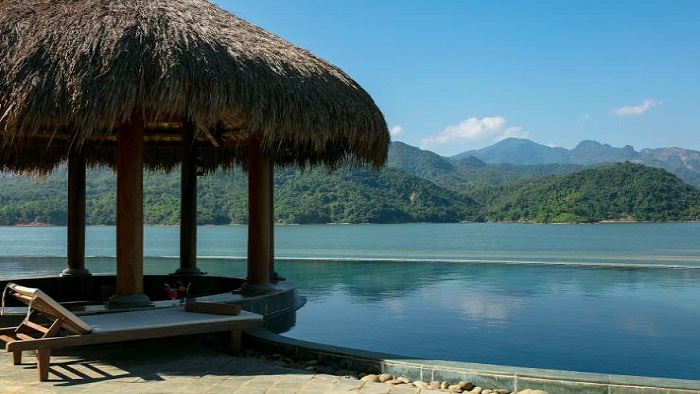 Where is the tranquil Mai Chau town?
You can catch the car at My Dinh station or Yen Nghia station. However, the route from Yen Nghia station is a little shorter because the drivers don't wander around to pick up more customers like in My Dinh station. Traveling by bus can take about 3 hours and costs you from $7-10, depending on the brand of car. If the shuttle car drops you off in the centre of Mai Chau, you may catch a "xe om" (one type of transportation by motorbike) to take you to Lac or Pom Coong village which are 6 kilometers from the central town to the west. Moreover, you can catch the car to Son La province. You take off the car at the Tong Dau junction that is 5 kilometers away from Mai Chau. You can transport by xe om to reach Mai Chau.
Self – drive car and motorbike
The roads to Mai Chau are supposed to be favorable since they are flat, wide and have no complicated turnings. These streets are not frequently too crowded, sometimes even deserted. The outstanding thing is that these roads are truly scenic. Along the route, there are lots of picturesque sceneries with the majestic mountains, the lush greenish rice fields and the immense forest. Remember to carry the camera to take pictures as much as possible and record the marvelous moments.
If you decide to transport by car, there are two directions for your consideration:
Route 1: From Hanoi, Nguyen Trai street (Ha Dong District) – Quang Trung – Ba La – Chuc Son – Xuan Mai, into Hoa Binh territory Luong Son – Ky Son – Hoa Binh centre city – Cao Phong – Tan Lac – Thung Khe pass. After being in the territory of Thung Khe pass, you will see a signal that requires to go 6 kilometers further across 15 Road to reach Mai Chau.
Route 2: Thang Long Avenue – Hoa Lac, turn right to Xuan Mai, go straight to The 6 National highway, reach the crossroad and turn to Mai Chau.
Route 3: From Hanoi, Xuan Mai town, go along the 6 National highway to Luong Son town, come through Luong Son town, turn to Kim Boi, catch Cunslope, go straight to Mai Chau. This route is supposed to be the shortest from Hanoi to Mai Chau.
If you like to challenge yourself with serpentine passes in order to get a panoramic view over the valleys, you can choose Bai Lang street, instead of The 6 National highway. This route includes some hazardous sharp turnings that you must be noticeable and careful to avoid unfortunate accidents.
You must check your vehicle carefully prior to the department, including the light, hooter, wheels, etc. Some roads are so deserted that it's nearly helpless to find a garage for fixing in case your vehicle has the mistake.
Must-have experiences when coming to Mai Chau
Where is the tranquil Mai Chau town?
● Visit Lac and Com Poong village. Stay in the traditional stilt house, enjoy the stunning local specialties and explore the unique culture of Thai and Muong people.
● Discover Thung Khe mountain pass to witness the mightiness and the miracle of Mother Nature and experience the four seasons in one day. Reach Doc Trang (White Slope) and stroll around "The market in the clouds".
● Explore Chieu Cave and Mo Luong cave to contemplate the sparkling scenery with the charming vibrant graphite blocks that have existed for thousands of years.
● Go trekking in Pu Luong Nature Reserve to connect with nature in the fullest way and forget all about the everyday troubles.
● Try com lam (tube rice) and ruou can (stem wine or tube wine) to feel the mountainous taste.
You are a nature lover? Do you like to explore the original culture of the native communities? You want to get away from the bustling modern life. Mai Chau is for you. Now you can imagine a trip to Mai Chau with the above information and suggestions. Let's make the plan and visit Mai Chau soon.
"Why don't you stand up and take your backpack to come and visit Vietnam right now? Do not forget to take Vietnam tour package to get more information about Mai Chau as well as other Vietnamese amazing destinations. Vietnam is waiting for you! Share the post if you find it useful. Have a nice trip!