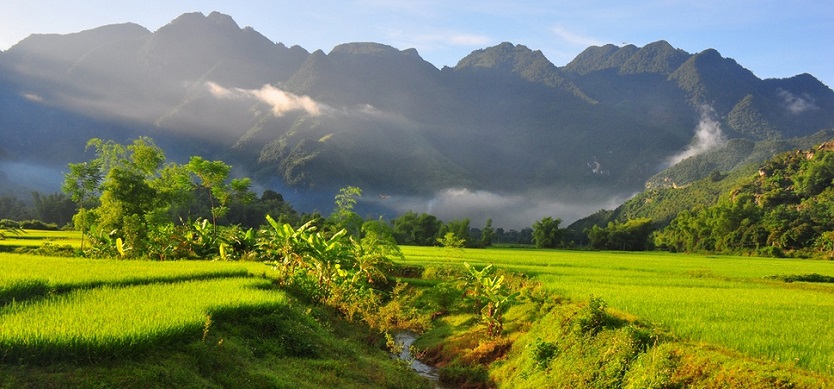 Located in the heart of an idyllic valley, Mai Chau is world – away from the modern bustle life. This is an ideal destination for not only the nature lovers who love to sightsee picturesque scenes but also those concerned with exploring the original culture of some Vietnamese ethnic minorities. If you still wonder where you should go in case of visiting Mai Chau, here are some suggestions of exciting destinations that you can't miss if you like to explore this beautiful land in the fullest way.
Pom Coong Village and Lac Village
Nearly all of the houses in Lac and Pom Coong Village are the traditional stilt houses where White Thai people have settled for a long time and are also the oldest resident in Mai Chau. However, these have just become a tourist destination on Mai Chau combo tours since the idyllic and tranquil beauty was explored and became widely known. Stilt houses where offer the service of homestay for visitors is the living place of the owner's family.
Despite being influenced by urbanization like some architect features are similar to Kinh people's and the locals don't wear the traditional clothes all the time like in the past, in general, Lac village still keeps its customs and traditions. Stilt houses which are built on stilts, 1.5 meters above the ground with the roof made of mayor goi leaves and floor made of bamboo are designed and arranged in the original lifestyle of Thai people.
Choose to stay in these traditional houses to experience a living space that is extremely unique and close to nature. The area under the traditional house used to be living space for cattle is taken advantage of the souvenir shop, food store or the place carrying bicycles for lease.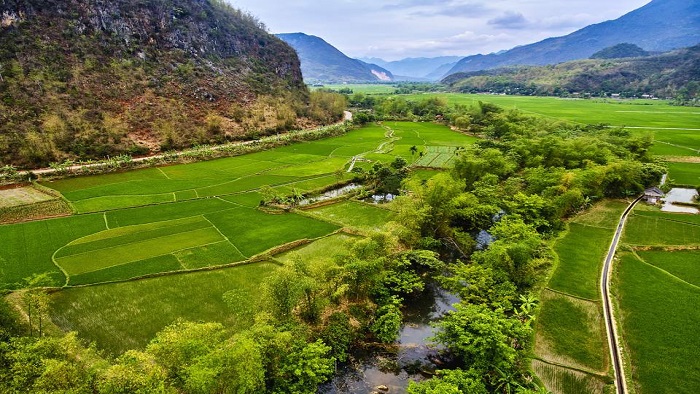 Where to visit in Mai Chau?
Handweaving brocade fabric is still preserved and even develops more strongly to meet the demand of tourism because many tourists are impressive by craft brocade products which include a colorful hat, dress, bag, shawl, purse, etc are easy to purchase at any souvenir. These beautiful products indicate the creativity and diligence of Thai people since it takes lots of time, energy and patience to weave a gorgeous brocade product.
Once you have witnessed the image that women sit next to their handmade looms, fluently manipulating the multi-color threads in and out to create stunning detailed patterns, you couldn't be admirable for the skillful hands of Thai women. In the daytime, you can ride a bicycle across the village to discover the real daily lives of the locals. You can see the citizen work hard in the rice fields or the garden, breed the cattle or professionally weave awesome textiles. Only by staying in Lac and Pom Coong village for some days, you will feel how peaceful and tranquil this place is and have a chance to live in harmony with nature.
Thung Khe mountain pass
Located on National Highway 6, with one side of the mountain and the other side being a deep pool, Thung Khe mountain pass is the favorite route of young backpackers. Thung Khe which is considered to be one of the four most beautiful but riskiest passes in the Northwest is also called White Rock pass because of including splendid white rock mountains.
It's worth climbing to Thung Khe pass and enjoy seclusion, fresh air and sightsee the pictures scenery from the height of 1000 meters above the sea level. It's a good idea to stand here and take the whole picture of breathtaking landscapes of Mai Chau valley that is covered by a lush green with stilt houses being sides by sides.
Coming here, you will take an opportunity to get in touch with nature in Mai Chau in the fullest way and can't stop uttering "How wonderful and magical the Mother Nature is". Setting food on Thung Khe pass, you can enjoy four seasons in one day. Morning is cool, hazy and misty like the spring, the afternoon offers the bright warm sun like the summer, the evening is breezy and windy like the autumn and it is harshly freezing like winter at midnight. Take further steps and you will catch Doc Trang (White Slope) where a local market called "The market in the clouds" is situated. Visitors can stop here and purchase local products.
Chieu Cave and Mo Luong Cave
Very few people know that in Mai Chau located in limestone mountains, there are two natural caves that are worth climbing. Being 2 kilometers away from Lac village, Chieu cave and Mo Luong Cave are mother nature's magnificent works of art. Having existed for thousands of years, stalactites of these two caves that are can be compared with stalactites of Phong Nha – Ke Bang cave are diverse with various mineral structures of all shapes, sizes, and colors.
In order to enter Chieu Cave, you must climb 120 stone steps. This cave which is 150 meters in length owns many mineral structures that are named after their form by the resident. Besides, Mo Luong cave that consists of 4 small caves has a total length of about 500 meters.
The first cave being the widest one leads to a 10m high staircase. By climbing the stairs, you will arrive at the second cave which is known as the "house of the gods" or "the place of prayer" because its mineral shapes look like theological characters. The third section is an expansive cave of 400 square meters and the fourth cave lies at the end of a river flowing out into Mo Luong river.
It's advisable for you to visit Chieu cave in the afternoon because at this time, sun rays through the cave make graphite blocks incredibly charming, vibrant and brilliant. Seeing this sparkling scenery will force you to utter "How miracle the Mother Nature is". This feature also explains why this cave is called "Chieu" because "Chieu" means "afternoon" in Vietnamese and the cave is in the most beautiful state in the afternoon. The view from this cave is quite panoramic with tiny houses of the village below, lush greenish rice fields and the majestic mountains.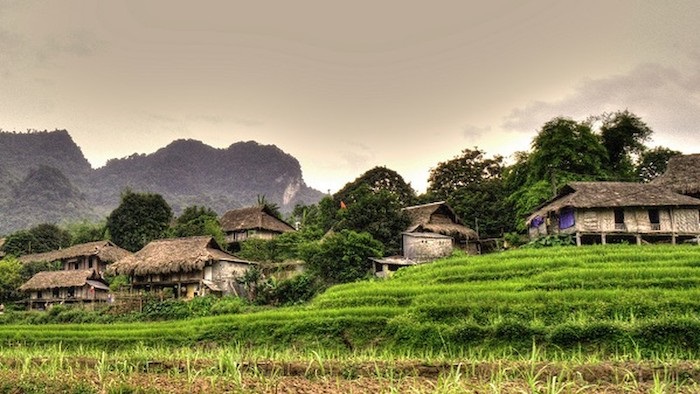 Where to visit in Mai Chau?
Despite being 150 kilometers away from Hanoi, Mai Chau seems to be a totally different world. You can't set foot on this beautiful land without visiting Pom Coong Village, Lac Village, Thung Khe mountain pass, Chieu Cave and Mo Luong Cave. Explore these exciting destinations and have a memorable trip!
Why don't you stand up and take your backpack to come and visit Vietnam right now? Do not forget to take the Vietnam tour package to get more information about Mai Chau as well as other Vietnamese amazing destinations. Vietnam is waiting for you! Share the post if you find it useful. Have a nice trip!