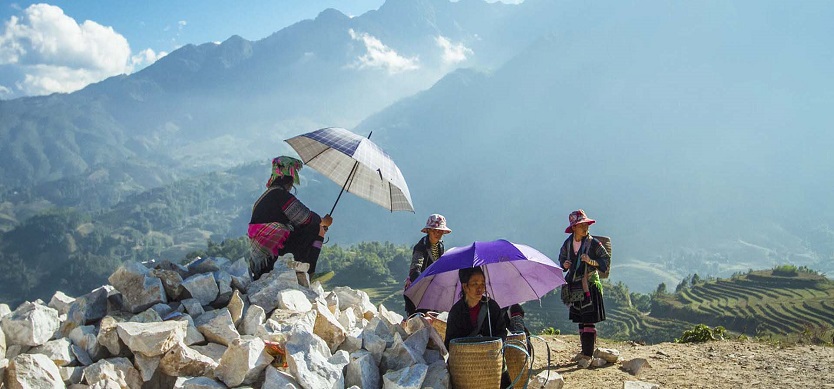 Sapa which is a picturesque small town in Northwest Vietnam has won the heart of many travelers. There are various reasons why you can't definitely miss this amazing destination when coming to Vietnam. Here are some factors by which Sapa becomes an attractive location in the visitor's eyes.
Stunning natural landscape
In the first seconds, you set foot on this mountainous jungle area, you will surely be overwhelmed by the picturesque and breathtaking sceneries. Majestic mountains rolled terraced rice paddies, tranquil villages, rushing mountain rivers and serpentine hillside roads, all of which will make you utter "How miracle the Mother Nature is." In the early morning, all the sceneries are covered by a light curtain of mist. Once you have experienced this marvelous moment, it will linger long in your mind.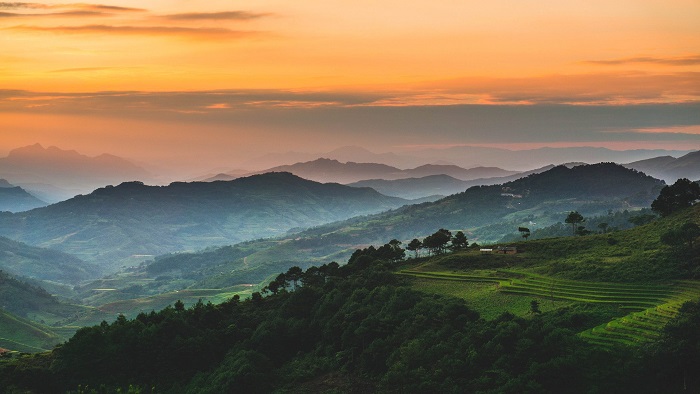 Why should you definitely travel to Sapa?
Coming to Sapa at its best time, let's walk around the town and find your favorite corner. Let's wander in the hillside zigzag roads and have panoramic views over both sides of the valley. Let's climb to Ham Rong mountain and contemplate the lovely gardens there. Let's reach the Fansipan peak, get a spectacular view over the town to feel and witness the people's smallness and nature's mightiness. Nature gives Sapa a lot of invaluable presents and you have to discover by yourself. Arrive at Sapa, get drunk in nature and fill your trip with wonderful moments. Remember to carry the camera and take superb pictures. You can't be sure whether you have the second chance.
The diverse and original culture
Sapa is a special village since, in a small territory, this is the home to various ethnic minorities such as H'mong, Dao, Giay, Pho Lu, and Tay. Every tribe has its own distinctive culture however after a long time of living together, the cultural combination happens among tribes which is an outstanding feature of the Sapa package tours. You can easily realize this when coming to Center Square where the locals often hang out and find that different ethnic groups wear different traditional types of clothes.
To make this clearer, look at craft brocade products. The diverse colors and patterns on the items represent the different tribes of the community. It's truly exciting to see groups of local people on the street and guess which tribe they belong to. It's advisable to visit the Centre Square at night when the Sapa market is opened and you can't ignore the attraction of this market.
The tribal women set up stalls and sell their products and handmade items that are craft brocade products including multi-color hat, dress, bag, shawl, purse, etc. Why don't you buy a lovely item for yourself and your relatives at home, too? They will surely be pleased. Some unique commercial activities can surprise and fascinate you as some boys caught birds that are good – looking and sing beautifully in the forest, imprison them in a small coop and sell them.
Most of the ethnic communities keep their customs and tradition which are indicated by remarkable daily activities such as mua khen that is to dance and play cheerfully the panpipe that is a wind instrument or love market in which young couples gossip, flirt and find a spouse for themselves. Don't misunderstand that love is sold and purchased in the love market. Because the market is the most important gathering place of the locals so all the cultural activities take place here.
When coming to the love market, couples meet, chat together happily and especially show their love in manners that follow the traditions of their tribe. The love market is a very unique cultural factor of some tribes, which can be only found in some regions of Northwest Vietnam and reflect the spiritual life as well as the original cultural values of ethnic tribes.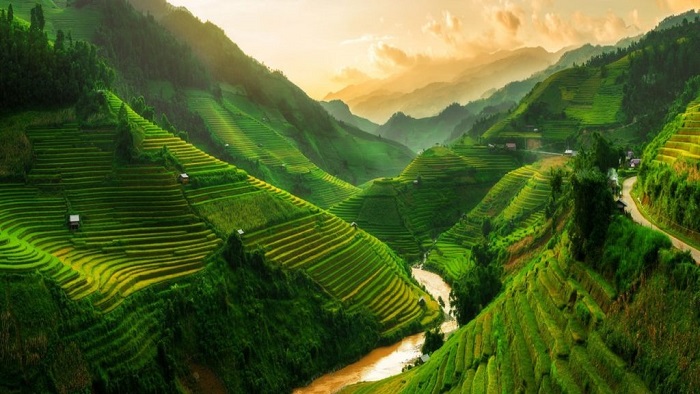 Why should you definitely travel to Sapa?
Ease your mind from all everyday troubles
Sapa is world-away from the modern bustle life. Setting food on Sapa, you will feel like you are in a totally different world that is isolated from the outside or where you live. One of the reasons for this, Sapa is surrounded by jungle and mountains. The residents live separately. Another reason can be the local culture is truly different from that of regions across Vietnam, where the culture of Kinh's people dominates and influences on other tribes.
However, it can be said that the tradition and customs of ethnic tribes in Sapa are affected faintly and nearly keep their own original culture fully such as from wearing traditional clothes all the time to the way that a classical market is organized. Therefore, if you are in Sapa, you can get lost in a living space that is totally distinctive from yours, which surely surprises and fascinate you more than you can imagine.
Many of Sapa's hotels are situated out of the hustle tourism mainstream so you have a chance to enjoy the silent and relaxed atmosphere in a place among the immense jungle mountain. Have superb views of gorgeous landscapes and mingle with the majestic and magic Mother Nature. Which can be better than that?
Wake up your taste
You can't know the culture of land without trying its local cuisine. Sapa is the location of many unique and delicious specialty dishes that you can't miss if you like to have authentic experiences. One of them is thang co. Thang co – an original specialty dish of H'mong tribe, is a must-have dish when you arrive at this place. Thang co which is hotpot made of horse meat, internal organs and bones are cooked with some spice forest fruits such as thao qua or dia dien to make the dish more fragrant. Despite sometimes being evaluated to be smelly, this dish is truly flavorful and deliciously more than you think.
Let's have a bowl of thang co, bite fragrant tender pieces of horse meat, taste the richness of internal organs, slurp spoons of soup that are super aromatic thanks to herbs and ultimately feel the mountainous taste in that. The locals often sit around the hotpot and gossip about everything in their life. Men often drink wine when eating thang co while women eat this with rice. Moreover, Sapa is famous for unique grilled dishes that can be easily found anywhere in the town.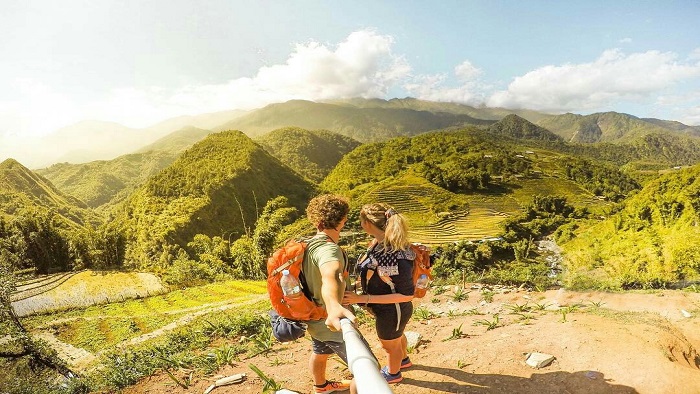 Why should you definitely travel to Sapa?
The ingredients are diverse from fruit to meat. There are some amazing combos such as the skewer of beef and mushroom or mustard green that is grilled on the fire slowly. Dishes are colorful and will stimulate your curiosity. Moreover, it's advisable for you to try a bowl of salmon noodle since salmon is increasingly bred and become a new specialty of this region and you will be truly impressed. Moreover, you will be also recommended to try some local dishes such as men (ground maize), black chicken, sticky rice,…
Sapa is a must-visit destination for not only nature lovers but also those who like to discover the traditional culture of ethnic tribes. Now you understand why you must travel to Sapa when coming to Vietnam, right?
Why don't you stand up and take your backpack to come and visit Vietnam right now? Do not forget to take the Vietnam tour package to get more information about Sapa as well as other Vietnamese amazing destinations. Vietnam is waiting for you! Share the post if you find it useful. Have a nice trip!