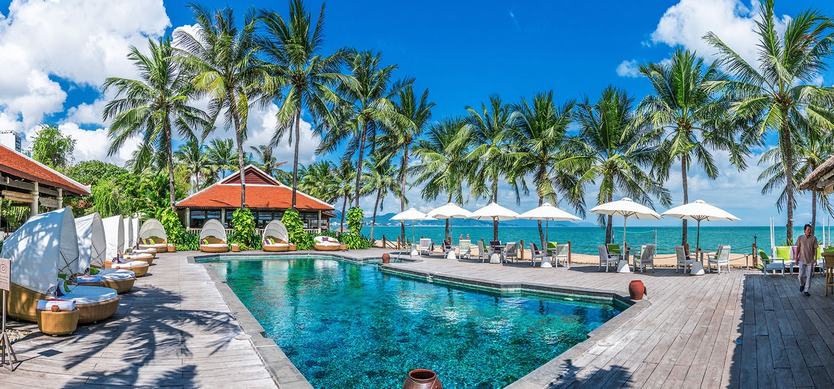 Once traveling, the question "where is the best place?" could be an important concern of many travelers.
As one of the most popular destinations in Southeast Asia, Vietnam attracts millions of tourists every year. Hence, the accommodation here is developed to meet the massive demand for travelers.
If you're planning your upcoming trip there, take a look at the five best hotels we've picked up below.
The Reverie Saigon
The Reverie Saigon is one of the first 6-star hotels in Vietnam, and the 4th in the list of 50 best hotels in the world.
With a façade facing Dong Khoi and Nguyen Hue streets, The Reverie strives on the top floor of Times Square, Ho Chi Minh City's leading commercial, entertainment, and financial center. The entire exterior of Time Square is glazed with a color light system.
Arriving at The Reverie Saigon, visitors will be stunned with the luxurious furniture with a giant clock inlaid with ancient style mosaic stones. The floor is made of rare and precious stone with carved patterns in 24k gold-plated copper.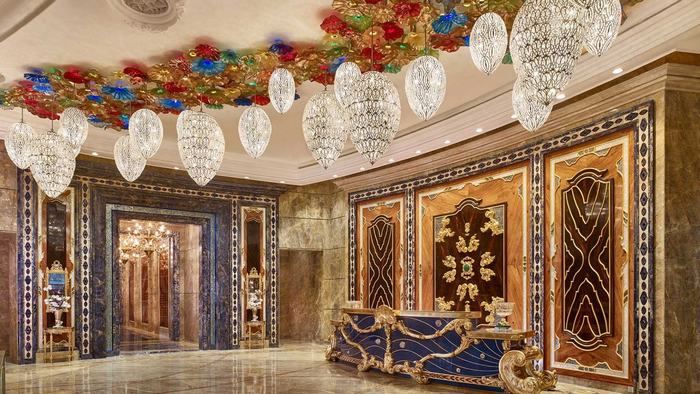 The Reverie Saigon
The Reverie Saigon Hotel is designed in the Italian royal style. The hotel accommodates 224 guest rooms and 62 suites in 12 different design styles. Each room is sumptuously furnished with leading Italian brands like Poltrona Frau, Visionnaire, Giorgetti, and Colombostile.
More specifically, each room also has a bathtub with a view overlooking the city center, giving guests the feeling of relaxation when they soak in the bath while looking at Saigon from above.
In The Reverie, there are many other 6-star facilities such as swimming pool, spa, and sauna. Coming here, you can experience the cuisine in 5 restaurants with many styles from Asia to Europe.
JW Marriott Phu Quoc Emerald Bay Resort & Spa
JW Marriott Phu Quoc is the first JW Marriot resort in Vietnam, in which Mr. Bill Bensley integrates an inspirational design story with a legend about Lamarck University.
Under the management of Marriott International - the world's most potent hotel group, visitors here can see the professional service and the dedicated and friendly staff.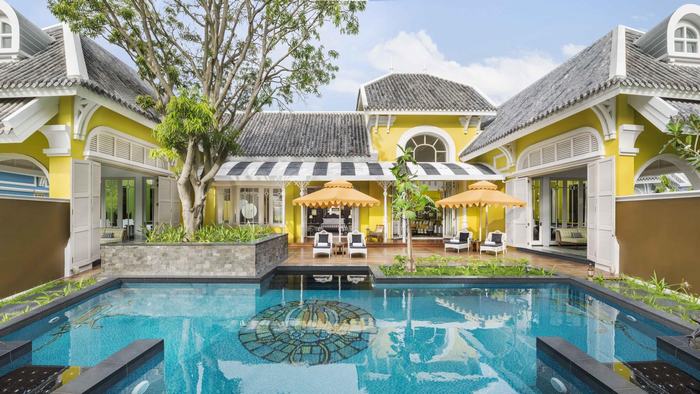 JW Marriott Phu Quoc Emerald Bay Resort & Spa
JW Marriott Phu Quoc provides a system of 5 contemporary-style restaurants and bars, from the quintessence of Vietnamese cuisine, Japanese kitchen, exquisite French cuisine at Tempus Fugit restaurant to the freshness of home-baked seafood at Red Rum restaurant, or featured multi-national cuisine at Pink Pearl restaurant. The sumptuous cuisine at the resort is enough to satisfy the most discerning travelers.
Hotel Royal Hoi An - MGallery by Sofitel
Hotel Royal Hoi An - MGallery by Sofitel is a luxurious 5-star hotel belonging to the first and only boutique hotel in Hoi An operated by AccorHotels Hotel Group.
Located next to the center of Hoi An Ancient Town and surrounded by a peaceful and poetic Thu Bon River, the hotel combines the sophistication of Japan with the unique elegance of Indochina architecture in the design. It is inspired based on the romantic love story of Cong Nu Ngoc Hoa (Nguyen Dynasty) and Japanese merchant Sotaro Akira.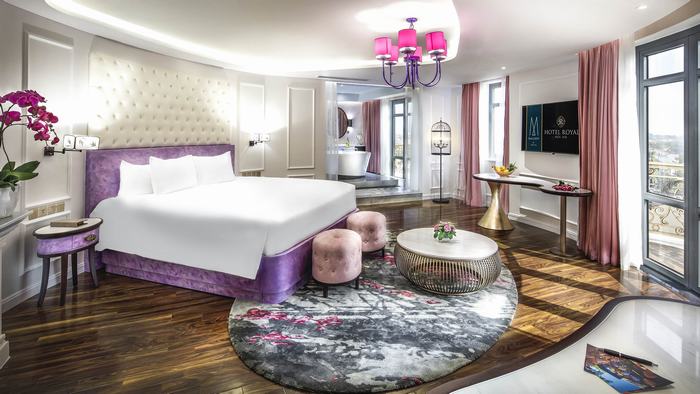 Hotel Royal Hoi An, MGallery by Sofitel
The hotel features 119 luxurious rooms, an Art-Nouveau-style outdoor pool, a River bar serving snacks and drinks, and a unique first-class Japanese restaurant in Hoi An - Wakaku. The international cuisine is served at Faifo restaurant. Woosah spa is the place to enjoy relaxation and beauty treatments.
Sofitel Legend Metropole Hanoi
Sofitel Legend Metropole Hanoi is located on Ngo Quyen Street, in the heart of Hanoi Capital. The hotel is about 27.4 km from Noi Bai Airport, about 1 km from Hanoi Old Quarter and Hoan Kiem Lake.
Sofitel Legend Metropole Hanoi went into operation in 1901. It is the first and oldest 5-star hotel in the capital and is always considered a historical symbol of Hanoi. In 2009, Metropole Hanoi became the first hotel of Sofitel brand ranked in the group of Accor Legend Hotels. Currently, the hotel is managed by Accor Group.
Sofitel Legend Metropole Hanoi retains an old French charm that is in harmony with the neoclassical style, creating a luxurious, magnificent but equally elegant beauty in the middle of this modern and ancient city. It is the ideal stopover for guests to relax and work in Hanoi.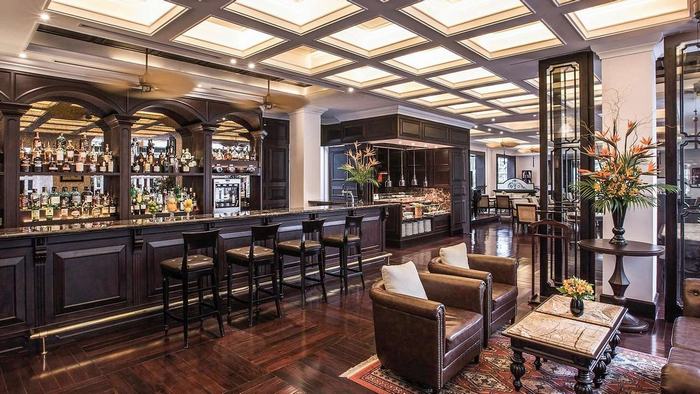 Sofitel Legend Metropole Hanoi
Sofitel Legend Metropole is comprised of 364 rooms divided into two areas, the Historical Metropole building, and the Contemporary Opera building.
InterContinental Nha Trang
InterContinental Nha Trang, located in the center of Tran Phu Street, Nha Trang City is a new hotel belonging to InterContinental brand in Vietnam.
The hotel consists of 279 rooms and 56 suites rooms, designed with separate and quiet balconies. The hotel is situated along the semicircular coast with a sweeping view of beautiful Nha Trang, which is voted as one of the most beautiful bays in the world by "Travel + Leisure" magazine.
The hotel's stylish restaurant and bar system will give diners a culinary experience with memorable imprints. Cookbook Caféc serves you a variety of menus from buffet to a-la-carte. Enjoy a sip of cocktails at the Lobby Bar or enjoying the unforgettable feeling of bathing in the sunshine at Aqualine Bar's outdoor pool will be a special experience for you in a Nha Trang trip.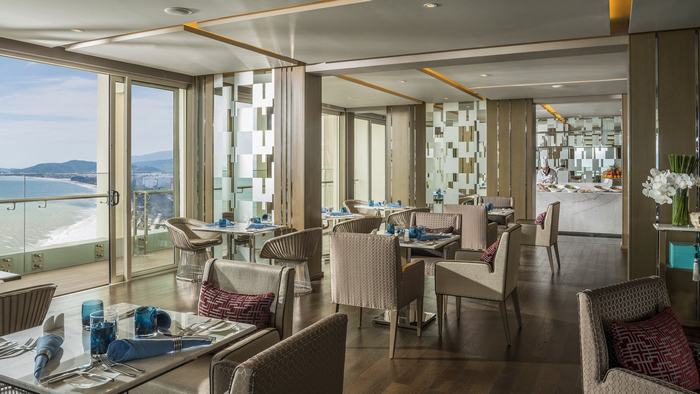 InterContinental Nha Trang
InterContinental Nha Trang also offers other modern facilities such as a fitness center and three outdoor pools; with traditional and contemporary body care therapies; and Kid's Club.
What else are you looking for? Choose one and spend your holiday to know how amazing Vietnam is. For more information about the Best of the North 6 days, you can visit our website. Feel free to contact us if you have any questions. Thank you!