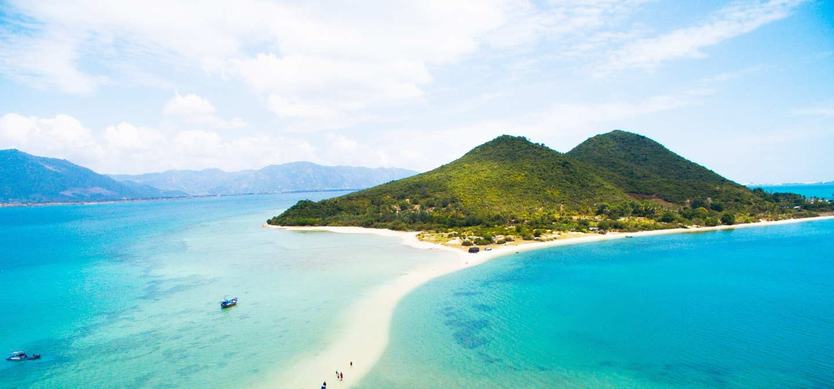 With a coastline of over 3,000 km long, it is not surprising that Vietnam is one of the countries that own many beautiful beaches with clear blue water, long white sand attracting a lot of domestic and foreign tourists to travel each year. Here are the ten most popular tourist beaches in Vietnam that tourists cannot miss their cruise travel.
Phu Quoc Beach
The Southernmost is where Phu Quoc island is located. Phu Quoc Beach is considered one of the most beautiful beaches in Vietnam with long sand and clear blue water. In Phu Quoc, there are many beaches, including Bai Dai beach and Sao beach, the two most beautiful beaches on this island.
Located in the northwest of Phu Quoc island, Bai Dai Beach is a clean, beautiful beach and it is very wild with a coastline of nearly 20 km. Here you will experience the feeling of bathing in the sunshine with cool water and quiet space. Therefore, in 2008, the Bai Dai beach was voted as one of the 13 most beautiful and wild beaches in the world.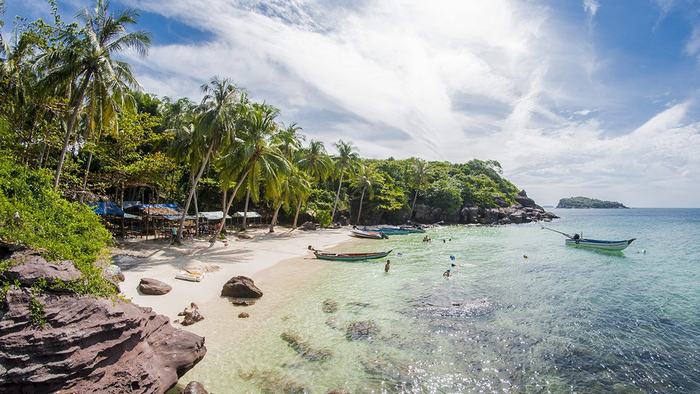 Phu Quoc beach
Con Dao Beach, Vung Tau
Being an isolated island off the coast of Vietnam, which used to be the prison with the cruelest forms of torture, Con Dao nowadays becomes one of the most attractive tourist destinations in Vietnam with a beautiful wild landscape. Con Dao with the white sand beach hidden in the blue sea is extremely impressive, which one of the most beautiful beaches is Dam Trau Beach.
Being like a soft silk ribbon next to the imposing cliffs, Dam Trau beach impresses strongly for any visitors coming here with the majesty of the mountain next to the feeling of deep gorges of the sea. This beautiful place became the inspiration for many poets writing about the sea.
Ho Coc Beach, Vung Tau
Ho Coc beach in Vung Tau province is a new and unspoiled sea with blue water, gentle slopes, and a large beach. The most distinctive feature of Ho Coc beach is the rocky boulders lying on the beach, which creates beautiful scenery, both majestic and poetic with the white waves, creating a feeling of heaven with beautiful sea and mountain.
Mui Ne Beach, Binh Thuan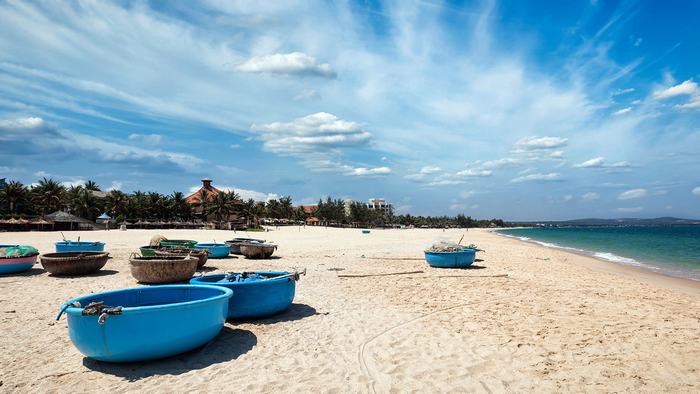 Mui Ne Beach
Mui Ne attracts tourists with blue sea, white sand, golden sun. With moving dunes, murmuring streams, a series of high-end resorts with cheap seafood and unique dishes, Mui Ne becomes a famous resort destination in Vietnam tourism.
Mui Ne is also a popular surfing spot in the area with ideal waves for newcomers to this sport. Tourists can learn windsurfing and rent skateboards at the beach shops.
Nha Trang Beach
Located right in Nha Trang Bay, this beach is considered one of the most attractive beaches in Vietnam, attracting thousands of domestic and foreign tourists to visit and relax every year. Nha Trang beach has an endless beauty with white sand, fresh blue water along with an offshore island system to help visitors feel comfortable and quiet to rest. Also, visitors can return to their childhood by flying kites along the coast of Nha Trang. Nha Trang beach was voted one of the 99 most beautiful beaches in the world by National Geographic Magazine in November 2010.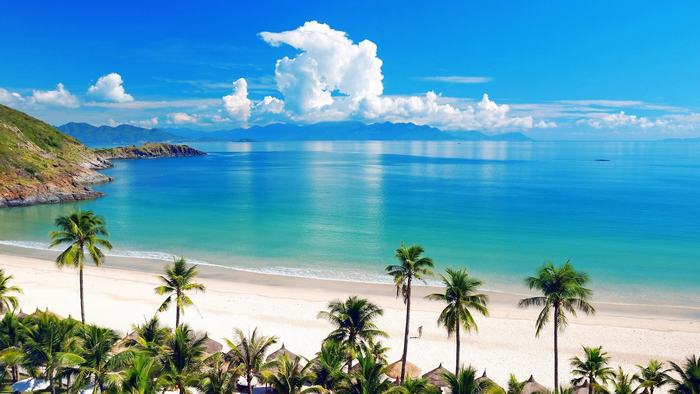 Nha Trang Beach
Cua Dai Beach, Hoi An
Cua Dai beach in Hoi An ancient town of Quang Nam is the most beautiful blue beach in the area. This beach is located 5 km from Hoi An Town to the east with a long white sand beach and the light waves running to the shore as sweeping away all worries.
My Khe Beach, Quang Ngai
My Khe beach in Quang Ngai with 6 km of coastline with soft sandy beaches is a suitable place for swimming in warm blue seawater.
Coming to My Khe, besides relaxing, bathing and breathing fresh air, visitors also have the opportunity to visit the memorial area of the Son My.
Lang Co Beach, Hue
Coming to ancient Hue, in addition to visiting the ancient palaces, listening to court music, enjoying Lang Co beach is an exciting and attractive experience. An average temperature of 25 degrees Celsius and jade-colored water are suitable for sea lovers.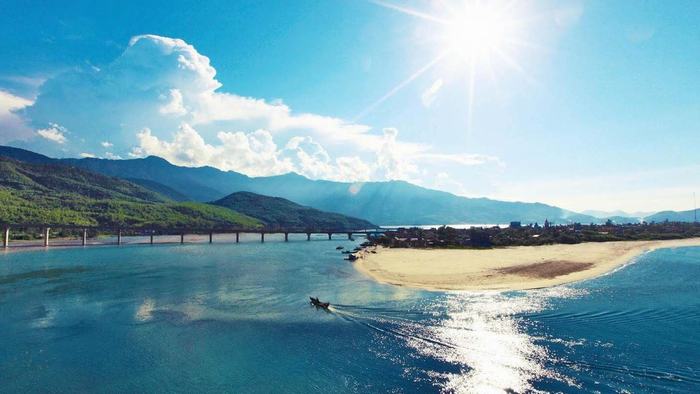 Lang Co Beach
Quy Nhon Beach, Binh Dinh
Quy Nhon is a relatively small coastal city, surrounded by beautiful and pristine beaches. For adventurous travelers, this is a great destination not to be missed.
Quy Nhon stretches out in the shape of the bow, embracing the shore of golden sand. One side is the wide waving sea, and one side is the hotel chain, high-end resorts welcoming the sea wind. From here, you can see the green coconuts swinging in the wind, further away, you will see a fresh ocean blue color with crystal clear sky.
Quan Lan Beach, Quang Ninh
Quan Lan beach is considered one of the most pristine and charming beaches in Vietnam, which has Minh Chau beach with beautiful white sand and Son Hao beach with romantic and lovely space, big golden sand dunes, green poplar forest, green sea morning glory rugs.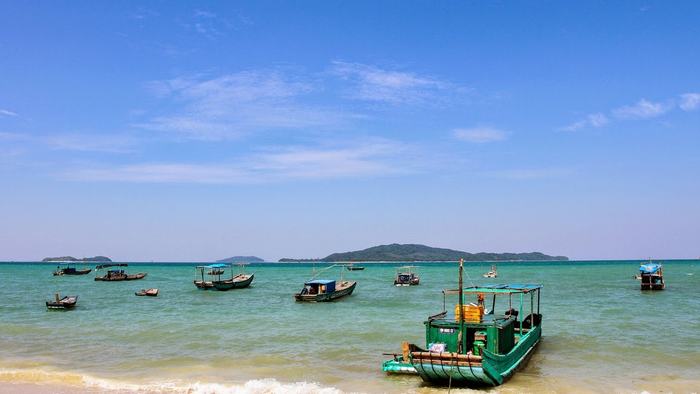 Quan Lan Beach
Quan Lan Island is known as a beautiful sea tourist attraction, attracting visitors by the green space with pristine landscape and fresh air in Bai Tu Long Bay located on the outer edge of Halong Bay. Tourists can visit Quan Lan beach when joining a two day Halong Bay tour.
The long coastline and a large system of islands in different sizes bring to our country so many famous blue beaches. The most beautiful beach in Vietnam is always an endless inspiration for sea lovers and travelers with the water sports hobby such as diving, surfing. It is easy for tourists to visit beautiful beaches with Vietnam group tour packages.
For more information about Vietnam group travel, please visit our website. You can share this article if it is helpful for you. Do not hesitate to contact us if you have any questions. Have a nice trip.