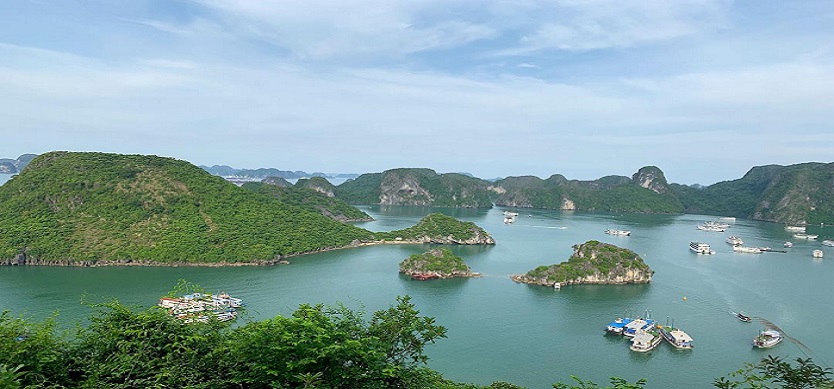 Halong Bay is one of the most beautiful tourist sites in Vietnam. It seduces tourist's hearts by the fairy and exotic landscapes.
In fact, Halong Bay has much more interesting things to explore than landscapes. Most of the tourists visiting Halong Bay know that this site is so glamorous.
If you wonder why Halong attracts a lot of tourists like this, let's dive in this post to see top reasons why you should travel to Halong Bay at least once in life.
A World Heritage Site
Halong Bay was twice listed as the new UNESCO World Heritage Site in 1994 and 2000, in recognition of its outstanding, universal aesthetic value and its outstanding geological and geomorphological value.
In 2012, Halong Bay became one of seven new natural wonders of the world, the preliminary election results were announced by New 7 Wonders (N7W).
According to BBC news agency (UK), it has just announced the list of 15 most miraculous natural tectonics in the world, in which Vietnam contributes a site - Halong Bay. The magical landscape here is dotted with limestone pillars and limestone caves. The rocks were formed when sea level rose and receded over the past 500 million years. The bay consists of 1,600 large and small islands, mostly uninhabited. According to legend, dragons created thousands of large and small islands to protect Vietnam from being invaded.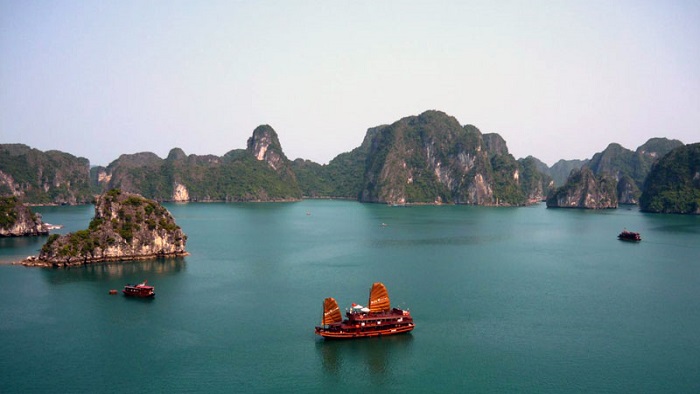 Halong Bay
Unique natural landscape
It is no coincidence that Halong Bay is at the top of the list of natural wonders of the 21st century. It can be said that nature favors giving this place the magnificent natural beauty which is not only with Vietnam but also to the world. Sitting on the boat, let the soul follow the waterline, you definitely think that you are lost in a fairytale world. Watching a vivid picture with all shimmering and fanciful shapes of sea, mountains, caves, flora and fauna, Halong Bay is truly where you should visit once in life.
Cultural and historical values
Not only has the beautiful natural beauty with the unique landscape but cave system, beautiful beaches, Halong Bay also contains rich historical and cultural values. Halong Bay is one of the cradles of ancient Vietnamese civilization, with three successive prehistoric cultures from 18,000 to 3,500 years ago, that is Soi Nhu Culture, Cai Beo Culture, and Halong Culture. This is also the place to mark the nation's history of building and protecting the country.
Beautiful climate
You can travel Halong Bay all year round. Located in northern Vietnam, Halong climate is divided into 4 seasons: spring, summer, autumn, and winter. Winter is from November last year to March next year, the weather is dry and cold, whereas summer lasts from April to October, the weather is warm. Thus, at any time of the year, Halong is a tourist attraction that attracts tourists. Normally, Vietnamese people will travel to Halong in the summer (from April to October) every year. Winter is attractive to foreign tourists.
Overnight in the bay
Traveling by cruise to explore Halong Bay is an experience that is no stranger to many tourists. But choosing overnight on the bay is probably more interesting. If you have the opportunity to Halong, you should try sleeping overnight on Halong Bay. Certainly, when sleeping overnight here, visitors will have many unforgettable memories.
System of rooms on cruises fully equipped with services that are not inferior to luxury hotels. Therefore, visitors can rest easy when staying overnight. In particular, the service staff is quite polite and dedicated.
In the morning, waking up on the cruise, visitors have the opportunity to admire the beautiful sunrise moment. Most rooms on the cruise have a window facing out the sea. Sitting in the room, visitors can take a look at many beautiful scenes, such as the vast sea, beautiful rocky islands, fishing villages, etc.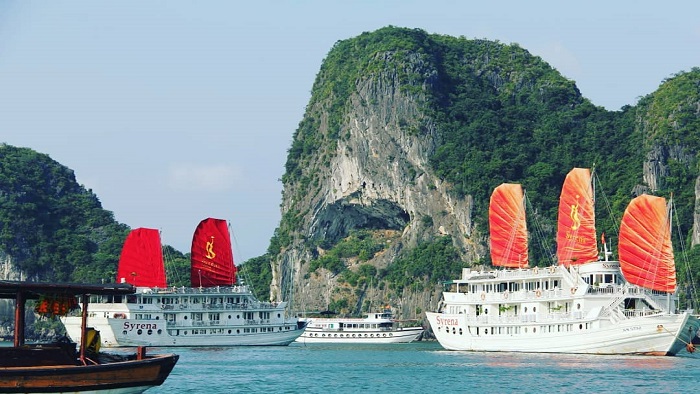 Halong Bay
Fresh seafood and delicious local cuisine
It can be said that Halong Bay seafood has become a trademark because of its freshness. Just once come here, visitors will not forget the delicious dishes such as white sticky rice with grilled squid, grilled oyster, shrimp vermicelli, fried snails with soy sauce, steamed crab, roasted crab, etc.
There are many restaurants in Halong Bay serving delicious food. They combine traditional Vietnamese cuisine with the latest culinary trends from around the world to create delicious dishes for all tastes. The menu is the result of the creative integration of Vietnamese cuisine and other cultures. A wide selection of the best wines from around the world will complement the wonderful fusion cuisine and creative Asian-inspired flavors.
The development of tourism services
Due to the attraction of many investment capital sources, the facilities and services in Halong Bay are very developed. The system of restaurants, hotels, resorts, and Halong Bay cruise tours has strongly developed to meet the needs of visitors. In addition, the service of catering, renting, game organization on the beach has become much more professional than before, gradually reaching the level of a famous tourist destination in the world.
Halong Bay is a pride of Vietnamese people when it is twice recognized World Heritage Sites by UNESCO. So, let's spend time to visit this site once to know how special this bay is via our website Vietnam group tour. Thank you!