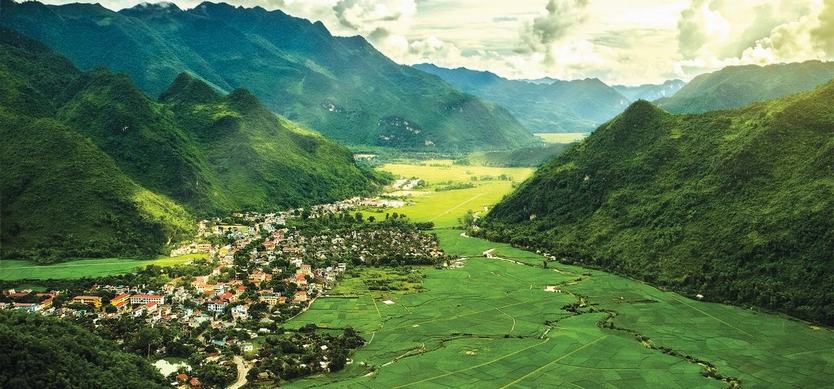 Despite being 140 kilometers away from Hanoi, Mai Chau - a small tranquil town looks like a different world. If you stay here overnight, home-stay is one of the best accommodations you are recommended because of not the only reasonable price but also authentic experiences as local people. This article will offer you all the needed information about home-stay in Mai Chau.
What is homestay?
When arriving at Mai Chau, you will have a chance to explore a unique type of house that perhaps you have never seen. That is nha san (stilt house) which is a popular kind of house in Northwest Vietnam and Central Highland where people lives around lush mountains and forests. Stilt houses where offer the service of homestay for visitors is the living place of the owner family.
Despite being influenced by urbanization like some architect features are similar to Kinh people's, in general, stilt house still keeps its, customs and traditions. Stilt houses which are built on stilts, 1.5 meters above the ground with the roof made of may or goi leaves and floor made of bamboo are designed and arranged in the original lifestyle of Thai people.
A typical stilt house often has two floors. The ground floor that used to be living space for cattle is taken advantage of the souvenir shop, food store or the place carrying bicycles for lease. The top floor is used for bedroom and living room.
According to tips to have a perfect trip in Mai Chau, the second floor has a common room that customers share the space for staying. Also, some private rooms that consist of one bed and fan with a higher price.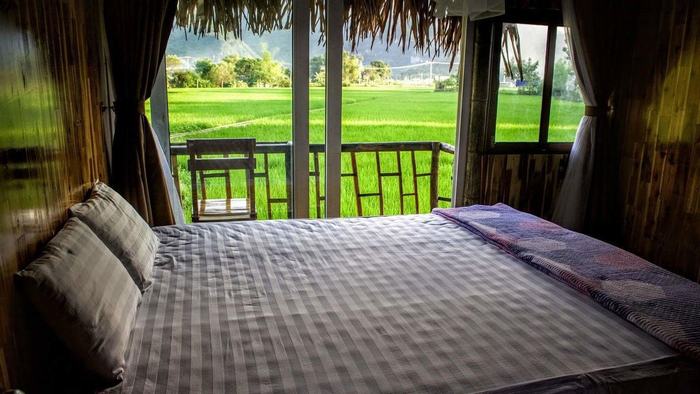 Homestay in Mai Chau
Most homestays are equipped with bamboo mat and fan. Some houses prepare blanket and buffer for the customer. The area of common sanitation includes several private bathrooms that are generally hygienic and equipped with an electric water heater. Nowadays all the home-stay have available high-speed wifi like the essential demand of the customer. It's advisable for you to choose to stay in these traditional houses to experience a living space that is unique and close to nature.
Why is it homestay?
Choosing homestays, you can not only save your money but also have a chance to mingle with the local's lives. If you stay in the common room, you will pay approximately $1 – 1.5 per night. In case you travel to a large group that includes 15 to 20 persons, you can rent the whole common room because this kind of room is sufficient for a minimum of 20 persons. A private room with a single room can cost about $7 per night while an individual room with a double room can take approximately $19 rooms.
Rooms that are equipped with an air conditioner will be more little expensive. Although there are hotels in the center of town, homestay is a much more exciting experience than any accommodation here. You would rather live in the unique, traditional and close-to-nature house than a concrete house with the full-time air conditioner working. Because of being made of natural materials such as bamboo, wood or kinds of forest leaves, stilt house is cool in the summer and warm in the winter.
Walking on the bamboo floor, you will amaze at the rustling sound in the rhythm of the foot. It's much more incredible than you can imagine. In the early morning, you will be woken up by the sound of chicken, duck or other cattle creating; or the sound members of the owner family prepare to work, swipe the yard or cook. However, you won't feel disturbed but excited when getting up thanks to "this unique alarm."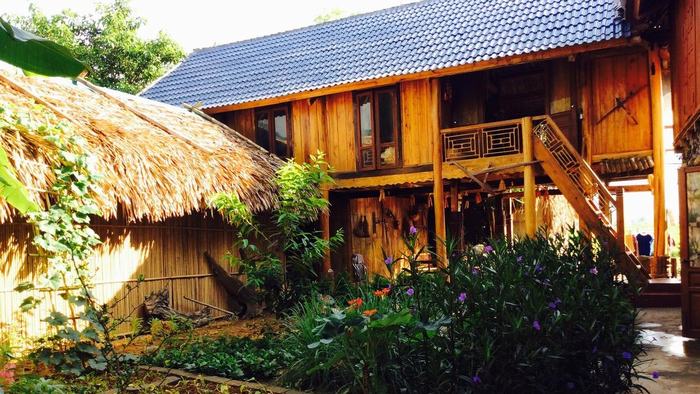 Homestay in Mai Chau
Opening the window, you will get a panoramic view of Lac or Pom Coong Village, misty mountains, greenish lush rice fields. You can get in touch with nature, and you can't forget this feeling once you have experienced. Most homestays serve the meal including breakfast, dinner and lunch for customers. All the dishes are made from local ingredients so they are fresh. Traditional cuisine is prepared by Thai people – the oldest resident in Mai Chau. Hence, traditional foods not only are tasty but also keep the authentic flavor that it's difficult to find if you are out of Mai Chau.
There are several local dishes such as sticky rice, com lam (tube rice), grilled pork skewers, bees stirred with the fermented bamboo shoot, etc, will leave a strong impression in your mouth. Moreover, hand weaving brocade fabric is still preserved. Sometimes in the home-stay, you can witness the image that women sit next to their handmade looms, fluently manipulating the multicolor threads in and out to create stunning detailed patterns. You will be admirable how skillful and diligent Thai woman is.
If you ask them for trying, they will surely agree and show you enthusiastically how to weave no matter you can be little clumsy. Local people are amicable, enthusiastic, straightforward and honest. They treat the customer well and are always willing to help the customer if they get into trouble. Although their life may not be well – off, they always keep the smile on the face and the generous and simple spirit of the mountain.
You like to discover Mai Chau in the most honest and fullest way? You have no choice but to choose a Mai Chau trekking tour and stay in a local homestay. We are sure that you will have exciting and memorable experiences more than you expect.
Why don't you stand up and take your backpack to come and visit Vietnam right now? Do not forget to take Vietnam tour package to get more information about Mai Chau as well as other Vietnamese amazing destinations. Vietnam is waiting for you! Share the post if you find it useful. Have a nice trip!