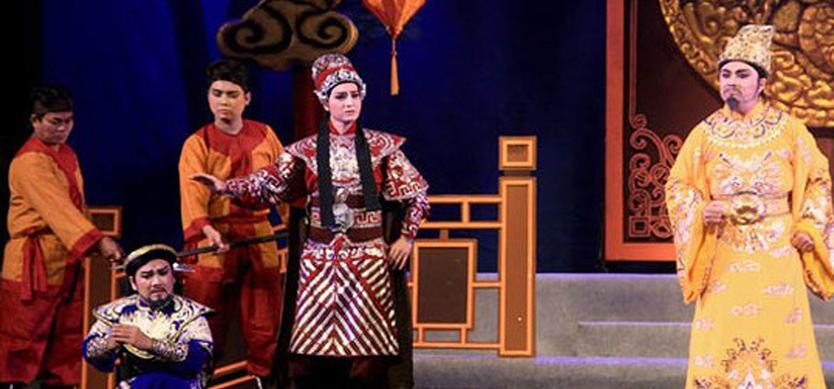 When coming and visiting Vietnam, tourists have a chance to experience many special things which are not in their country. One of them is Cai Luong – a traditional culture of Vietnamese people. Please book a tour in Vietnam group tour to know more about it right now.
About Cai Luong
The name "Cai Luong" means "modifying for better." In the past, Vietnam had only "Cheo singing" and "Tuong singing" in the North and Hat Boi in the South. In 1917, Cai Luong appeared, and it was known that it would be better and advanced than "Boi singing"; therefore, it is named "Cai Luong" for this new cadence.
"Don Ca Tai Tu" music (Southern amateur music) was performed in wedding ceremonies, promotion, housewarming, etc. In the past; however, they did not appear in front of the crowd in 1910, there was Don Ca Tai Tu of Nguyen Tong Trieu in My Tho. This group included Tu Trieu, Chin Quan, Muoi Ly, Bay Vo, Co Hai Nhieu, and Co Ba Dac. This group sang beautifully, and it was chosen to perform in the exhibition of France.
In 1911, Nguyen Tong Trieu wanted to bring his music to the public; therefore, he asked for the permission of the owner of "Minh Tan hotel" restaurant which was near the railway station My Tho - Sai Gon to perform there. Many people came and enjoyed his group's music. Then, Mr. Ho - the owner of Casino Theater invited the group to come and perform there every Wednesday and Saturday on the stage, and this was warmly welcomed.
The idea of bringing "Don Ca Tai Tu" group to the stage of Tu Trieu in My Tho in 1912 spread to Saigon and many provinces in the South. In 1913-1914, the owner of the restaurant "Cuu Long Giang" invited them to perform at his restaurant. It was Mr. Nam Tu - the most exemplary in setting up Cai Luong.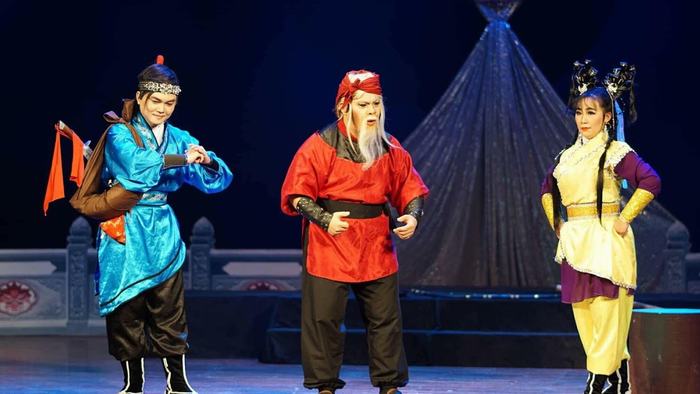 Cai Luong singing
After that, there were more "Dong Ca Tai Tu" groups. Some famous instrument players were Ba Dai, Hai Tri, Nhac Khi, Nam Trieu, and Bay Trieu. Besides, there were also many famous singers such as Da Bac, Bay Lung, Ba Niem, Hai Nhieu, and Hai Cuc. The movement of Cai Luong was attracted to a lot of people from all social classes.
It can be said that Cai Luong stage is an indispensable product of the social situation of Vietnam, especially the Southern society at that time. Therefore, it grew very quickly. In the first three years of the 20th century, it was taking its first steps. In 1931, it was officially introduced to perform abroad. Cai Luong had developed significantly attracted a lot of listeners.
After the Geneva Convention (1954), Cai Luong had many opportunities to flourish strongly, becoming an art form attracting thousands of passionate listeners every night. Because of the idea of Mr. Tran Tan Quoc, Thanh Tam award was founded in 1858. Since the following year, the promising artists would be awarded the Golden Medal and an honorary degree. And Thanh Tam award was considered the prominent and prestigious award at that time.
In short, Cai Luong is the liberating art of the oppressed and dehydrated peasants who must rise to fight for the survival of their social class and their country. Their voice is indomitable singing and has been shown through many works and "Doi Co Luu" is a typical one. Its author, Tran Huu Trang, is a farmer and an intellectual artist.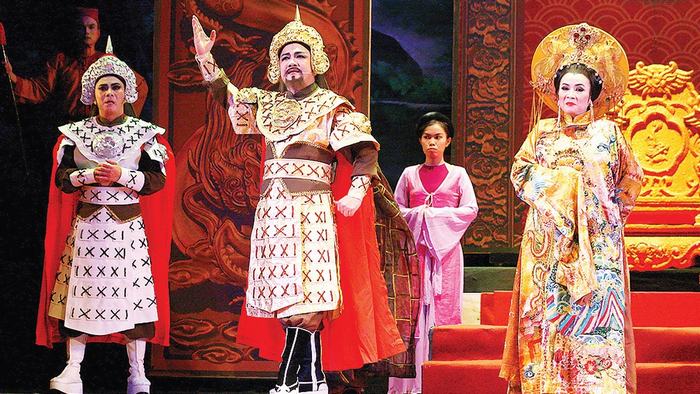 Cai Luong singing
Why Cai Luong is accepted?
"Boi singing" is the acting style for those who know how to enjoy it but Cai Luong is performed for everyone. From the upper class to the peasants class can be the audiences of Cai Luong. Cai Luong is simple to understand the simple content which is close to daily life.
The content of Cai Luong often plays close to the people. When watching social plays, you will have the same feeling with the characters in the plays. Besides, Cai Luong has enough types of entertainment "playing musical instruments, singing, recitation, and drawing" performed for the audiences. Cai Luong is the combination of classical music, European music, and folk music. Together with Vietnam group travel, you will have the best time to enjoy this kind of music.
Cai Luong is spiritual food for all people in Vietnam in particular and all the lovers of this traditional culture in general. In spite of many difficulties, Cai Luong is still maintained until today. And it will always be a precious melody in the consciousness of the Vietnamese people.
If you are considering the best places to visit in Vietnam, please visit our website to get more information about our beloved Vietnam. Share the post if you find it useful. Vietnam hears from you! Have a nice trip!