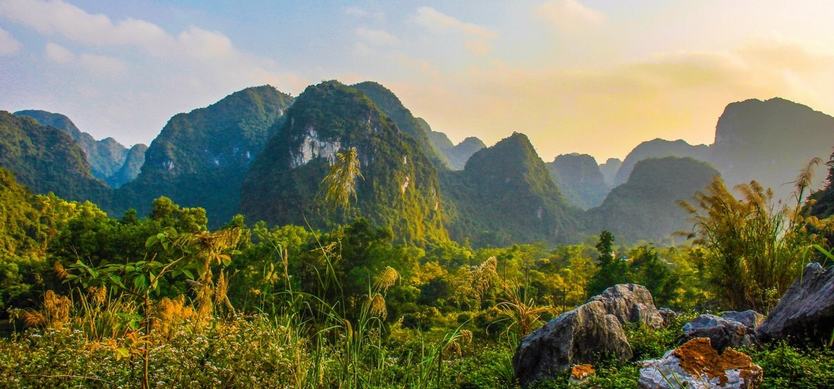 Traveling to Cat Ba in recent years is the first choice of many domestic visitors and also foreign tourists, especially during the summer or holidays. Let's explore this beautiful island with the experience and tips to make the memorable trip to Cat Ba island Vietnam in this summer vacation!
Best time to visit Cat Ba
Visitors can travel Cat Ba at any time of the year, but the most suitable period still is around June and July - the ideal time for the holiday, avoid the heat of summer. However, there are differences between domestic and foreign visitors. International visitors often visit Cat Ba in winter and spring (from November to March), while domestic tourists often travel Cat Ba in summer.
Especially, tourists often come to Cat Ba on weekends or holidays, so if you have time, you should go in midweek to avoid the crowd, full house or much higher service charges (usually 2-3 times higher than usual). And the best duration for the trip to Cat Ba is at least two days one night so you can have enough time to enjoy sightseeing, swimming and try many famous specialties.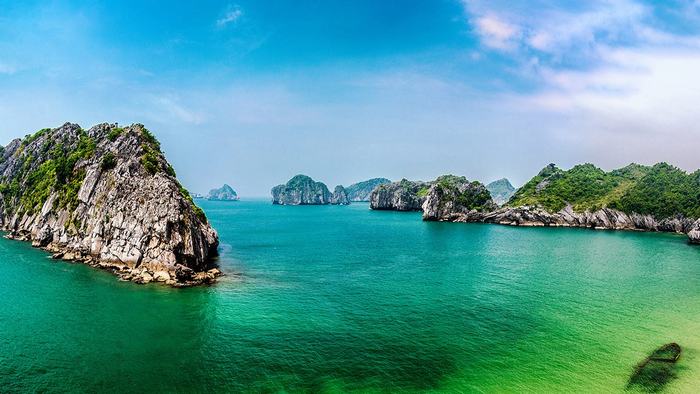 Cat Ba Island
Getting to Cat Ba
To get to Cat Ba island, tourists can go from Hai Phong or Halong.
From Hai Phong
High-speed boat ticket in Ben Binh is from 200,000 - 250,000 VND / person, the travel time is about 45 minutes to Cat Ba, this means is convenient and fast, but the ticket price is quite high.
Taking the ferry or boats at Dinh Vu wharf is another way but in slow speed, and it takes about 2-3 hours with two ferry turns but if you have private means, then take this way.
Tourists can go through Tan Vu - Lach Huyen bridge. This bridge connects Hanoi - Hai Phong expressway with Cat Hai district. Tourists go to Ben Got, take the ferry to Cai Vieng wharf, then continue to move to the center of Cat Ba island. Travelers can also move from Cat Ba island to Hanoi by this route. By the longest sea-crossing bridge in Vietnam, travelers will save time and money by ferrying, making travel to Cat Ba Island easier.
From Halong
You can take the ferry in Tuan Chau, the last trip to Cat Ba is at 3 pm. Usually, travelers combine the trip to Cat Ba from Halong, leading to the overloading, so you should come early to buy tickets, or if you have a little more economic conditions, you can go to Cat Ba after visiting the bay in a cruise trip.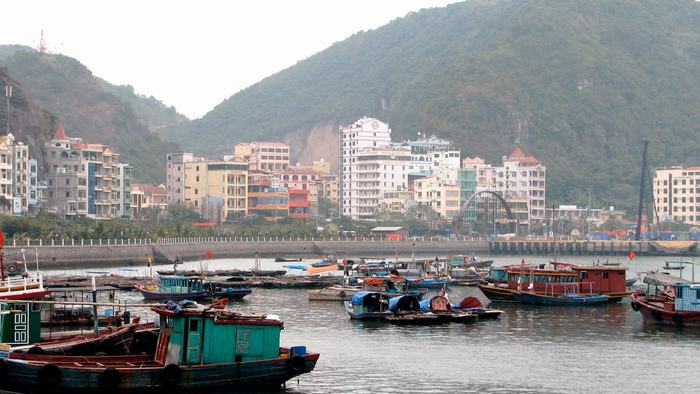 Boat to Cat Ba Island
Motels and hotels in Cat Ba
In recent years, tourism in Cat Ba has been growing very fast, so the number of guest houses and hotels has been increasing with all kinds of cheap and luxury hotels. Solo travelers will book rooms with higher prices than tour groups, and hotel booking price in the close day of the trip is higher and the weekend price is about 20% - 50% more than the first days of the week, holiday price will be much higher than normal days.
Cat Ba hotel is located in the coastal road, or some of the guesthouses and hotels are located away from the beach, but you can still walk to the beach or rent a tram with VND 10,000 per person. So I recommend you travel to explore Cat Ba on weekdays, the place is not too crowded, and you can save much money.
Tourist attractions and activities in Cat Ba
Cat Ba beaches
Cat Co 1, 2, and 3 are very close to the center, in which Cat Co 2 beach is the most beautiful with clear water. From the center of town, you can hire a motorbike taxi or a tram to reach the beach, only cost VND 10,000 / person. If you do not bring your swimsuit, you can rent it right at the beach, and according to the experience of the tourists and local people, you should go to shore before 6:30 pm because of the strong tide and high waves.
Monkey Island
Previously known as Cat Dua Island because there are many wild pineapple plants are used to make a drink for cooling or medicines. Nowadays, visitors are familiar with the name Monkey Island because on the island there are about 20 small monkeys to play near the beach and eat the food that tourists give them. There are two beaches are Cat Dua 1 and Cat Dua 2, the ideal bathing spots for visitors.
Monkey Island is an indispensable stopover on the Lan Ha Bay, where you can go swimming or take a scuba diving tour at one of the centers there, having instructors and prices around 1 million VND for 30 minutes.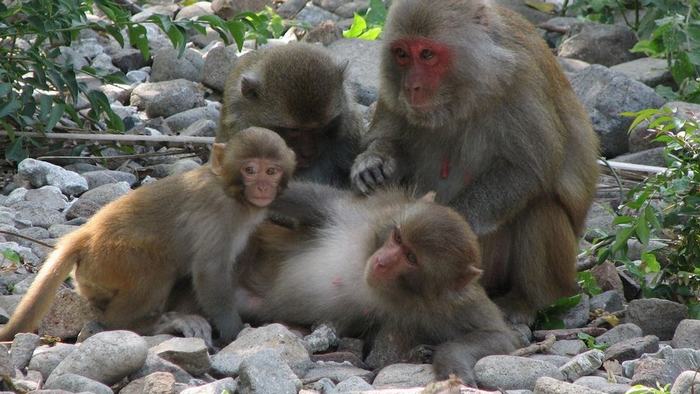 Monkey Island
Visiting Lan Ha Bay by kayak
Exploring Lan Ha Bay by kayaking is favored by the adventure seekers. You will have to sail on the waves to feel the whole array of limestone mountains, caves, clear water with the vast, immense sky, explore the white sand beaches, the mountains growing on the sea.
Kayak and mountain trekking tours are available at the post office for $ 8, including a car taking you at the pier, or you take a motorbike taxi to Beo port and buy tickets directly at Xuan Hong, Quang Anh boats with prices from 100,000 to 200,000 VND/kayak/day.
Not only exploring Lan Ha Bay but you can sail to discover Cai Beo fishing village, Monkey Island, Bright and Dark Cave.
Cai Beo ancient fishing village
It is one of the oldest fishing villages in Vietnam, and very famous in Cat Ba. This place is not as noisy as the pier to Lan Ha bay but there are many ships, boats, ferry ready to take you around the peaceful space of the fishing village. Normally, if you are traveling in a group, you should hire a big boat to admire the beautiful scenery and listen to the boatman's introduction, telling exciting stories, or stop at the houses to see the seafood here.
Cat Ba National Park
It is the next place you should visit when coming to Cat Ba. Cat Ba National Park is a biosphere reserve with a very diverse ecosystem of about 741 different plant species, including many rare species. Therefore, this place is also one of the popular tourist attractions. With the price of about 15,000 VND / person, you will be visiting ecological tourism, the landscape inside the national park such as Bat cave, Trang Trung Cave, .. and some other famous caves.
Cannon Fort
Also known as High Point 177 because it is a historical site in the hill with a height of 177m, including the large artillery and the system of tunnels, ditches built from the 40s of the twentieth century. It was here with the Cat Ba military and people through two long-standing resistance war against France and America.
At present, there are still two huge cannons with weight up to tens of tons. Also, the fort is also a point for you to admire from above many beautiful places in Cat Ba such as Hon Guoc, Lan Ha Bay through the lens of the telescope, this is the ideal place for photographers when traveling and sightseeing sunset in Cat Ba afternoon.
These are some travel information about what you need so you can prepare yourself a trip to Cat Ba. If you do not have a lot of time, you should book a Cat Ba private tour or a Cat Ba island tour so that you do not have to worry and prepare too much for your trip.
For more information about Vietnam tour group, please visit our website. You can also share this post if it is useful for you.