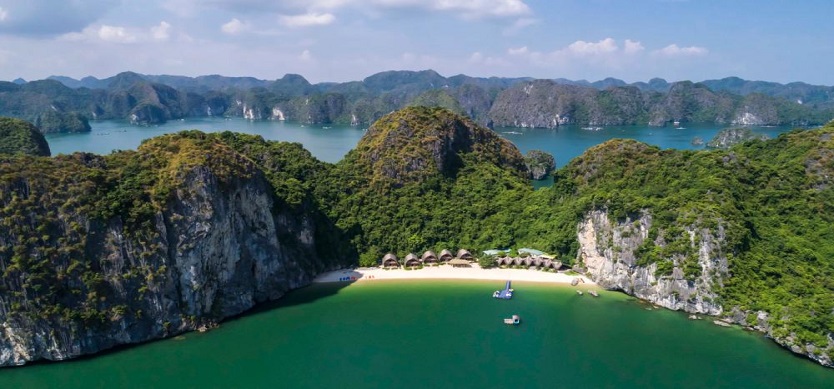 Halong Bay is one of the most wonderful and worth-visit destinations in Vietnam. But it seems to be over-exploited by tourism.
Fortunately, I was introduced to visit Lan Ha Bay via the Vietnam group tour- a beautiful site near Halong with similar beauty.
Today, I will tell you my story about what I have admired and explored in Lan Ha Bay.
Read my experience below!
Overview of Lan Ha Bay
Lan Ha Bay is located between Cat Ba island and Halong Bay. The bay covers an area of ​​7000 hectares, of which 5400 hectares are under the management of Cat Ba National Park. The area has about 400 small and large islands that are covered in lush green trees.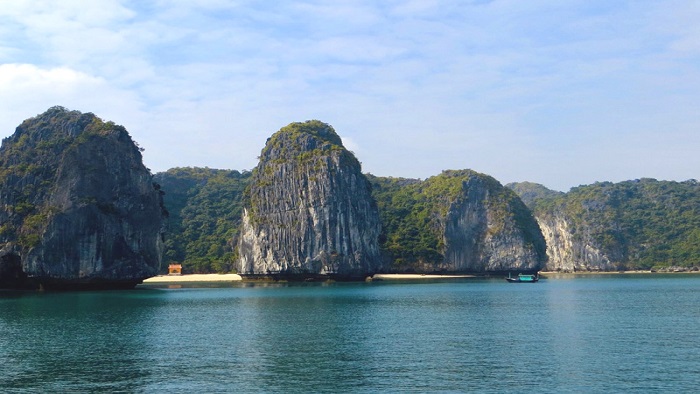 Lan Ha Bay
The suitable time to visit Lan Ha Bay
The most appropriate time to visit Lan Ha Bay is summer. The North Vietnam weather at that time is sunny and a bit hot, it is very suitable for sea activities such as swimming, kayaking, etc. If you want to visit both Cat Ba island and Lan Ha Bay, you can consider visiting in autumn, hence, the weather sometimes is not good enough due to the sudden rains.
Tourist attractions in Lan Ha Bay
Being adjacent to Halong Bay, Lan Ha Bay still features different natural beauty.
Tourist stop near Cua Van fishing village
This is the stop where the cruises taking guests to Lan Ha Bay often stops, located about 12 km from the Beo ferry. This is considered a paradise for tourists to kayak in the wonderful cave system.
Luon cave
From the stop above, you rent a kayak boat and paddle in the direction of Kayak 1 (Blue sign) in the right direction, then you will see a small cave, paddling through the cave, you will reach a small water area wrapped by the mountain, continuing to ferment to the left, you will see another cave to return to the anchorage area. Note that if the water is too high, you will have to return to the area where the boat is anchored by the direction of entry.
Nam Cat island
Nam Cat Island Resort (Cat Ba National Park - one of the most well-protect Vietnamese national parks) attracts many visitors by the wild features of the forest and the sea. The goal of "conservation to develop, develop to preserve" is the fulcrum for winning the hearts of visitors every day. From Beo wharf, going in the direction of Lan Ha Bay for about 15 minutes, visitors will come to Nam Cat island.
Because of the pristine look, visitors come here to enjoy the peaceful feeling. Human intervention on the island is limited to its natural value. With 3 large wooden houses on stilts and 6 guest houses made from bamboo, resting here you will be immersed with nature and the atmosphere of the sea.
Nam Cat's beautiful beach is a place where all tourists enjoy the clear blue water, watching the small fish, coral reefs or seaweed. There is also a full range of services for tourists from swimming, kayaking, diving, fishing to campfire activities at night.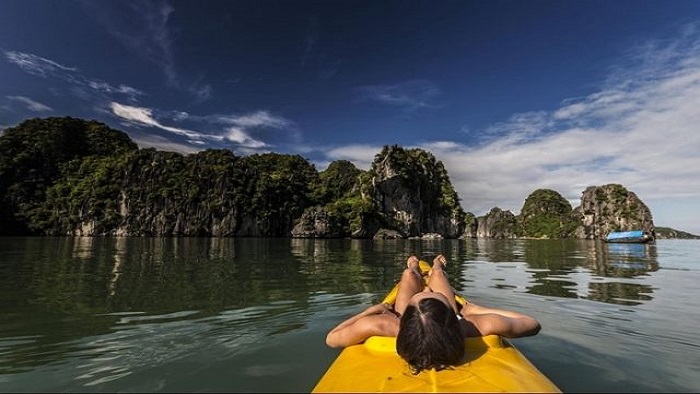 Nam Cat island
Monkey island
Monkey Island is about 1 km away from Cat Ba town. To reach Monkey Island, tourists have to take a boat from Beo wharf, which takes about 10 minutes to go through Cai Beo fishing village and small islands and head straight to Monkey Island. Previously, Monkey island called Cat Dua island is because there are many wild coconut trees on the island that look very good but cannot be eaten. Fishermen going fishing often come to the island to pick up the wild coconut as medicine to treat diabetes.
Currently, the island is often called Monkey island. The reason is that there are more than 20 monkeys released by the rangers of Cat Ba National Park here. They often go to the beach to play with tourists, eat food from visitors such as bananas, apples, tangerines, candies. Monkeys create an impression for those who have come here and gradually people know this is called Monkey island.
Monkey Island covers an area of about 3 km. Monkey Island has 2 arc-shaped beaches that are Cat Dua 1 beach and Cat Dua 2 beach. In which Cat Dua 1 beach is longer, there are military barracks stationed. This is an ideal swimming spot for tourists whenever traveling to Cat Ba and Lan Ha Bay because the seawater here is clear and extremely blue.
Van Boi beach
This is a destination chosen by tourists for kayaking as well as swimming because it is located in the quiet part of the bay, featuring blue water and beautiful landscapes.
Turtle islet
It is a small islet located in Lan Ha Bay, shaped like a turtle swimming in the water. The islet is located near the Beo wharf route to Viet Hai Village.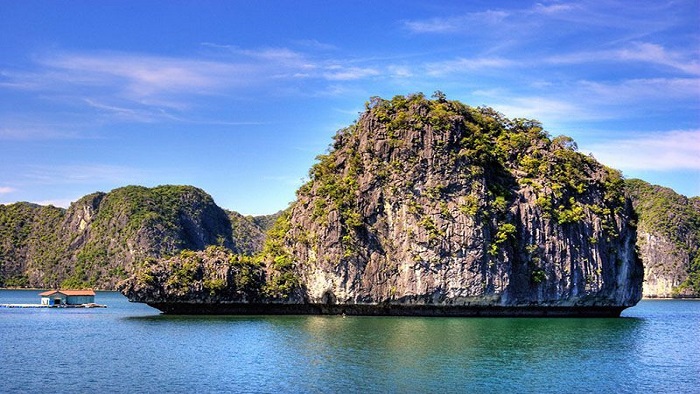 Turtle islet
Bell islet
Bell islet also has a number of other names such as Hon But, Hon Nen, and Hon Bap Chuoi. This is a small islet on the route from Cat Ba island to Cua Van fishing village.
This is all about Lan Ha Bay I give you in this post today. Let's take your backpack to get to this wonderful bay in your Vietnam trip. For further information, don't hesitate to let us know. If you find this article useful for you, please like and share it with others. Thank you!