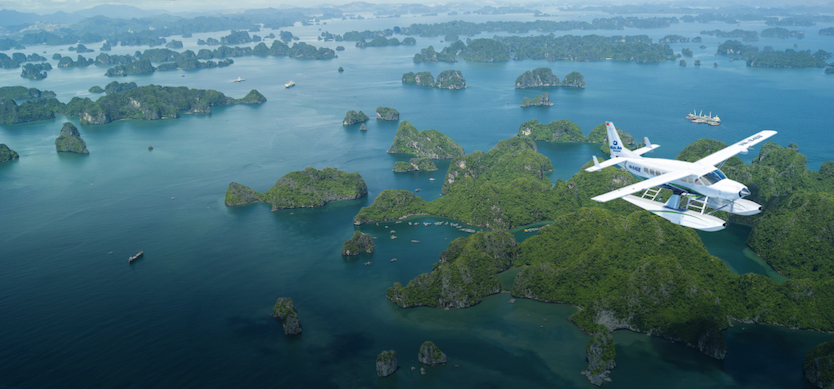 Nowadays, besides cruises, you can see the magnificent beauty of the World's Heritage Site - Halong Bay by seaplanes. That will be one of your special experiences.
Experience of seaplanes in Halong Bay
A seaplane Hanoi Halong tour only has a maximum of 12 visitors and 2 pilots so that visitors get the most beautiful views on Halong Bay. As the plane glides slowly into the ocean then flying up the sky, visitors will feel very exciting because of new experiences which can not be found on other flights.
Pilots glider many rounds to tourists collect all the beautiful scenery insight. From the seaplane looking down, the whole bay with nearly 2,000 islands appears vividly and dreamily. The blue water surrounding islands draws a water-color painting as in the fairy scene. Flight range is not high, so you CHECK-IN freely by your smartphone to keep the wonderful time on Halong Bay.
Today, in Vietnam, Hai Au Aviation company is the first private airline providing seaplanes with luxury sightseeing services. This type of business has grown significantly over the world, but it is entirely new in Vietnam. To have 25 minutes of sightseeing by seaplane, you have to pay $100-500 depending on your itinerary.
Nearly half an hour "floating" on the sky of Halong Bay, with what you saw and experienced, you will understand why Halong Bay is listed as the world's natural wonder.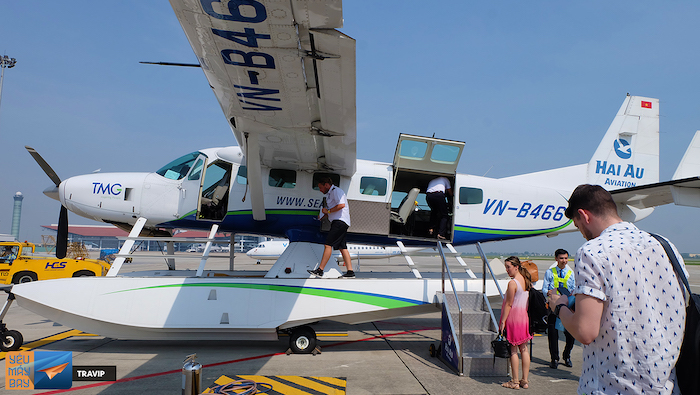 The Hai Au seaplanes
Attractions of a Halong Bay seaplane journey
Dau Be island
Located in the southeast of Halong Bay, 500 meters to the east, from the Bai Chay Tourist Wharf about 28 km, in a gland located in the outer archipelago of Halong Bay (Lan Ha Bay estuary), standing between Tra Ngu island and Da Le Island.
The island has an area of 22,863 m2 with the highest peak of 139 m. The island walls stand up like a wall to block large waves from the east into the bay. The island mountains are sharpened by nature, creating many beautiful scenes.
Cong Do island
On the southeast side of Halong Bay, about 25 km from Bai Chay Wharf, Cong Do is in Bai Tu Long Bay in the region which recognized as the World Heritage. It has an area of 23,363 square meters, and its mountain reaches a peak of 172 m. The island features many lagoons, which are the residence of numerous species of sea-life, such as shrimp, crab, fish, squid, and aquatic plants.
The coral reef ecosystem here is more than 700m long, 300m wide with many rare and precious coral species such as red coral, horned coral, etc. The coral reefs here are almost intact, with ornamental fish, seahorses, etc. living together. In the future, it will develop into an underground eco-tourism area.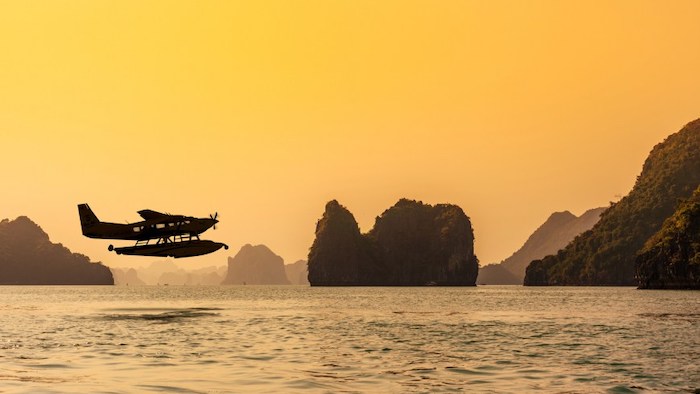 Admiring Halong Bay from above
In the southeast of the island, there are traces of ancient Van Don commercial port, which are faint, but it confirms that the former Cong Do island held a prominent position in trade with foreign countries.
Bo Hon island
Bo Hon island or Soap-Berry Tree island, not only because of its splendid scenery but also as it is one of the largest in the area. There are many caves located here, such as the Surprise, Luon, Virgin and Male grottoes. There is also a concentration of high mountains with vertical cliffs like citadel wall; mountains follow jointly make a substantial beautiful watercolor picture on the sea.
If you have ever experienced the scenery of Halong Bay on the cruise but still not satisfied, there is no ideal way than admiring the beautiful bay from a seaplane. For further information about 2-night tour Halong Bay, don't hesitate to let us know. If you find the article useful for your trip, please like and share it with others. Thank you and hope you will have a wonderful time here.