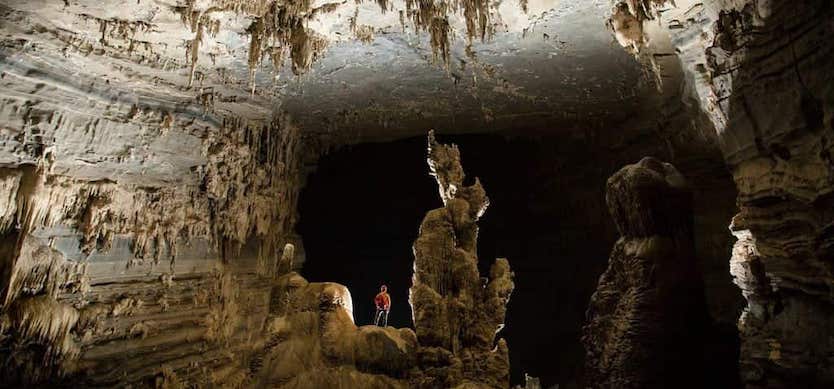 Located 70km northwest of Phong Nha, Tu Lan deserves to be the "big brother" in dozens of new caves discovered and put into operation for several years.
Quang Binh province is famous for the beautiful caves system in Phong Nha - Ke Bang, and it would be a deficiency if we do not mention Tu Lan cave system with 8 different fanciful caves discovered in 2009 in Tan Hoa Commune, Minh Hoa district. If you have a chance to come to Vietnam, do not forget to take Vietnam tour groups to explore Tu Lan cave.
About Tu Lan cave system
The vast Tu Lan valley is surrounded by majestic limestone mountains with a lot of majestic caves inside. The scene here is adorned with Rao Nay stream along with its winding, which creates a beautiful water painting. During the flood season, the water floods all and makes the valley a bay between green forests.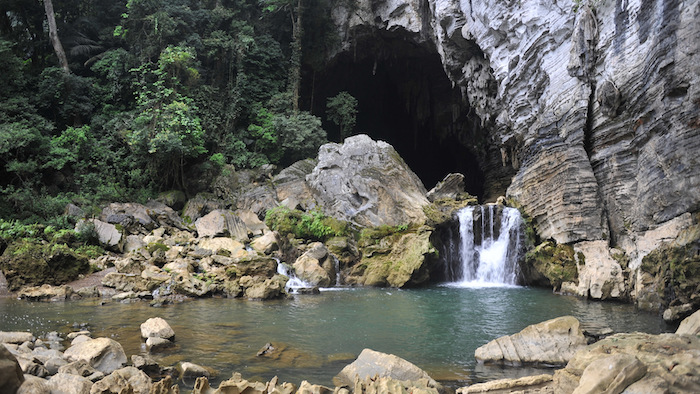 Nang Rung waterfall before the cave door
Unlike the caves system in Phong Nha - Ke Bang National Park, Tu Lan caves system in Quang Binh province is quite low, surrounded by many rivers and streams. The water flow drains among pristine forests, straights into the caves, and then disappears in the mysterious dark.
Another precious heritage in this place is hundreds of animals and plants living in the limestone mountains. Besides, there is a strange kind of fish which swim backwards in Tu Lan cave. They are as small as a little finger, but they can latch on the cliffs where the flows drain strongly.
In recent years, Tu Lan cave tour has been run, attracting many domestic and foreign tourists. However, it is not a typical trip. There is now only one way to enter the cave. Therefore, difficult or dangerous points with materials support such as ladders, wooden boards still requires people's skill and carefulness. It results in much exciting experiences for tourists when coming here.
The journey to discover Tu Lan cave
Together with Vietnam group travel, the tour to Tu Lan cave will start in Phong Nha, and you will follow the Ho Chi Minh road to back out the North to get to Tan Hoa Commune. Two sides of the way to the commune are the vast green cornfields, adorned with some yellow cornfields, which creates a romantic scene as welcoming the tourists to come and visit.
To touch Tu Lan cave, tourists have to cross many forests, wade through the streams, or even swim in the dark cave. Therefore, you will be prepared with the equipment when going there such as clothes, dedicated backpacks, hats with led, rock climbing gloves, ropes, etc.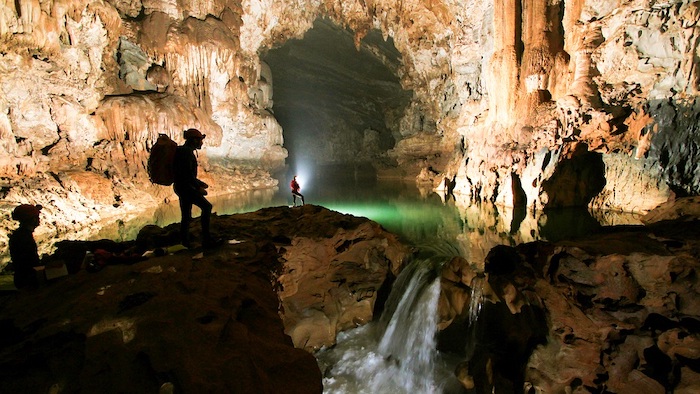 Inside Tu Lan cave
The journey to explore Tu Lan cave will begin from gentle streams which flow through the rocks between a flat area. Then, you will pass the sharp cliffs which have been honed for millions of years by the wind and the water. After passing through the stream, you will have to pass through the rock. That means your clothes will get wet and dry again, which is like a test to measure your strength, persistence, and courage.
Notably, on the way to get to Tu Lan cave, you have to swim 5 times through the dark cave with the light of LED, then you will see the open space with the high roofs which are changed continuously based on the differences in the height and the width, which makes tourists have a chance to get many different surprises. Sometimes, there is a hundreds-of-meter-wide cave which is like a vast swimming pool. And sometimes there is a narrow cave which is full of slippery rocks, so tourists have to be careful when crossing it.
It is also interesting to let yourself drift in the cool water, admire the virtual stalactites hidden and appeared according to the lights, which gives you many imaginary rock shapes. Over a million years of the geological movement, Tu Lan cave also creates numerous round pebbles, black stones with beautiful patterns as painted by the artist. These stones are covered with a shimmering emulsion and stalactite pillars.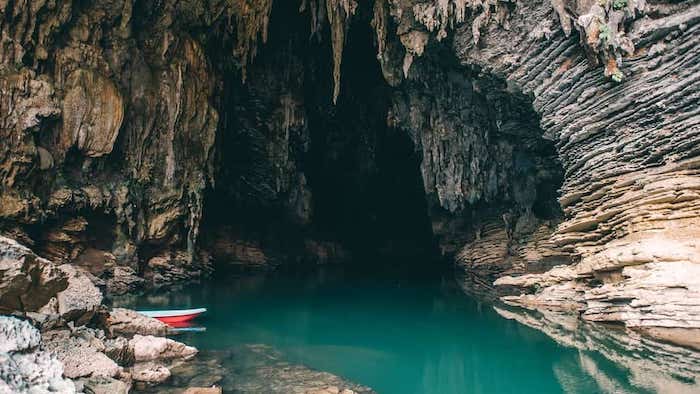 A clear green pond of Tu Lan cave
After having finished the journey to explore Tu Lan cave, you will camp next to a small romantic lake with jade water and white butterflies flying. Once the tents are ready, the local dishes will be processed with the simplest utensils. It will bring you the feeling of returning to life thousands of years ago with the fire stove and barbecue skewers.
Waking up in the wild nature in the next morning and hearing the birds chirping welcoming the new day make your soul euphoria. Getting out the tents and walking along with the blank of the stream, you will have the chance to enjoy the morning with the fresh green grass and blue cloud. All keep on your mind forever when leaving Tu Lan cave.
Tu Lan cave with several challenging yet stunning experiences will make your trip unforgettable. If you are considering 10 best places to visit in Vietnam, please visit our website and contact us for further information. Share the post if you find it useful. Have a nice trip!