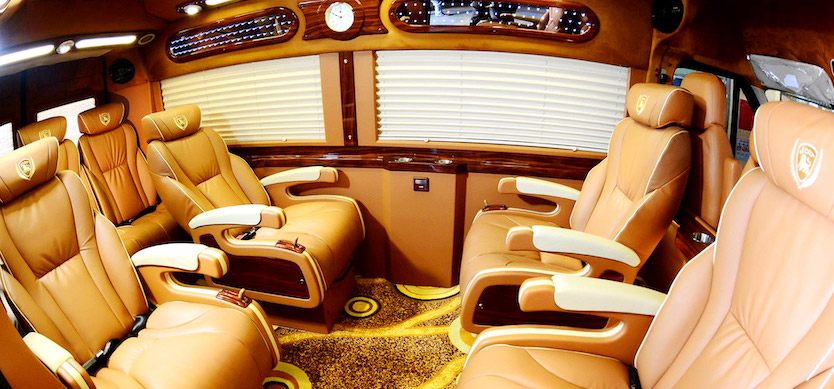 Traveling to Halong, tourists have various choices of ways to go from Hanoi which are incredibly safe, fast, and convenient. Here are the best means for you.
When taking a Halong Bay night tour, you don't have to care about how to transfer, where to stay, how much a cruise on the bay costs, etc. But, if you make a self-sufficient adventure, you have to concern about transportation. In this article, we will introduce you best way to get from Hanoi to Halong Bay and vice versa, Halong Bay to Hanoi.
Coach/Shuttle bus
If someone asks you How do you get from Hanoi to Halong bay at the cheapest way to get from is by shuttle bus. Just like anywhere else in the world, coach fee is always reasonable. This option allows you to learn more about the daily life of the Vietnamese. However, like other public transport in Vietnam, a passenger car has many disadvantages. Notably, it makes foreign visitors have fewer options.
The coach departures at Luong Yen, My Dinh or Gia Lam bus station and stops at Bai Chay bus station, Halong city.
The price is low - about VND 100,000 - 130,000.
It is always better to travel in a group rather than alone, we highly recommend you to visit Vietnam group travel to take a travel tour, save cost and ensure your safety during the journey.
Travel time: 4 hours
Main route: Hanoi - Hai Duong - Hai Phong - Bai Chay (Halong)
Traveling by coach is an ideal answer to the question "How to get from Hanoi to Halong bay?" It is a unique way to experience the local culture. However, foreign tourists may find it difficult to fully understand the customs of Vietnamese passenger cars or exchange information with the driver.
Otherwise, in case of missing the bus, you will probably get lost. For tourists who only have one day to travel, this is not the best option. Due to you have to leave the port early to reach the Bay, your journey may not be completed.
Seaplane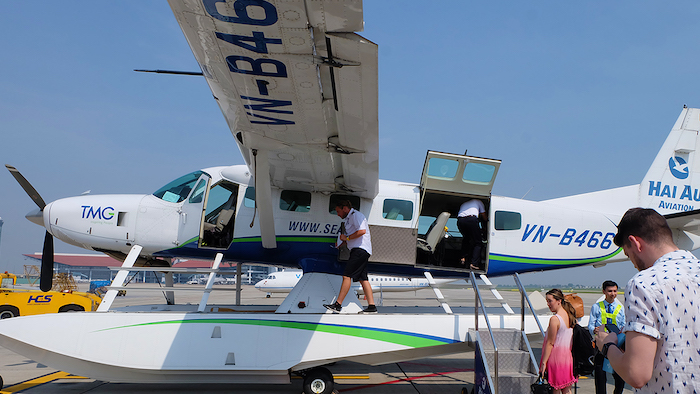 Halong seaplane of Hai Au company
When someone asks you How do you get from Hanoi to Halong Bay so fast and so impressive, you can answer them that: "If you don't mind about the high cost, a seaplane is the fastest and an ideal way to transfer from Hanoi to Halong bay." It only takes the seaplane 45 minutes since it takes off from Noi Bai international airport until it lands off at Tuan Chau Marina.
Moreover, you will have 15 mins to view comprehensive Halong Bay from high above, making it one of the reasons why you should travel to Halong Bay. For more information, Hai Au Aviation is the monopoly seaplane supplier in Vietnam.
Motorbike
Hanoi - Bac Ninh - Halong: 155 km
That is the shortest route from Hanoi to Halong, taking 2.5–3 hours to complete the journey as follows.
- Hanoi route 5 - Sai Dong junction: 10 km.
- Sai Dong along the road 1 - Bac Ninh: 23 km.
- From Bac Ninh province: Route 18 - Pha Lai district - Chi Linh district - Dong Trieu district- Uong Bi town - Halong city: 122 km.
Hanoi - Hai Duong - Halong: 170km
It is the more convenient road, from Hanoi through Hai Duong city, then Nam Sach town, turn to Highway 183 through Sao Do, Dong Trieu, Uong Bi, and Halong.
Hanoi - Hai Duong - Hai Phong - Halong: 160km
It is a road trip through Hai Duong city, to Quan Toan road (Hai Phong) then turn to Highway 10 connecting National Highway 18A in Uong Bi town to Halong, you will spend 3-3.5 hours.
Railway
The railway from Hanoi – Kep station - Halong: 190km
The Hanoi to Halong Bay train goes through Kep station (Yen Vien) to Halong, departing from Yen Vien station (Hanoi) at 05:15 am daily. The traveling time is 7 hours. The average ticket price is around VND 100,000/ticket depending on the type of rooms and seats.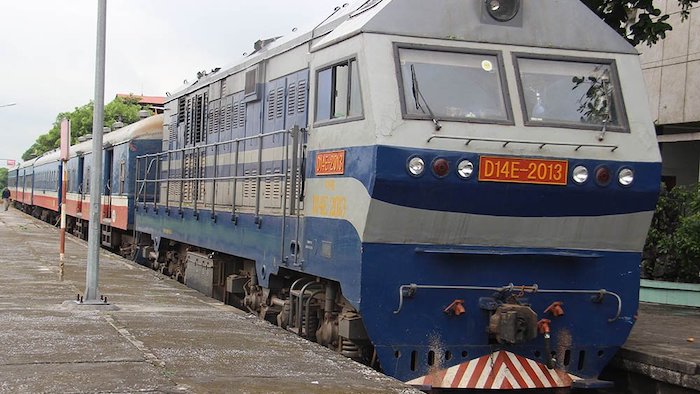 Travel to Halong Bay by train
Service on board
Please note that children under 5 years old are exempted from train tickets (adults are accompanied and non-allocated).
Seating
On the card and passenger ticket, in addition to the instructions on the train number, train hours, train car, you can find the number of seats on the car. Chairs are numbered so that you can find your position easily.
Food and beverage service
Meals and drinks are served at the canteen. If required, you will be served at the bar or served at your seat. Therefore, for the convenience of service, we recommend that you sit in the right place of your boat.
Luggage
Luggage is allowed to carry on with passengers up to 20 kg, compact and put by yourself during the trip. Besides, each carriage contains a suitcase at the end, opposite the staff room for guests to use.
Entertainment
On the ship, they offer entertainment activities such as commercials, funny comedy clips, movie shows, music videos.
Hope that with our guide, you will be able to save the best memory in Halong in a perfect way. If you concern about Signature cruise Halong Bay, please contact us for more information. Share this article if it is helpful for you. Thank you.