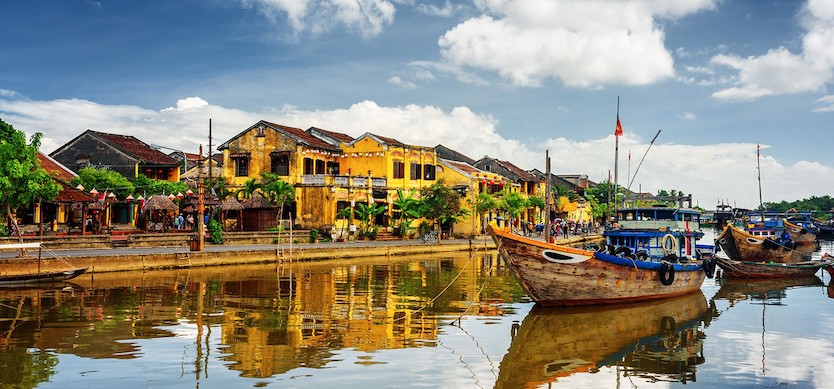 Located in the Central, Hoi An is outstanding as a rustic yet poetic destination for tourists. It's very convenient to get here from Da Nang with these best ways.
Best ways from Da Nang to Hoi An
Motorbike
If you are confident about riding the motorcycle, then it's good news, because moving in such manic cities in Vietnam, the best choice is the motorbike. Moreover, it is a 30-kilometer ride along the coastal road, getting from Da Nang to Hoi An but the motor will give you options of a stop at the majestic places rather than just kitsch the Marble Mountain.
Once you hit coastal Da Nang, take a left by the Furama Resort and go straight across the roundabout and over the bridge to the heart of the action.
Bus
Recently, Hoi An town is not available with train service yet. But there are still many other means of transport that you can choose to transfer from Da Nang to Hoi An such as taxi, bus, shuttle bus, rental car or motorbike.
The cheapest option is the local bus. This choice takes you VND 18,000 each turn. It departs from the station Le Hong Phong - a 15-minute walk from center town. Remember that the returns bus leaves at 6.00 pm if you want to go to Hoi An the get back to Da Nang in one day.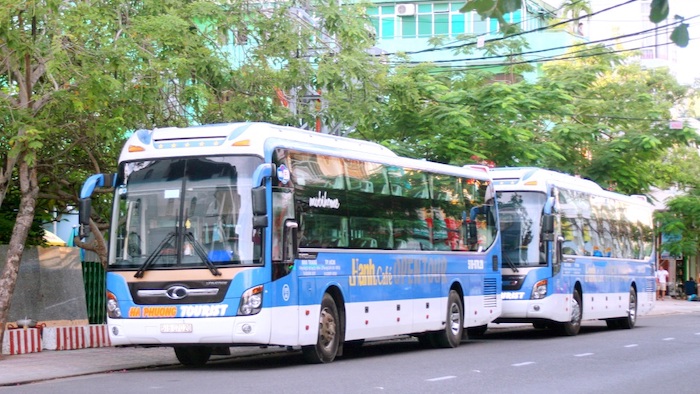 Traveling to Hoi An by bus
Private car
You have to spend VND 500,000-700,000 a day for a self-drive and private car. It is better to gather some more people to join you and share the cost. Da Nang is a city that it is hard to negotiate. We highly recommend you to travel in a group for your safety and save the budget.
Motorbike taxi
Motorbike taxi is the most common method to get around in Vietnam. A turn from Da Nang to Hoi An and vice versa, by motorbike taxi, typically costs VND 150,000-250,000, depending on how lucky you are and how you will negotiate with the divers.
Top Hoi An attractions
Bridge Pagoda
Bridge Pagoda is a pearl in the heart of Hoi An. The bridge was built in the late 16th century and is called the Japanese bridge. In the middle of the bridge is a small temple worshipping Huyen Thien Dai De. The bridge has a unique roof with the structure and decorative patterns showing the harmonious combination of Vietnamese, Chinese, Japanese and Western architectural styles.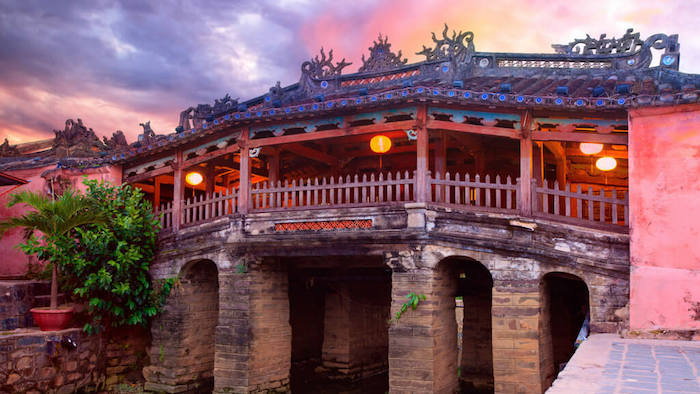 Bridge Pagoda by night
Location: The bridge crosses the creek that flows to the Thu Bon river bordering the road between Nguyen Thi Minh Khai and Tran Phu.
Phuc Kien Assembly Hall
Legend has it that the precursor of the Assembly Hall was a small shrine worshipping the Thien Hau Thanh Mau statue (the goddess blessed the merchants who surpassed the ocean) recovered at Hoi An beach in 1697. Through many times of restoration, with the main contribution of Phuc Kien Chinese people, the Assembly Hall becomes more and more brilliant, contributing to embellish the appearance of Hoi An ancient urban architecture.
Location: 46 Tran Phu street
Tan Ky ancient house
Built nearly 200 years ago, Tan Ky house has a typical architectural style of Hoi An townhouse with many interiors, each with its function. The front of the house is a place to open a shop, and the back is connected to a river port to serve as a place to import and export goods.
The house was built with traditional materials by local carpenters, so it has agile, elegant and cozy features, showing communication with architectural styles in the area. On February 17, 1990, the Tan Ky house was granted a National Historical and Cultural Monument.
Cua Dai beach
Cua Dai is a beautiful beach with white sand, clear blue water, calm waves and fresh seafood shops available at reasonable prices. Besides Hoi An Vietnam night market, going to Cua Dai beach in the evening is also great because, at that time, the beach becomes sparkling under the romantic oil lamps.
Cua Dai beach
An Bang beach
Coming to An Bang beach, you will feel a pleasant freshness as you walk along the sand, catch the sun, and watch the pristine beauty at dawn on the sea.
Thanh Ha pottery village
In the 16th and 17th centuries, Thanh Ha was a very prosperous village, famous for its pottery and terracotta items exchanged and sold throughout central Vietnam provinces. Pottery of the village originated from Thanh Hoa.
After acquiring some technical capital, it has formed pottery village today. Products are mainly used for daily life such as cups, bowls, jars, vases, flowerpots, decorative pots with many styles and colors. They are plentiful and notably lighter than other local products of the same type.
Traveling to Hoi An, there are no more convenient ways than reaching the place from Da Nang city. If you concern about Central package tours, please visit Vietnam Group Tour for further information. Share this article if it is helpful for you. Thank you and hope you will have an exciting experience here.