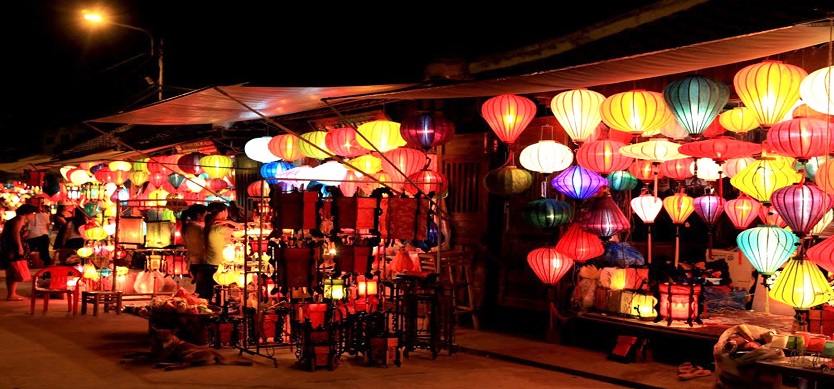 While they may not be as bright and shiny as malls or supermarkets, night markets have their own character and are popular destinations for local people and travelers alike. Am Phu market (Hades) in Da Lat City, Ky Lua market in Lang Son Province, Dinh Cau night market in Phu Quoc Island, Ben Thanh night market, Hanoi night market are must-see destinations for tourists who visit these locations.
1. Ky Lua Night Market
Ky Lua market has a history of hundreds of years. On market day, the youth of Tay, Nung, and Dao ethnic groups come here to buy goods or find friends or lovers.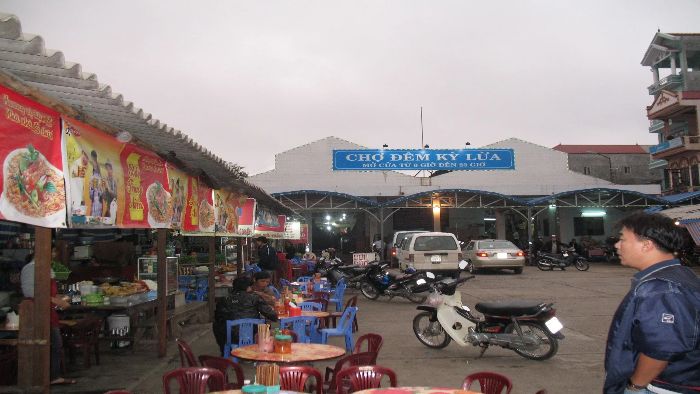 Ky Lua night market
2. Hoi An Night Market
Visiting the night market is one of the unforgettable experiences in Hoi An for you. It starts at 05:00 pm daily on Nguyen Hoang Road, Hoi An ancient town, Quang Nam province. The market not only attracts tourists with unique souvenirs and cuisines but also has a bustling atmosphere created by tourists
3. Nha Trang Night Market
Nha Trang night market is held on the pedestrian street next to the 46 Tran Phu cultural center. The Night Market has souvenir stands, handicraft products, and dining pavilions.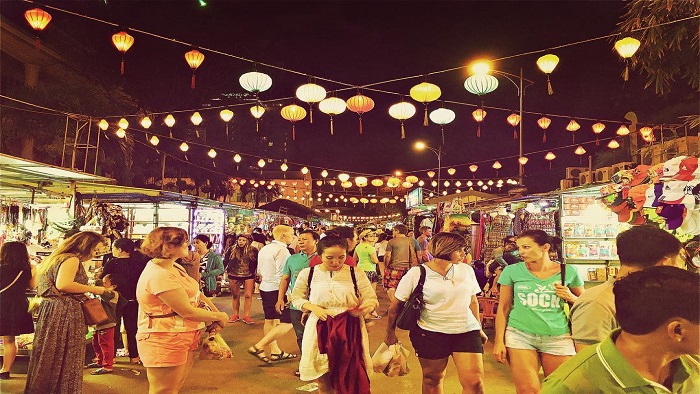 Nha Trang night market
4. Quy Nhon Night Market
Quy Nhon night market is in the heart of Quy Nhon city and near the sea. The market opens from 06:00 pm to 10:00 pm every day, selling souvenirs, clothes, etc. at very cheap prices.
5. Am Phu (Hades) Market
Am Phu market in Da Lat City of Lam Dong Province is a must-see destination of tourists to the resort city. The market sells many items from clothing to accessories and food, at reasonable prices.
6. Ho Thi Ky flower market
Ho Thi Ky flower market is located on the road of the same name in Ward 1, District 10 of HCMC. This is the largest wholesale flower market in HCMC and the south. The market is bustling all day, especially from 12:00 am to 03:00 am. Tourists can also enjoy delicious food in the market.
7. Ben Thanh Night Market
Ben Thanh night market in District 1, HCMC is the most famous market in the city. It opens from 05:00 pm to midnight with hundreds of stalls. The market is best known for unique dishes.
There are at least 20 street-side eateries around the market building, with hundreds of diners gathering to feast on a wide range of the best dishes from all over Vietnam. You may spot "Bun cha" or Pho, delicious noodle dishes from Hanoi, "Banh nam" - little steamed cakes in banana leaf from Hue, or "Banh xeo" - crispy rice pancakes from the Mekong Delta, as well as plenty of other delicacies. You can order delicious fresh grilled seafood, or tasty barbequed pork - with such great choices, you can't go wrong!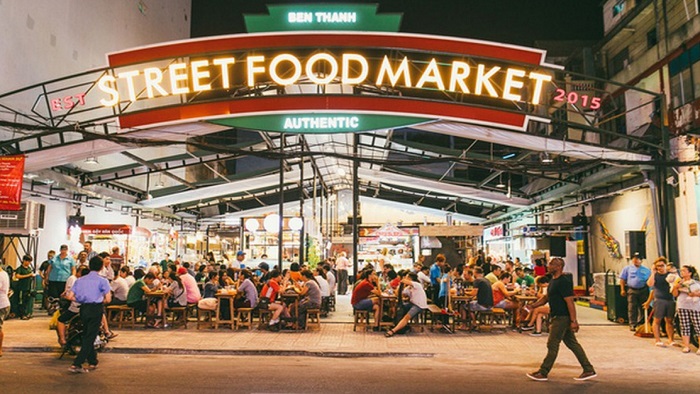 Ben Thanh night market
One of the best things about eating at Ben Thanh is that you can watch the chef cooking in front of you, and take in every delicious smell and sound, allowing you to enjoy the food with all your senses. The restaurants are also not exclusively tourist traps but offer authentic food and atmosphere - on any night the clients maybe 60-70% Vietnamese families and friends rather than exclusively tourists.
8. Dinh Cau Night Market
Dinh Cau night market is on the island of Phu Quoc, Kien Giang province. It sells souvenirs and local specialties. However, travelers like it because they can eat fresh and cheap seafood.
9. Hanoi Old Quarter Night Market
Hanoi Old Quarter night market spreads from Hang Dao street to Dong Xuan Market; this creates the walking street where all kinds of vehicles are not permitted.
There are various kinds of products in the Hanoi night market. People on a Hanoi food tour can find clothes, sweets, salted dry fruit (o mai), decorations, toys, stationeries, sundry goods on the streets: Hang Ngang, Hang Duong, Luong Van Can, Hang Ma, Ngo Gach, and Hang Ca, while goods and facilities are mostly sold from Dong Xuan Market to Hang Giay Street.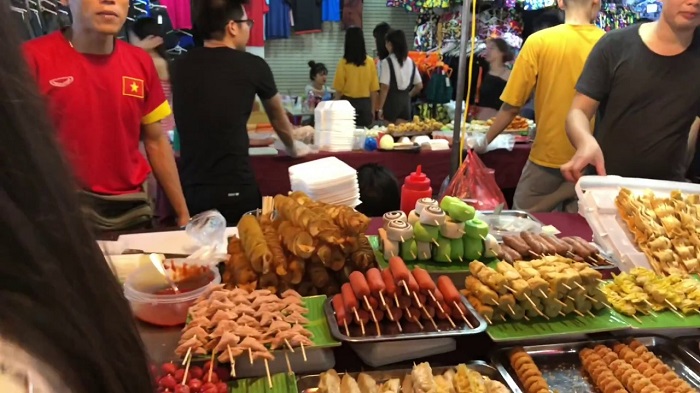 Hanoi Old Quarter night market
It's also a good idea coming to the night market to enjoy food. There is plenty of food here. People can find bloating fern-shaped cake (banh beo), bacon, grilled (nem chua), grilled sausages, Hai Phong bread, etc … at two sides of the market. At the end of the market street, there are more kinds of tasty dishes such as hot pot, grilled food, steamed glutinous rice (xoi).
Eating and drinking on the street are very popular in Vietnam, and night markets offer a great window into the life of the city. If you have a chance we highly recommend joining the crowds to eat on the street for an atmosphere and experience that can't be matched by a hotel restaurant. Let's find and book group tours Vietnam or Vietnam package tours to enjoy the interesting nightlife.