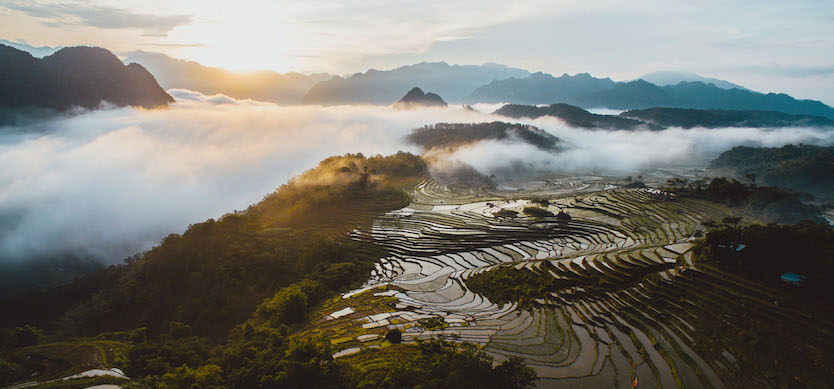 Mai Chau does not have many beautiful and famous tourist sites like Moc Chau - Son La, but to Mai Chau, you will not be disappointed because of the scenery here.
Mai Chau trek Vietnam which is an idyllic town in Hoa Binh province is one of the most famous tourist destinations in Northern Vietnam. Mai Chau impresses the travelers by the breathtaking landscape and the original native culture. In Mai Chau, there are several natural places that their brilliant beauty can touch your heart at the very sight.
Pu Luong Nature Reserve
Being located on the border between Hoa Binh and Thanh Hoa province, Pu Luong Nature Reserve which has been still lesser-known is an incredible ecotourism place and perfectly suitable for trekking. Despite being not far away from the mainstream of Mai Chau, Pu Luong seems not to be touristy and remains to be in the first state.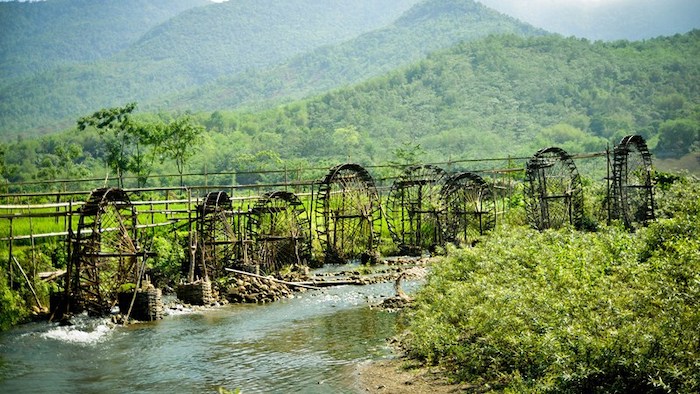 Pu Luong of Thanh Hoa province
Pu Luong is such a remote area that you can't nearly connect to wifi or 4G. It's one of the rare locations in Vietnam where it's almost impossible to plug. However, thanks to these drawbacks, you can get away from your daily life temporarily and get drunk in the extraordinary beauty of Pu Luong.
Being established in 1999 to safeguard the biodiversity of the site, Pu Luong owns the extensive pristine forests, the lush terraced rice field. The pure blue of the sky mixes with the yellow color of the rice fields and the fresh green color of the forests, creating a remarkable harmony of nature. Once you have witnessed these glorious sceneries, they will always be alive in your mind, and you can't stop uttering "How magnificent Mother Nature is."
The atmosphere in Pu Luong is incredibly fresh so let's take a deep breath suddenly. Undoubtedly, Pu Luong Nature Reserve gives you the chance to connect with nature most fully. A narrow road separates the reserve along with the valley levels, linking chains of small hamlets and villages.
One more remarkable thing of Pu Luong is the appearance of the waterwheel. Looking like the Ferris wheel, the waterwheel which is made of bamboo is created by the mountainous ethnic tribes to produce water from the low-lying streams to feed the rice paddies since the characteristic of these rice fields is the requirement of a large volume of water.
Despite looking simple outside, the waterwheel is truly useful for cropping. These lovely waterwheels make Pu Luong more charming than ever.
After 5 hours from Hanoi to Pu Luong by car, you will stop at Co Lung commune. Let's walk along the road in the village of Thai people. Then you get to Hieu Hamlet and go on trekking. At night, you may have dinner with the local dishes and stay overnight in a traditional stilt house. Be ready to mingle with nature!
Chieu cave and Mo Luong cave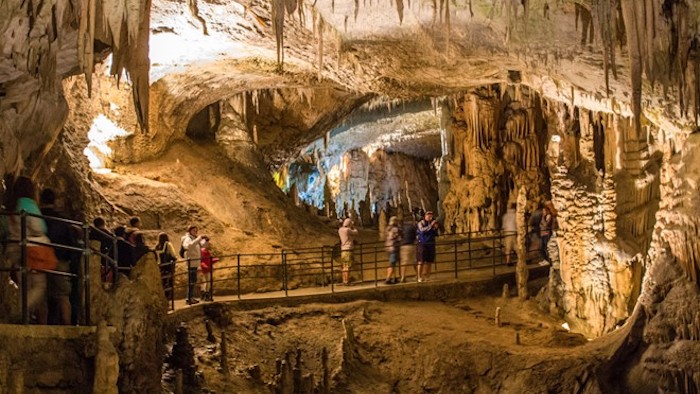 Beautiful stalactites in Chieu cave
The limestone mountain is the location of Mai Chau, so it owns two natural caves that their spectacular beauty can blow your mind away. Despite being 2 kilometers away from Lac village, few people are aware of the existence of Chieu Cave and Mo Luong Cave, which have occurred for thousands of years. Visiting these two caves, you have the chance to pamper your eyes with various mineral structures of all shapes, sizes, and colors.
Mo Luong cave is named after a river that it flows through. This cave consists of 4 small caves with a total length of about 500 meters.
You are highly recommended to visit Chieu cave in the afternoon when the sunrays light through the cave, making graphite blocks look incredibly charming, lively and brilliant. That is also the reason why the cave is called "Chieu" that means "afternoon" in Vietnamese since, at that time, the cave is in the most appealing state. Once you have seen these sparkling scenery, it will surely linger in your mind for a long time.
Thung Khe mountain pass
Situated on National Highway 6, with one side being the majestic mountains and another side being the abyss, Thung Khe which is supposed to be one of the most beautiful but riskiest passes in Northern Vietnam is well-known with the name "White Rock" pass because of owning the impressive white rock mountains.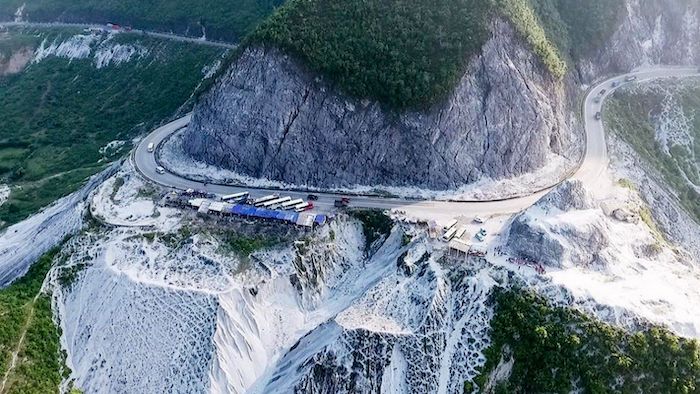 Thung Khe pass
Setting foot on Thung Khe pass, you will take the chance to escape from the bustling modern life, enjoy the fresh air and get the panoramic view over Mai Chau valley. For adventurous travelers, discovering Thung Khe by self-drive motorbike is a good idea.
Thung Khe pass doesn't have many winding roads or turnings and abysses like Ma Pi Len pass (Ha Giang) or O Quy Ho pass (Lai Chau). Besides, the route is exceptionally scenic so you can enjoy the picturesque sceneries on both sides of the valley. However, it's advisable to pay attention to the trucks. The road is considerably misty, especially in the morning or the winter, which can limit your vision. Therefore, be always careful to drive at that time.
Once you have arrived at Mai Chau, you can't miss these interesting above nature places. Let's explore this stunning destination and have an unforgettable trip. Do not forget to visit our website to get more information about Mai Chau as well as other Vietnamese amazing destinations. Share the post if you find it useful. Thank you.