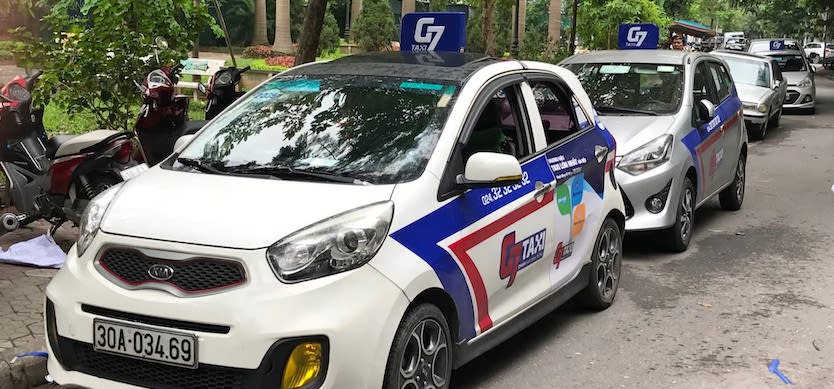 Having group tours Vietnam, there'd be some difficulties if you don't know thoroughly the most common means of transportation as well as fees and how to catch them.
Vietnam transportation is improving rapidly in terms of both quantity and quality. When you travel a long distance from one province to another, planes, buses from a credited travel agency and trains are the safer options.
Taxi
Taxis with meters, found in most major cities, are very cheap by international standards and a safe way to travel around at night. Average tariffs are about VND 12,000-15,000 per kilometer. However, dodgy taxis with go-fast meters do roam the streets of Hanoi and HCMC; they often hang around bus terminals. Only travel with reputable or recommended companies.
Two nationwide companies with excellent reputations are Mai Linh (www.mailinh.vn) and Vinasun (www.vinasuntaxi.com). Some hotels can help you to book a safe, competitively priced Grab (www.grab.com) car or motorbike taxi through a smartphone app.
Bus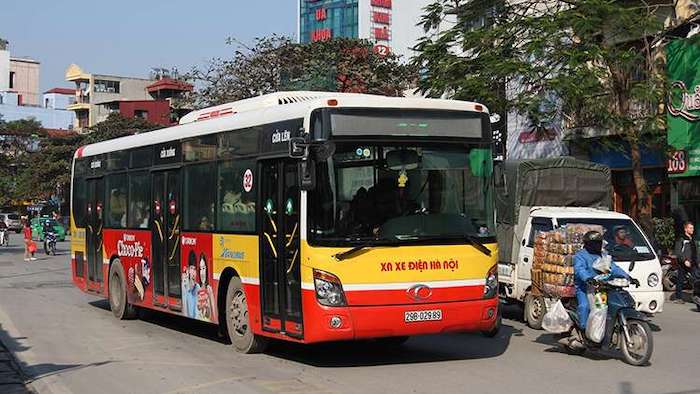 Going around the city by bus
Few travelers deal with city buses due to communication issues and the cheapness of taxis, cyclos and motorbike taxi. That said, the bus systems in Hanoi and HCMC are not impossible to negotiate – get your hands on a bus map.
Last month, the capital city Hanoi launched its much-anticipated bus rapid transit system (BRT), with the first route running 14 kilometers between Kim Ma and Yen Nghia, two of the city's most populated areas.
Soon after Hanoi launched its first rapid bus service to mixed results, officials have announced that a new route will be added, reaffirming the city's push for public transport to curb congestion. It's planned that there would be 8 routes in total for BRT in 2030.
The BRT system is based on the idea that buses can travel faster and more efficiently on exclusive lanes of their own. However, during rush hours many cars and motorbikes can be seen taking over these lanes, and as a result, the new buses are not as fast as expected.
In what seems to be a good sign, Nguyen Thuy, director of Hanoi BRT Company, said that passenger numbers for the rapid buses have increased.
On January 1, the system served over 8,300 people, but on January 5 and 6, the daily number reached 12,000.
Bus riders can try a new service out for free until the end of January. After that, one-way tickets will cost VND 7,000 or around 30 cents.
Motorbike taxi
Getting around by motorbike taxi is easy, as long as you don't have a lot of luggage.
Fares are comparable with those for a cyclo, but negotiate the price beforehand. There are plenty of motorbike taxi drivers hanging around street corners, markets, hotels and bus stations.
Cyclo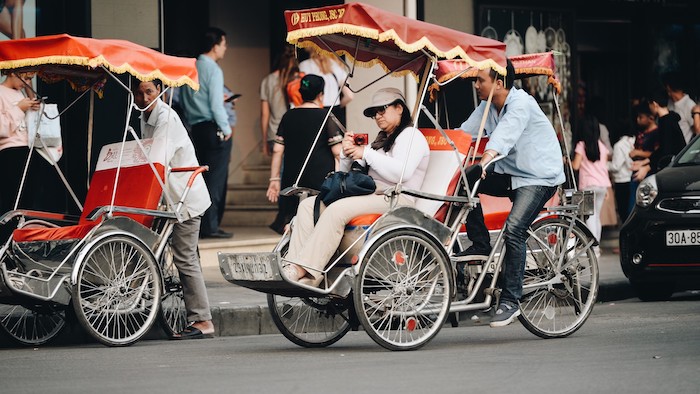 Cyclo in Vietnam
The cyclo is a bicycle rickshaw. This cheap, environmentally friendly mode of transport is steadily dying out but is still found in Vietnam's main cities.
Groups of cyclo drivers always hang out near major hotels and markets, and many speak at least broken English. To make sure the driver understands where you want to go, you should bring a city map. Bargaining is imperative. Settle on a fare before going anywhere, or you're likely to get stiffed.
Approximate fares are between VND 10,000 and 20,000 for a short ride, between VND 20,000 and 40,000 for a longer or night ride, or around VND 40,000 per hour.
Travelers have reported being mugged by cyclo drivers in HCMC so, as a general rule, hire cyclos only during the day in that city. When leaving a bar late at night, take a metered taxi.
Plane
Vietnam has two hub international airports, Noi Bai Airport in Hanoi and Tan Son Nhat Airport in Ho Chi Minh city. A third airport, Da Nang Airport, in Da Nang, accepts a far smaller number of international flights. Over a dozen other domestic Vietnam airports are scattered across the country.
Transportation in Noi Bai airport
Free Bus for Connecting Passenger
Transit passenger in-between of Terminal 1 (domestic passenger terminal) and Terminal 2 (international passenger terminal) and vice versa can use free shuttle bus with the operating time from 06:00 am to 01:00 am next morning (local time) and with the frequency of 10-15 minutes/trip.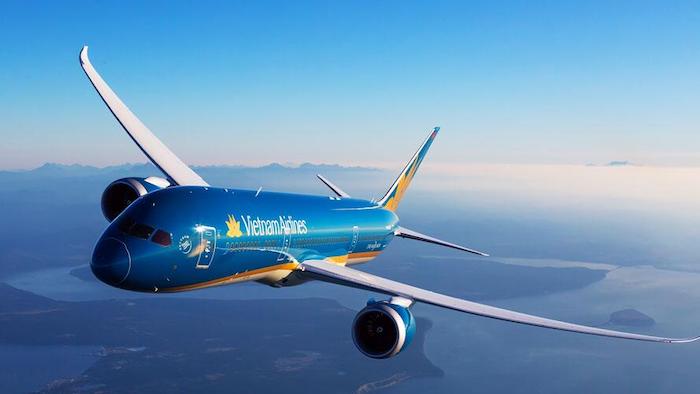 Vietnam Airlines
For the route and the bus stop, please visit the following diagram.
Public Transportations
There are many public bus lines (on government fare supporting scheme) as follows.
Route No. 07 (Cau Giay - Noi Bai) from 05:00 am - 11:30 pm

Route No. 17 (Long Bien - Noi Bai) from 05:10 am - 10:00 pm

Route No. 90 (Kim Ma - Noi Bai) from 06:40 am - 10:30 pm

Route No. 86 (Hanoi Railway Station - Hoan Kiem lake - Noi Bai)

Hanoi Railway Station (05:05 am - 9:40 pm) - Noi Bai (06:18 am - 10:58 pm)
Passenger can pick up and drop off these four routes at both Terminal 1 and Terminal 2.
Hope that with our detailed guides of the most popular means of transportation here, your trip will be more convenient and accessible. If you need further information about Hanoi city tour price, don't hesitate to let us know. Please like and share the article if it's useful for you. Thank you.