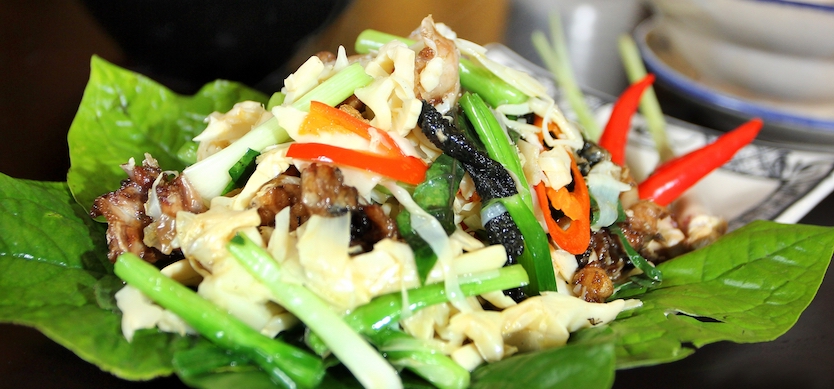 Mai Chau town is famous for not only picturesque scenes but also for local specialties that you must try if you like to mingle with the resident's lives.
Here are some dishes that will surely wake your taste up with the best Mai Chau tour.
Stirred bee with the fermented bamboo shoot
Undoubtedly, bamboo shoot is a famous specialty of the mountain where Mai Chau is located. It is one of the vegetables being consumed most by local people. However, an ingredient which is combined with bamboo will surely make you surprised. That is the bee. In the right season of bee development (frequently at the end of summer), the locals often go to the forest and pick bee's nest that tends to be as large as a medium-sized basket.
They choose old bees for soaking in wine, for young white fat bees, they will take them out of the nest, clean up before cooking. The way of cooking is quite simple. Shallot is stirred until it releases the aromatic smell, then people put bees into the pan and stir until bees turn the color of light yellow.
Finally, the fermented bamboo shoot is stirred together with bees until it is cooked well and ultimately we have a super tasty and healthy dish. The sour taste of fermented bamboo shoot mixes with the richness of bee, which make you can't stop eating.
Hill chicken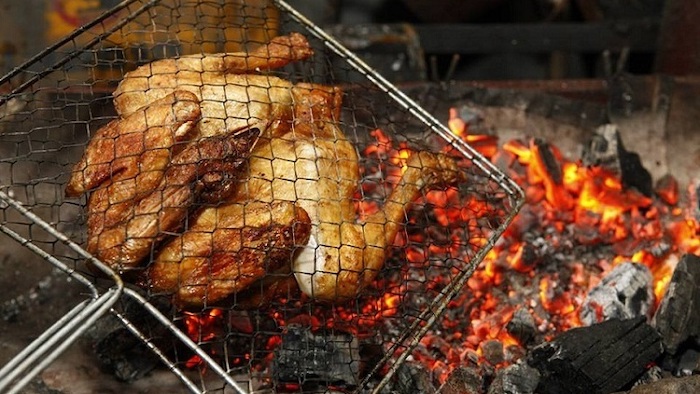 Grilled hill chicken of Mai Chau
Like other regions across the country, chicken is one of the most famous cattle bred in Mai Chau. However, in this town, farmers don't imprison chickens in the coop all the time or feed them on bran like the way being used for industrious chicken. Instead of that, chickens are allowed to transit freely in garden, field, forest or hill and being fed on corn or paddy by farmers.
Moreover, chicken can seek earthworm in garden or hill by themselves for food. At night, chickens settle in the bush for sleeping. Because these chickens often play in the mountain, they are called "hill chicken." Hill chicken can be grilled or boiled. For roasting, chicken is seasoned simply with some basic spices before being grilled on the fire for several hours until the meat is cooked well and the skin turns into the color of golden brown and becomes crispy.
Besides, the boiled chicken will be served with lime leaves, and the fragrant smell of lime leaves will be absorbed into the meat and makes the dish more attractive. According to the traditional culinary method, chicken is cooked to keep its authentic origin flavor. Because of growing slowly and naturally, the meat of the chicken is fresher, more robust, more aromatic and less starched than that of the regular chicken.
Grilled stream fish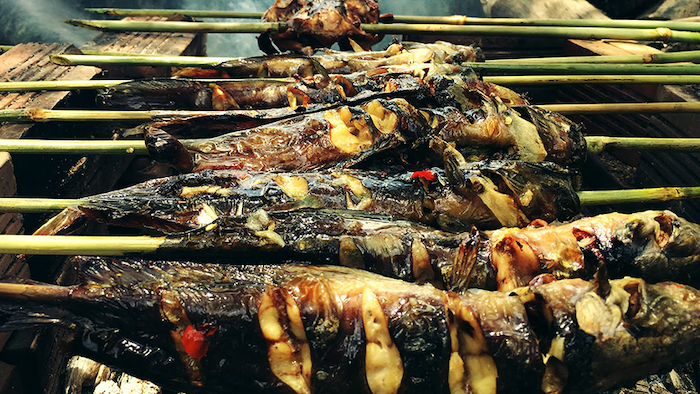 Stream fish can be processed into many dishes
Various streams are flowing across Mai Chau town. That is home to a local kind of fish that are distinctive and mostly not be found outside Northwest Vietnam. Because of only occurring in the stream, this type of fish is called "stream fish."
Every stream fish is nearly as large as one finger of people. Stream fish grows up naturally without the intervention of the human. Therefore, this fish not only is fresh but also contains no chemicals or preservatives so this is beneficial to people's health. Instead of steaming or making soup, native people often grill these fish.
After being seasoned with traditional spices that are mostly herbs of the forest, stream fishes are put into bamboo skewers and grilled on the fire until they are cooked well. One skewer can contain 8-10 fishes. Stream fish has very few bones, and these bones are tender and eatable. Dipping with "cham cheo," grilled stream fish with crispy skin and fragrant, delicious meat will linger in your mouth.
Bamboo-tube rice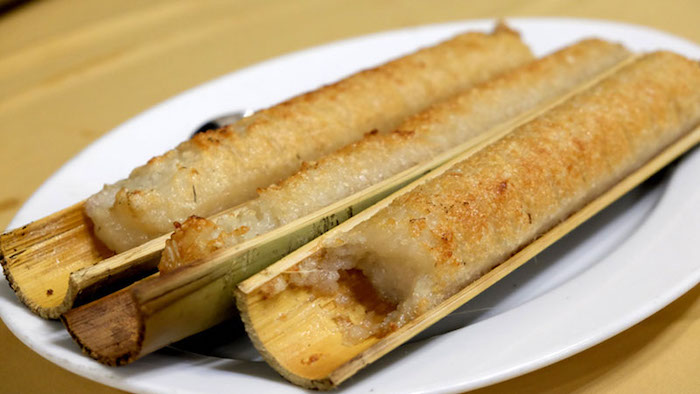 Bamboo-tube rice
With the patchwork of rice fields rolls out, Mai Chau is well – known for producing one of the most delicious rice in the country. For a long time, rice is an indispensable dish in the local's meal. Native people who go to the forest to earn a living or work in the field in the whole day, create com lam to make eating in the street more convenient because com lam is handy and portable.
To make bamboo-tube rice, people put glutinous rice into a bamboo tube with water and a little salt, then cook by grilling on the fire or steam until rice is cooked well. Because of being contained in a bamboo tube, glutinous rice is initially aromatic, after absorbing the fragment smell of bamboo, become more flavorful. The dish is even tastier if it is dipped in an attached sauce that includes crushed roasted peanut and salt.
The locals also have an exceptional traditional spice called "cham cheo" to dip with bamboo-tube rice. This kind of spice makes Mai Chau bamboo-tube rice differ from other regions.
"Cham cheo" is a mixture of salt, chilli, some kinds of forest herb, lemongrass, ginger and garlic which are all crushed well. It is often served with sticky rice, boiled and grilled dishes. Without "cham cheo," bamboo-tube rice will lose its unique flavor. Bamboo-tube rice holds a high spirit and will surely impress you with its pure taste.
Mentioning Mai Chau's cuisine, this place is famous for incredibly delicious specialties that hold mountainous flavor. Let's take a try these different dishes and the feeling will leave a strong impression in your mouth. Do not forget to take group tours to Vietnam to get more information about our amazing dishes as well as other Vietnamese cultural values. Share the post if you find it useful. Have a nice trip!