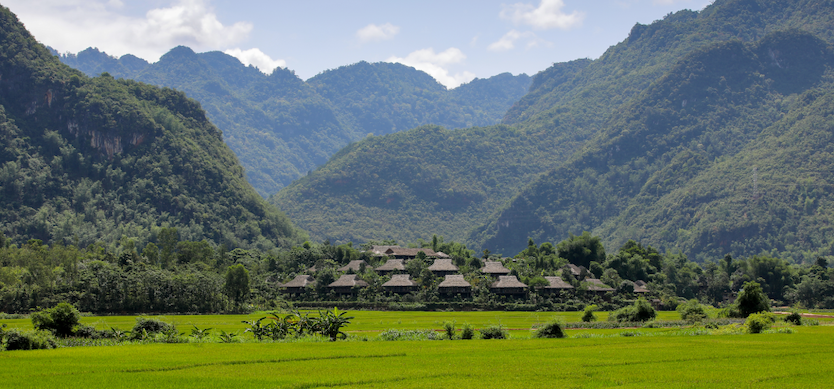 Mai Chau is an attractive destination for trekking and relaxing in recent years, so a full package for Mai Chau is essential that affects the quality of your trip.
The best time to visit Mai Chau
The climate of Mai Chau belongs to the tropical monsoon region with the average annual temperature is 18°C. In spring, Mai Chau is suddenly bright with the colors of plum flowers and peach blossoms. It is also considered the starting time of tourism in Mai Chau. The weather at that time is still cold but not too cold as in winter.
The best time to visit Mai Chau is from March to April or from October to December. If you come to Mai Chau in the best season, you will have the chance to see the beautiful landscape of mountain and sky as well as be immersed in the exciting activities of local people.
How to get to Mai Chau
Mai Chau is 140 km from Hanoi and 60 km from the center of Hoa Binh city in the northwest, according to Mai Chau tour review, it is so convenient for you to go to Mai Chau by bus or motorbike to have a wonderful Mai Chau trip. However, it is better to rent a motorcycle from Hoa Binh to transfer because there are so many beautiful views along the road you surely don't want to miss.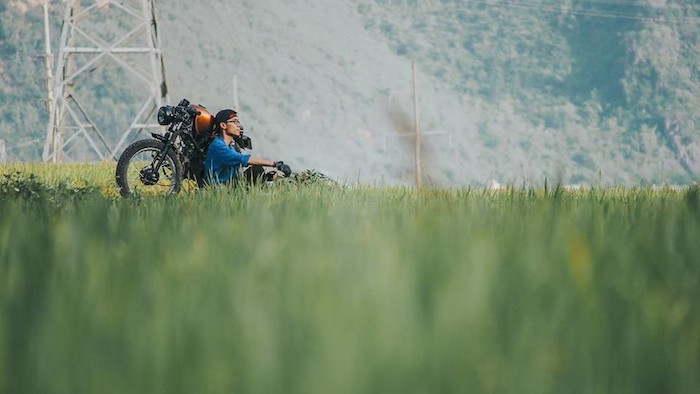 Traveling to Mai Chau by motorbike
If you are a good driver and love adventuring, you can rent a motorbike in Hanoi Old Quarter to travel. Unless that, you can catch a bus at My Dinh bus station or Giap Bat bus station to get to Mai Chau with the price of VND 100,000-120,000. You will be dropped at Tong Dau junction, and then it is easy to catch a taxi to Mai Chau.
When coming to Mai Chau, you can rent a motorbike to go around the town because it is quite small. It is also okay to hire a bike to play around Mai Chau.
What to see in Mai Chau
Thung Khe pass
Thung Khe Pass is located at the altitude of 1,000 meters above the sea level. Visiting this place, you will have a chance to see one of the most beautiful and risky roads in Vietnam and the unique color of stones. The white color seems to cover a vast mountainous region. You will feel like losing in a remote area in Europe.
Moreover, you can enjoy a lot of street foods such as boiled corn, boiled sugar cane, rice, sesame dots, etc. Besides, from Thung Khe pass, you can observe the entire valley with the green of the forest and small villages looming in the far distance. It is such one of the most scenic places in Hoa Binh province.
Lac village
Lac village is a small 700-year-old village. It is such a beautiful place for tourists to discover the cultural identity of the local people. Most of the local people in Lac village are the Black Thai. They mainly earn a living in rice farming and weaving. Between the majestic mountains and forests, Lac village is like a remarkable dot you can find out the peaceful atmosphere of human survival.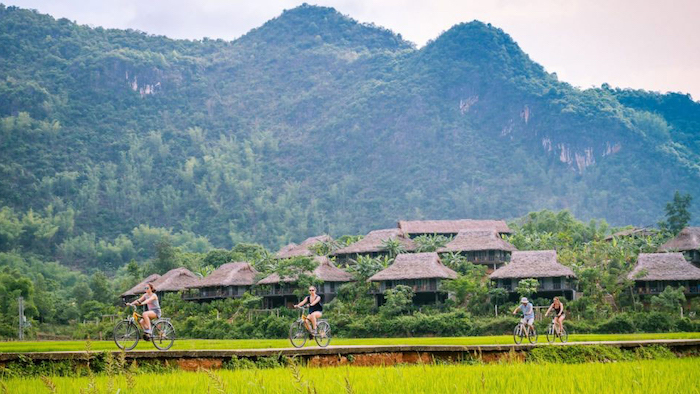 Lac village
When visiting Lac village, it is a recommendation for you to stay in the homestay. In the town, there are over 30 homestays which are very spacious with modern facilities. Staying there, you can find out more about the old architectures of Thai stilt house.
Wandering around the village, you will see the different things with other tourist attractions because people here are amiable and they are always willing to welcome you to their home and have a gossip with you. It is so good to try to wear a traditional Thai dress and participate in daily work with local people.
Mo Luong cave
It is located at the Pu Kha mountain range in Mai Chau town, and it is about 2 km from Lac village. Mo Luong cave is an ideal tourist destination for those who love trekking and discovering in Mai Chau. It is a beautiful experience to join in Mai Chau day trek from Lac village to Mo Luong cave because the landscape is very magnificent along the trail.
Also, you will know Mo Luong cave also has another name as Bo Luong which is called by the White Thai. The cave has 4 main grottoes that are famous for the stalactites systems with many unique shapes you can imagine on your own. Moreover, it is also the historical place of Vietnam which marked the victory of Vietnamese against the French in the 20th century.
Chieu cave
Chieu Cave is located at the top of Pu Kha mountain. The meaning of Chieu cave implies that the sunlight shines will directly into the cave and right as its name. The light rays do color the splendors of the stalactites which create a beautiful scene as in heaven.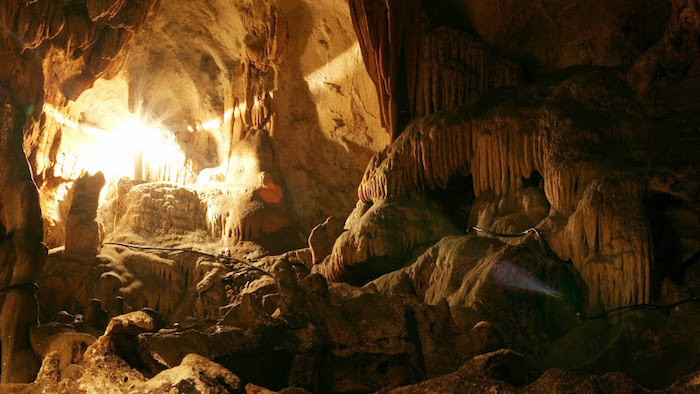 Chieu cave
Chieu cave is quite vast, and it is divided into two floors, the cave is relatively flat and cooling. The cave has the beautiful sparkling stalactites, and there are the magical forests inside. The deeper into the cave, the more you'll be surprised by the stunning beauty of the space here and the significant period stalactites blooming. All general conditioning make up the landscape of substantial paintings that nature presents to Mai Chau.
Coming to Mai Chau Vietnam trekking, you will have a wonderful time to experience the unique things that you never have in your life. If this information is useful for you, please leave comments to us. Hope you'll have a nice trip to Vietnam. Thank you!