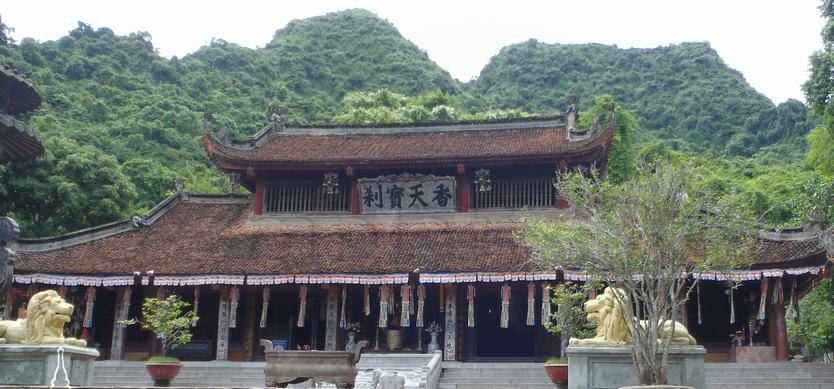 Located in Huong Son commune, My Duc district, Hanoi, Perfume Pagoda is an attractive spiritual destination in Vietnam. Especially on the New Year Spring holidays, the spring festival is always a favorite activity, expressing beauty in the spiritual life of Vietnamese people. The trip to Perfume Pagoda is not only a journey to the land of Buddha but also a chance to admire the gorgeous natural beauty.
When to travel
Tourists can go to Perfume Pagoda at any time in the year. However, if planning attending the Perfume Pagoda festival, from the 1st to the 3rd lunar month is the ideal time. In particular, from 15 January to 18 February lunar month, tourists will have the opportunity to participate in the cultural activities of the festival and the happy atmosphere here.
Besides the favorite autumn in Hanoi, from August to October is also a beautiful time for visitors to discover the magnificent beauty of Perfume Pagoda. The scene of the pagoda at this time is charming and romantic with the peaceful and sacred space of a religious place. It is also the season of water lily flowers and reef flowers on the gentle Yen river. The beautiful scenery of the pure Buddhist site has turned Perfume Pagoda into a place attracting tourists when considering Hanoi tour one day.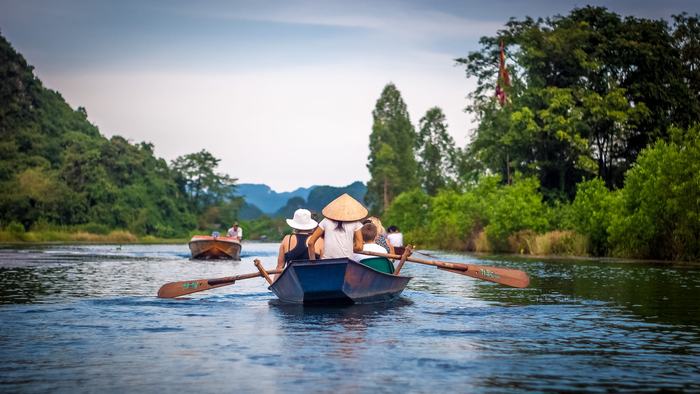 Visit Perfume Pagoda
How to travel
Tourists can choose to go by car, motorbike, or can take the bus. There are two ways to go from Hanoi.
From the center of Hanoi, travelers can go from Nguyen Trai street directing to Ha Dong district, to La Bong Do crossroad, and then turn left towards Van Dinh. Tourists continue riding 40 kilometers to Te Tieu, ask local people the way to the Perfume Pagoda, and just go straight to the destination.
The second way is that towards the Highway 1A Phap Van - Cau Re, tourists turn right at Dong Van intersection to Highway 38, continue going about 15 kilometers directing the Dau market to Perfume Pagoda. However, this road is only for cars. If visitors ride a motorcycle, they should choose the first one or go along the old Highway 1A towards Thanh Tri.
Alternatively, you can also take a bus to Perfume Pagoda in route 215 (VND 12,000/person) which departs from Giap Bat station or route 75 (VND 20,000/person) which departs from Yen Nghia station. These buses will stop at Huong Son station, very close to Perfume Pagoda.
Where to see in Perfume Pagoda
There are many attractive tourist attractions in Perfume Pagoda such as Huong Tich Cave, Trinh Temple, and Thien Tru Pagoda.
Huong Tich Cave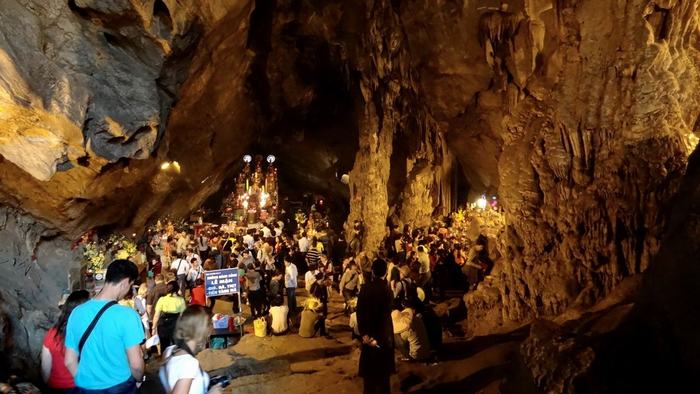 Huong Tich Cave
Huong Tich Cave is considered as the most beautiful cave in Vietnam, where to worship the Bodhisattva Avalokitesvara. The way down to the cave is very beautiful with the moss and stone covering two sides, making visitors feel like walking in the fairyland. In the cave is the small stalactites sculptured into beautiful statues and they are named after their shapes: a handful of rice, gold tree - silver tree, buffalo, cow, etc. The ceiling is a masterpiece with stalactites shaping dragons and pearls. All of them are amazingly wonderful.
Trinh Temple
The temple is also known as Ngu Nhac Linh Tu. It is an ancient temple located at the Yen Vi river, at the foot of Ngu Nhac mountain, 500 meters far from Yen Vi wharf. To get to the temple, tourists have to go for more than 10 minutes. According to legends, the Temple from ancient times has been a place for worshiping a god who had the power to defeat the enemy for Hung Huy King.
Thien Tru Pagoda
The pagoda is over 400 years old (built in 1686). Over several years of war, the pagoda was destroyed in 1945, and the remaining are only Thien Thuy and Vien Cong towers. The pagoda afterward was rebuilt according to the original temple at a smaller vision in 1988. With the ancient Vietnamese architecture, Thien Tru pagoda is also a place for tourists to visit in Perfume Pagoda.
To get to all the destinations here, it will take tourists for two days. If spending one day, they should visit Trinh Temple, Thien Tru Pagoda, and Huong Tich Cave since these are the main and most sacred temples. Tourists can climb mountains or choose modern cable system which will help them move more quickly, which costs VND 100-160,000/round trip and VND 70-100,000/1-way trip.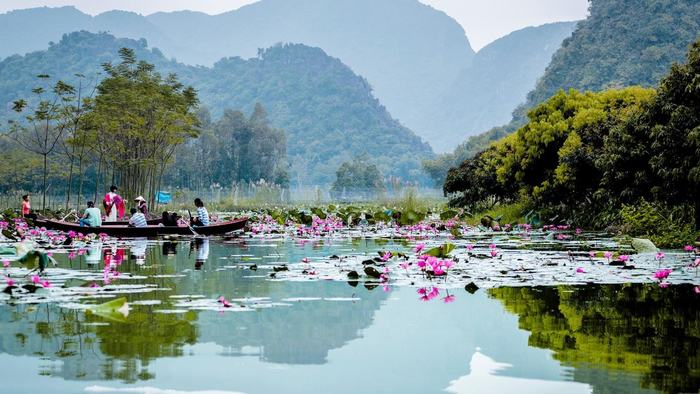 Beautiful lake in Perfume Pagoda
Perfume Pagoda is a group of architects scattered in the Yen valley, including four pilgrimage routes:
Huong Tich route (VND 130,000/person): Trinh Temple - Thien Tru Pagoda - Tien Son Cave - Giai Oan Pagoda - Tran Song Temple - Huong Tich Cave - Hinh Bong Pagoda.
Thanh Son route (VND 80,000/person): Thanh Son Pagoda - Huong Dai Cave.
Long Van route (VND 110,000/person): Long Van Pagoda - Long Van Cave - Sung Sang Cave.
Tuyet Son route (VND 110,000/person): Bao Dai Pagoda - Chua Ca Cave (Fish Pagoda Cave) - Tuyet Son Cave.
TIP: Specialties tourists should not miss when going to Perfume Pagoda include mountain goat, bison, horse, porcupines, pangolins, etc. Along the way from the wharf to Thien Tru cave, there are a variety of restaurants serving a reasonable menu for you to choose from. However, you check the price in advance to avoid increasing costs in the holiday season. Furthermore, Perfume Pagoda has several souvenirs and specialty shops in which visitors can buy as gifts for friends: bracelets, necklace, mirrors, combs, tea made from "cu mai" (a kind of tuber), apricots, "rau sang" (a kind of vegetable), etc.
Perfume Pagoda Festival
Besides the Hung Kings Temple Festival, the Perfume Pagoda festival is also one of the most outstanding events in the North. It takes place from 6 January to the end of March lunar month. It is the largest new-year festival in the capital and also in Vietnam. The official festival occurs from 15 January to 18 February lunar month with different exciting activities for tourists.
Perfume Pagoda festival takes place in the spring, so the number of Buddhists coming to this place is very crowded. Visiting the Perfume Pagoda festival, visitors will have the opportunity to participate in the jubilant and bustling atmosphere of several exciting and engaging cultural activities with the local people.
TIP: The festival in Perfume Pagoda is often crowded so visitors will have to queue for a long time to buy tickets. Taking advantage of the situation, black markets appear where ticket prices are very high. Hence, if you have free time, you should queue to buy tickets to save travel expenses. Especially at this time, the boat managers are often cramming more passengers to the boat, causing cramped and inconvenient for tourists, so you should deal with them before deciding to rent.
We hope that these experiences in Perfume Pagoda which are quite specific and detailed will partly help you have a fun and salutary trip. You can visit our website to get further information about Vietnam group tours and leave any questions. Share this article with others if you find it helpful. Thank you!