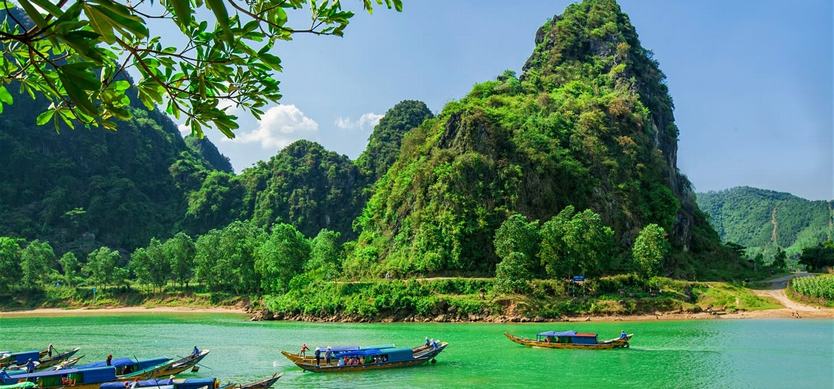 Besides Bach Ma National Park, the Central also has Phong Nha - Ke Bang located in Quang Binh province, Vietnam. The National Park has a complex system of limestone caves as well as diverse ecosystems. In 2003, this Park was listed by UNESCO as a World Heritage Site. Phong Nha - Ke Bang Park is set up to protect one of the world's two largest karst sites, which has about 300 caves, and to preserve the Northern Truong Son ecosystem in North Central Vietnam.
Landscape in Phong Nha - Ke Bang
The specialties of this National Park are limestone tectonics, over 300 caves, underground rivers, and rare flora and fauna booked in Vietnam and the World Red List.
Cave systems
The caves here have a total length of more than 80 kilometers but the British and Vietnamese cave explorers have just researched 20 kilometers, of which 17 kilometers are in the Phong Nha area, and 3 kilometers are in the Ke Bang area.
Phong Nha cave system
So far, scientists have surveyed approximately 44.5 kilometers of the cave system, but visitors are just able to reach 1500 meters. The Phong Nha cave system has remarkable caves: Dark, Cha An, Thung, En, Khe Tien, Khe Ry, and Khe Thy grottos. In the Phong Nha cave system, there is also a system of exceedingly 3,000-meter underground rivers in Thung cave, and a large sandbank in En grotto where the swallows live.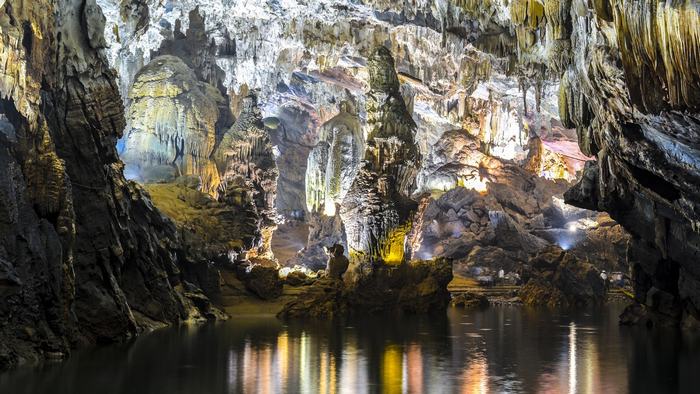 Phong Nha Cave
Vom cave system
The Vom cave system consists of Vom, Dai Cao, Duot, Ca, Ho, Over, Pygmy, Ruc Caroong grottos. In the cave system, there are a huge number of beautiful stalactites and stalagmites. Notably, the Arem minority has lived in Ruc Caroong cave as the natural hunter-gatherers.
Tien Son cave
Tien Son or Dry cave is a famous cave in the Phong Nha - Ke Bang area. The cave has several fanciful and majestic stalactites, stalagmites as those in Phong Nha cave, but there is a distinctive sound from the stones and stone columns when they are knocked in the cave, creating an echo like the sounds of gong and drumbeat.
According to the British researchers, Tien Son cave was formed tens of millions of years ago when a stream flowing through the mountain had eroded and excavated Ke Bang limestone mountains. Later, the geological formation of this mountain mass that had been raised or lowered caused the rocks to collapse, preventing the flow and creating Tien Son cave at the top. The river then flew through the underground, creating Phong Nha cave. Phong Nha and Tien Son cave are located adjacent to each other, but these caves are not connected.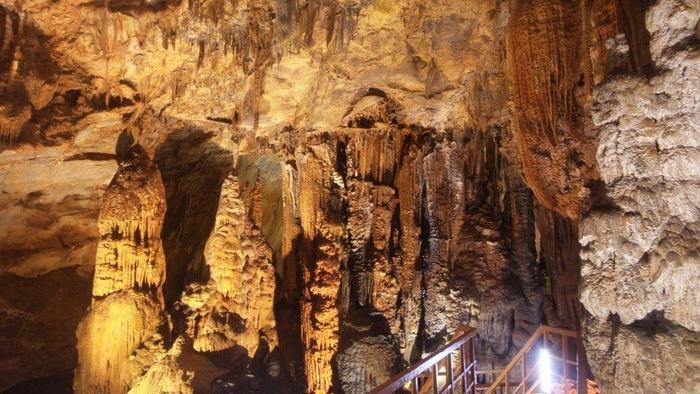 Tien Son Cave
Thien Duong cave
The cave was discovered in 2005 and had a total length of 31 kilometers. Due to the beauty of the cave, it was named as Thien Duong or Heaven cave. The cave is considered to be larger and longer than the Phong Nha cave. It is a dry cave without underground rivers flowing like Phong Nha. There are many stalactites and stalagmites in the cave, and the atmosphere is extremely cool and fresh. The ground here is soft and flat that is convenient for sightseeing and exploring.
Son Doong cave
Son Dong or Son Doong is one of the newest caves discovered in the Phong Nha - Ke Bang area. The cave is considered to be the largest cave in the world, 4-5 times larger than Phong Nha cave, and also Thien Duong Cave. The largest cave in Son Dong is over 5 kilometers long, 200 meters high and 150 meters wide, which is said to be able to contain the largest Boeings in the world. In the cave, the researchers found an underground river with a 2.5-kilometer length of the stalactites which are up to 70 meters high. The cave also has coral populations and fossil relics.
Also, the cave has two "skylights" where the ceiling collapsed, bringing sunlight into the cave, and enabling the ecosystem here to grow like a tropical jungle in a cave as "Adam's Garden."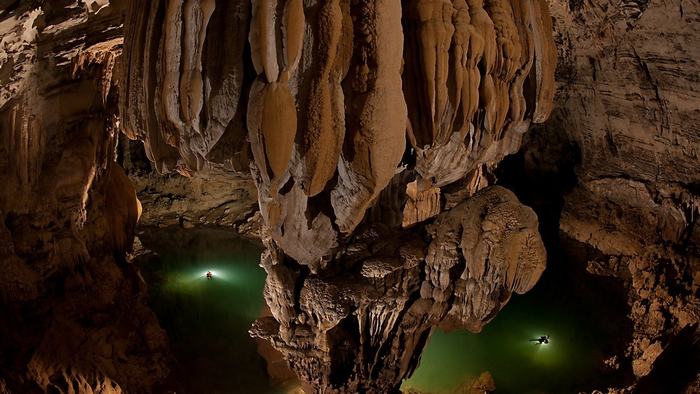 Son Doong Cave
Rivers and streams
Besides the cave systems, the Vietnam National Park also has the longest underground rivers. Characteristics of limestone mountains in the Phong Nha - Ke Bang area, has created a complex system of rivers in the area, with very few rivers and streams having water in a regular degree. There are three main rivers in this National Park: Chay river, Son river, and Trooc river. Especially, the Chay river in front of the Dark cave has a typical blue color. Phong Nha - Ke Bang also has dozens of beautiful streams and waterfalls such as Wind falls, Me Loan falls, Mooc stream which sprays from the foot of a limestone mountain, and Tra Ang stream.
Ecosystem
Phong Nha - Ke Bang is considered to be the most diverse natural system in all national parks and national biosphere reserves in the world. The Park is a typical limestone forest with typical plants such as nghien (Burretiodendron hsienmu), cho dai (Annamocarya spp.), cho nuoc (Plantanus kerii), and sao (Hopea spp.). Besides, there are countless rare plants in the world living here, especially the 500-600-year-old rock green cypress forest, which is distributed on a limestone mountain with an area of over 5,000 hectares. Only three species of cypress have been identified in the world. It is the largest rock green cypress group in Vietnam (Calocedrus rupestris).
Above and beyond, Phong Nha - Ke Bang is the home of 140 species of mammals including tiger and gaur which is the largest bison in the world; 302 species of birds, of which at least 43 species are in Vietnam Red List and 19 species are listed in the Red List of the World; 81 species of amphibians; 259 species of butterflies; 72 fish species, including 4 endemic species in Vietnam. Phong Nha - Ke Bang is the home of the richest primate community in Southeast Asia as well.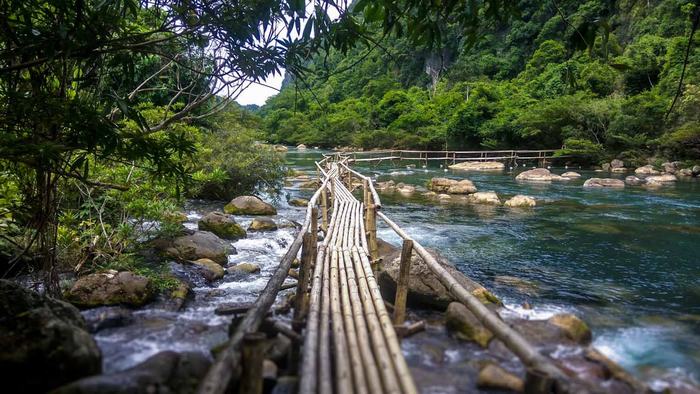 Phong Nha Ke Bang National Park
Travel guide in Phong Nha - Ke Bang
Must do
There are various activities for tourists visiting Phong Nha - Ke Bang National Park. Let's see some of the highlights on this Central package tour.
Traveling Phong Nha, Tien Son, and Thien Duong caves
Bathing in Mooc stream
Exploring Son Doong cave
Kayaking along Son and Chay rivers
Must stay
In Quang Binh, tourists are offered several places to stay with different prices depending on their demands. Prices in hotels in Dong Hoi city like Hoang Anh, Anh Linh, Phuong Nam, etc, range at approximately VND 350-450,000/day; in resorts like Sun Spa, Bao Ninh rates about VND 1,200,000-2,500,000/day.
Otherwise, tourists can book a Vietnam group tour and stay at Trang An hotel near Phong Nha with VND 350,000/day. If they follow the Chay Lap homestay tour, they will stay in the homestay.
Must taste
Not only famous Son Doong, Phong Nha caves, or Ke Bang, Quang Binh also has many delicious dishes for visitors: bank loc (a kind of cake processed from cassava flour with shrimp or meat), banh xeo (cake processed from corn flour with shrimp and vegetable), khoai deo (sweet potato), snakehead soup, fish hot pot, and river snails.
Phong Nha - Ke Bang National Park is a natural beauty that has been given to the people of Quang Binh and also of Vietnam. The reconciliation of the primary forest and the rivers, together with dry and wet caves have created a watercolor picture that captivates every tourist coming here.
If you need more information about Vietnam Group Tours, leave your ideas on our website. Thank you and hope to see you in Phong Nha - Ke Bang National Park.