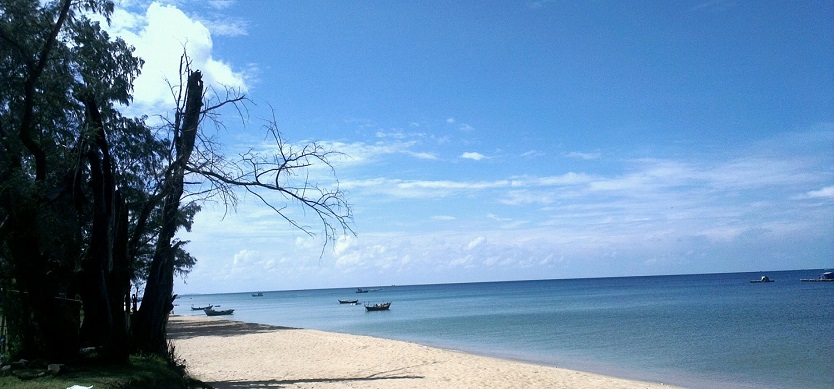 Phu Quoc is a great destination in Vietnam. Coming to Vietnam, you have to visit Phu Quoc too, because it is one of the best places in Vietnam when it comes to beach tourism. Below are some of the tips for a smooth trip to Phu Quoc, Vietnam.
The best time to go to Phu Quoc
The most beautiful time in Phu Quoc is the time from October to March, which may last up to May. However, during the rainy season from May to September, because the area stretching 60 km from the north to the south and affected by wind and waves mainly from the west or east, so if the west side is turbulent, the sea surface in the east will remain calm or vice versa, if the east side is windy, the sea surface The West is quiet due to the fact that it is covered by an area stretching from the North to the South.
Therefore, it can be said that Phu Quoc tourism can be carried out year-round and still protect the tourist spots without any impact on the weather changes over time or in the season.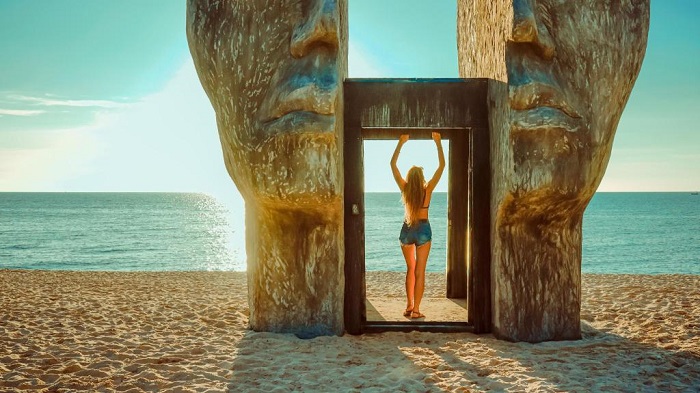 Beautiful view of Phu Quoc
Which hotels to choose?
In general, the Phu Quoc hotel is not so much that you will not take much effort to choose a hotel in the perfect budget. There are many good places to stay on Phu Quoc.
Two-star hotels range from 500,000 VND / night to 900,000 VND / night depending on room type and hotel. 3-star hotels and resorts are priced from 1.300.000 VND / night to 2.500.000 VND / night depending on room type and depending on the hotel. If you have a lot of money, hotels and 4-star resort will be your choice, room rates range from $ 90 / night to $ 400 / night. The four-star resorts are highly valued for their quality of service and accommodation, including La Veranda Resort, Sasco Blue Lagoon Resort, and Long Beach Ancient Village or Chen La Resort & Spa. They are the best places to stay in Phu Quoc.
Dishes to enjoy in Phu Quoc Travel
To Phu Quoc, you can enjoy many kinds of fresh seafood such as crabs, prawns, fish, oysters, clam ...... Especially, the herring salad is a special dish that should not be missed when arriving at Phu Quoc. Salad herring should be mixed with Phu Quoc sim wine, that is the proper way to taste the herring. Some specialties can be bought as gifts for the family such as Phu Quoc fish sauce, black pepper or seahorses. Tasty dumplings can be seen in Duong Dong Market, which is also good food should not be missed when coming to the beautiful island of Phu Quoc.
A few notes when traveling to Phu Quoc season
Phu Quoc is the best destination for your Vietnam tour group. From October to May is the wintertime of the West, so most 4-star hotels are increasingly booked. Two-star, three-star hotels are most likely to remain stable year-round or if there is an increase, the increase is negligible and does not affect your budget for travel in Phu Quoc.
Summer from June to the end of September, four-star hotels simultaneously discounted to adapt to the spending ability of Vietnamese guests so this time you can choose in 4-star hotels without worrying. So much for spending on Phu Quoc tourism. The leading hotels in Phu Quoc, such as La Veranda Resort, Chen Sea Resort, Sai Gon Phu Quoc Resort, Sasco Blue Lagoon Resort, Eden Resort, Famiana Resort ... all offer attractive promotions at the time.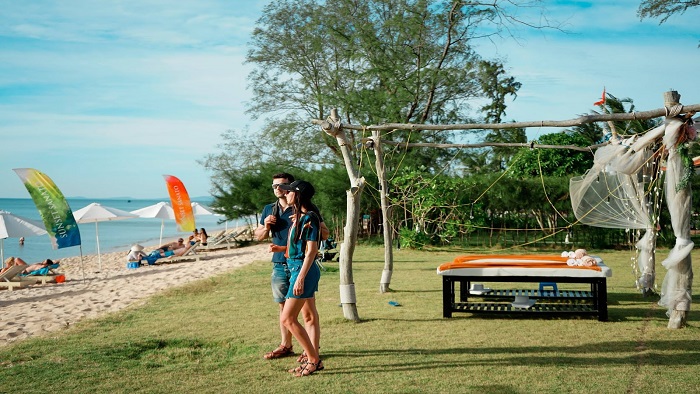 Phu Quoc in the dry season
Places to visit in Phu Quoc
Here are some of the best places for your Vietnam Phu Quoc tours.
Ham Ninh fishing village
An ancient village of the island still exists today – the visitors can buy and enjoy fresh seafood or souvenir shopping, seafood...
Suoi Tranh
The stream originates from the Ham Ninh mountain range, flows into a three-tiered cascade, flows into a fascinating stream that explores the mystery of nature. Suoi Tranh is a large eco-tourism area of Phu Quoc Island, tourists can explore and explore the three-tiered waterfall.
Phu Quoc National Park
Primary forest with 929 species of plants, 144 species of animals living in the area of 370 km2. Tourists will come back to the most intact natural ecosystem in the temperate climate from 24 - 27oC, great for sightseeing, relaxation. From the top of the mountain, 565 m high in the National Park, visitors can admire the view of the mountains of Phu Quoc island.
Sao beach
This is one of the most beautiful beaches of Vietnam Phu Quoc. On the sandy shore is the ancient beach of An Yen with many bizarre beasts, where birds nest is usually nest. The visitors to Bai Sao after bathing in the sea will enjoy delicious seafood dishes such as grilled or boiled sea snails...
Ganh Dau cape
Rocky hills protrude far northwest, lying on the pristine white sand beach, lying back on the primitive forest with many ancient oil trees. It is about 1.3 km from the historic waterway and 2.5 km from the outer ring of the Kingdom of Cambodia. The scenery of Ganh Dau cape is beautiful when the sun goes down.
Bai Dai Beach
Start from the beach of Ganh Oil with flat golden sand stretching 15 km to Cape Mountain. The beach is surrounded by the Bai Dai mountain range, with lush primary forest. There are many high-end resorts planned in Bai Dai.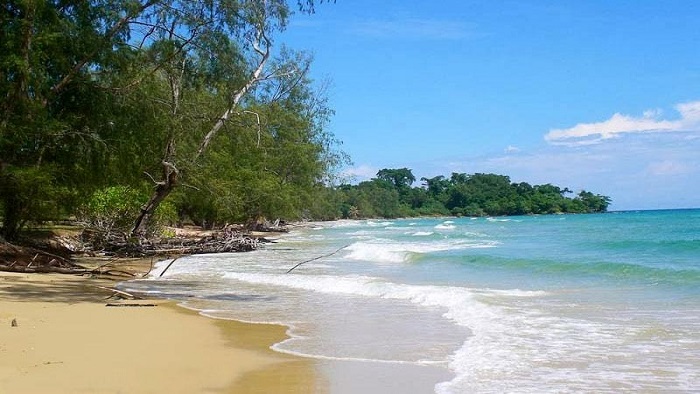 Bai Dai beach
Bai Truong (Long Beach)
Beginning from Dinh Cau stretch to the Tunnel, the beautiful sandy beach, year-round little wave, attracting many people who come here to bathe. There are many hotels, resorts, luxury restaurants catering to visitors with resort needs. Bai Truong is the most concentrated tourist area in Phu Quoc Island.
Phu Quoc pearl farm
Phu Quoc Pearl Farm was established in 1994 by Mr. Grant Jonhanston of New Zealand. Phu Quoc pearls are a famous brand of prestige, quality, amazing tourist attractions.
Phu Quoc fish sauce house
Phu Quoc fish sauce is made from fresh anchovy raw materials, famous both in the country and abroad. Come to the barrel house to see the production process of traditional crafts, the pride of the island land. Many famous barrels are well known to welcome visitors such as Thanh Ha, Quoc Hung, Sasco ...
An Thoi archipelago
An Thoi archipelago with 12 islands of varying size in the south, unspoiled islands with white sand is private spaces suitable for couples or a group of friends to be immersed in the sea or find the escape wild ...
Hopefully you will have the trip of your life in Phu Quoc!