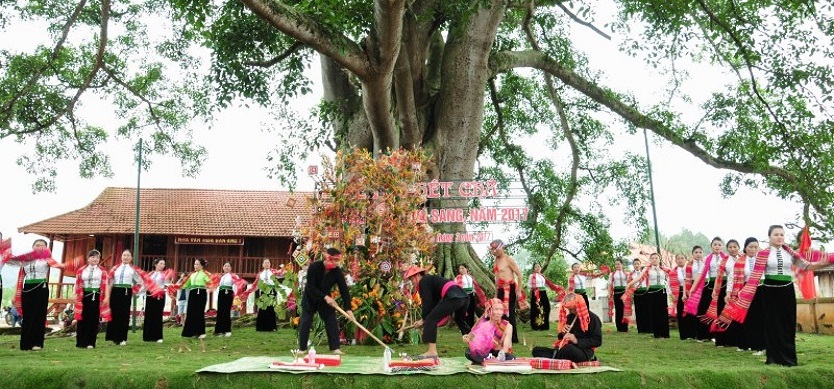 You are a nature lover? You love to discover the diverse and original culture of the ethnic tribes in Vietnam? Mai Chau is for you. There is no better way to explore the local culture by taking part in traditional festivals. This article will show you the most unique festivals in Mai Chau, which you can't miss.
Cong Chieng festival (Gongs festival)
Being organized in the first days of the spring or Tet holiday, Cong Chieng festival is one of the biggest festivals of Muong community – one of the largest ethnic minority in Mai Chau.This festival is also known as Xec Bua festival, "xec" means "group", "bua" means "those who are able to sing and play gongs in Muong dialect. Moreover, "cong chieng" can also translate "gongs" in Vietnamese.
Gongs are the traditional musical sacred instrument of some mountainous areas in Vietnam as the Northwest or Central Highland. Muong people use gongs not only to beat the rhythm but also to play polyphonic music. One special thing about gongs in Mai Chau is this instrument can be played by both men and women, while in some regions, the only man can use this.
Cong Chieng festival
In this season, people who are good at singing and play gongs band together. The group can contain at least 5 to 6 persons, frequently several tens of persons. Then, they arrive at all the households in the village in the order and wish them a happy new year. When being on the way to households, this Xec Bua often speaks improvised poems loud, sing the praises of the house owner, wish the house have a peaceful year and work successfully.
After that, the house owner will bring out the offering and sing to reply to persons visiting their home. Songs which is performed in Cong Chieng festival often hold the cheerful, joyful and optimistic spirit. Xec Bua plays gongs beautifully, sings loudly and happily at the same time, which spread joy, excitement across the village.
Long Tong festival
January is truly the appropriate time to visit Mai Chau and take part in interesting festivals. One of them is Long Tong festival that is also known as the festival of plough the rice field. This is a special festival of Tay people and indicates the original, diverse culture of this ethnic minority.
The purpose of Long Tong festival is to worship the lord of the village, mountain and stream, pray for a year with favorable weather condition abundant crops. In the time Long Tong festival takes place at, all the households in the community perform traditional rituals. People will prepare a meal including pork, chicken, sticky rice, etc for worshiping the natural lord. All people make a living by producing agriculture, crop depends strongly on weather condition.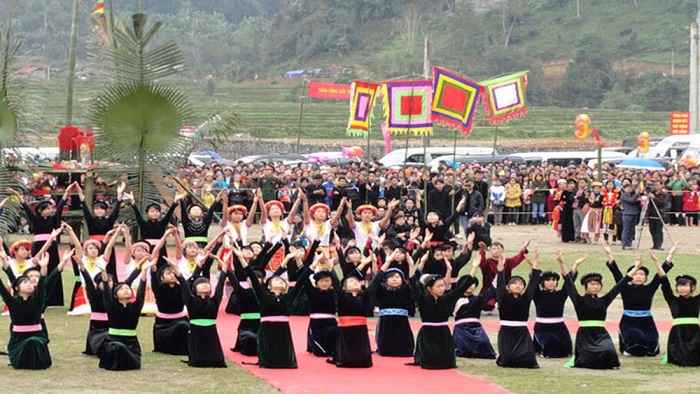 Long Tong festival
Therefore, the locals hold this ceremony to ask the lords for the help as well as show gratitude to the lords because of blessing them. Besides, the festivals organize a lot of exciting games such as tug of war, the contest of traditional dance, throwing the cotton ball, etc.
One more interesting part of Long Tong festival is that couples sing a duet with another all the nights that the festival takes place in. The atmosphere at the festival is truly cheerful and joyful. Mix with that wonderful atmosphere and forget all your troubles.
Xen Ban Xen Muong festival
This is one of the most important festivals of Thai people during the year. If you travel to Mai Chau in August, you will have the chance to Xen Ban Xen Muong festival that is a traditional one of Thai people and is held once two years. The meaning of Xen Ban Xen Muong festival is to show respect, tribute and commemoration toward Thai people's ancestors who founded Thai's village in Mai Chau.
Moreover, the festival is also organized to pray for that a peaceful life, healthy, wealthy, abundant crops, favorable weather condition, happiness for each person in the village. Xen Ban Xen Muong festival lasts 3 days with exciting activities. The first day is for performing rituals, singing, dancing and playing drums and gongs. In the second day, it's time for the contest of shooting gun and arbalest. A pomelo will be thrown into the rooftop and it will slip. The task of players is to shoot directly straight into the pomelo.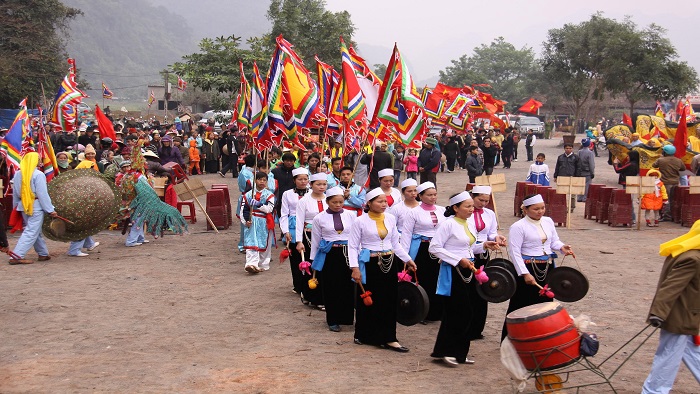 Xen Ban Xen Muong festival
If a player can hit the pomelo three times, he will be the winner and be received a prize that includes a meal full of sticky rice and meats, a silver sword and a piece of land. He will also be honored to be called tuan muong (the supervisor of the village). Moreover, Xen Ban Xen Muong festival organizes interesting local games such as throwing the cotton ball, the contest of traditional dance, etc. Your trip to Mai Chau will surely be more stunning and memorable if you join Xen Ban Xen Muong festival.
Traditional festivals reflect the diverse spiritual and cultural life of Thai people. Long Tong, Cong Chieng and Xen Ban Xen Muong are the most unique festivals in Mai Chau which you must visit if you like to have authentic experiences in this beautiful land.
Why don't you stand up and take your backpack to come and visit Vietnam right now? Do not forget to take Vietnam tour package to get more information about Mai Chau as well as other Vietnamese amazing destinations. Vietnam is waiting for you! Share the post if you find it useful. Have a nice trip!