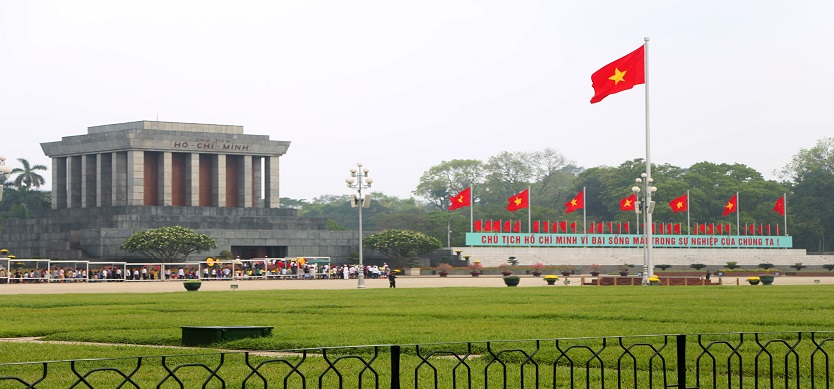 Recently, Vietnam National Administration of Tourism said that despite the impact from many aspects, the growth rate of Vietnam's tourism industry is still increasing. So as a foreign tourist, what is the reason why you should definitely travel Vietnam? Let's check it out.
Low prices for goods and services, beautiful natural scenery, unique culture, attractive adventure travel, and friendly people are the answer to the question why international travelers always choose travel Vietnam?
Low prices for goods and services
Recently, the website of the UK's tourism travel website voted for the top 10 cheapest travel countries in the world, of which Vietnam ranked No. 2, behind Cambodia. Vietnam is well-known by foreigners as a destination where you can easily enjoy a variety of cuisines, including dishes always in the top of the world with a reasonable price.
With the service system, the unexpectedly cheap cost, Vietnam increasingly asserts its position on the world tourist map. Also according to Skyscanner, visitors only cost about 170,000 VND with a day in Vietnam. Hoi An Ancient Town, Da Nang, Nha Trang, and Halong Bay are some of good destinations for many visitors to choose.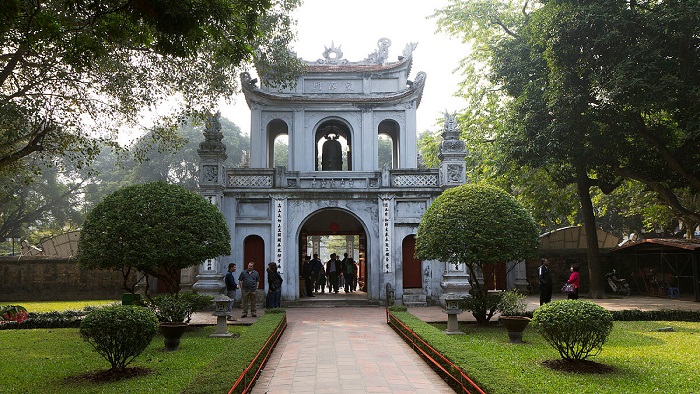 Literature temple, Hanoi
Beautiful natural scenery
Vietnam has many beautiful sights of nature, constantly named in the scenic world honors. By 2014, Vietnam has been recognized by 18 UNESCO World Heritage sites, including 2 natural heritages (Halong Bay, Phong Nha - Ke Bang National Park); 5 cultural heritages (Thang Long Imperial Citadel, Hanoi Citadel, Hue Imperial Citadel, Hoi An Ancient Town, My Son Temple); A mixed heritage (the complex of Trang An) and other intangible cultural heritage which are well-known in Vietnam combo tours.
These legacies are not only a demonstration of a beautiful country, diverse in natural landscapes but also a destination that attracts many domestic and international visitors to visit each year. If you are looking for a country with many beautiful natural sceneries, it is the reason why you should definitely travel Vietnam.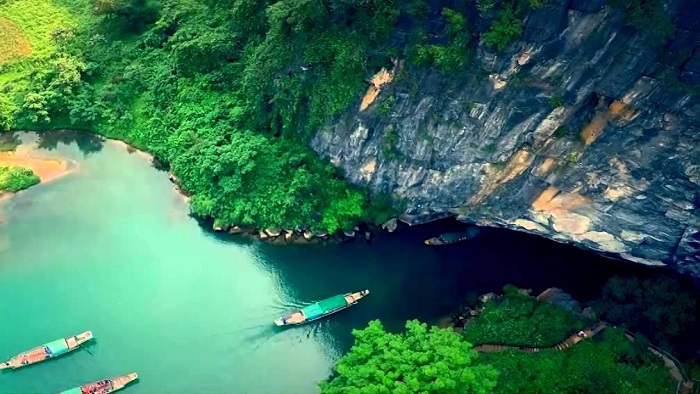 World Heritage Site - Phong Nha-Ke Bang
Special culture
Vietnam has a system of material and immaterial as well as a rich cultural identity which makes the world respect and the reasons why you should definitely travel Vietnam.
At present, the tourism industry in Vietnam has implemented many cultural tours such as cultural tours and events bringing visitors to experience and enjoying the atmosphere of the festival, visiting the traditional trade villages; Vietnamese food tours; and rural tours giving the opportunity for guests to experience the life of rural areas where they come.
The delicious traditional dishes with the bold taste of Vietnam also contribute to enhancing the image of Vietnam in the eyes of international friends. Through food, Vietnamese culture deeply imbued with national identity continues to be preserved and promoted.
Many international visitors to Vietnam have evaluated "Vietnam is a gastronomic paradise" with special dishes and delicious taste which cannot forget at any other destination.
Coming to Hanoi, no tourists can forget the taste of pho, crab noodle soup, bun thang, steamed sticky rice with chicken, La Vong fried fish, shrimp cake in West Lake, and summer rolls.
Central cuisine attracts visitors by the cakes and sweet soups of Hue, Quang noodles, and Cao Lau, while the southern land is characterized by hot pot dishes, baked seafood and other dishes from seafood with the available fruits.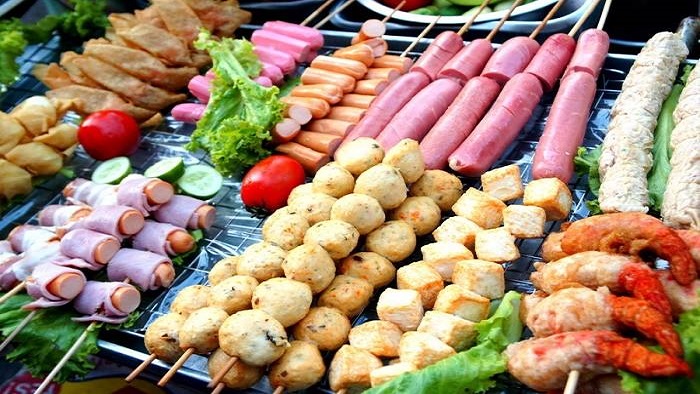 Street food
The Vietnamese people are no stranger to the image of foreigners sitting on the sidewalk holding chopsticks just to enjoy a bowl of pho or snail noodle in the familiar street corner.
More and more famous chefs come to Vietnam for the taste of Vietnamese food, including Didier Corlou from France who is currently the chief of the Metropole Hotel in Hanoi.
Some Vietnamese and foreign culinary researchers have commented that Vietnamese food is more attractive to tourists because of their raw materials such as vegetables, fruits, nuts, and seafood. Vietnamese dishes are not too much meat like European dishes, less greasy than Chinese dishes, less spicy than Thai food.
Most importantly, the dishes include green vegetables, in the decoration and combination of spices, which are harmonious and have a very specific sauce. Each region has some unique and attractive dishes. Many ingredients and spices dishes of Vietnam are medicinal plants that have the therapeutic effect.
Along with the development of tourism are the introduction of more and more restaurant and hotel systems serving tourists to enjoy pure Vietnamese food. Many restaurants and eateries in the South or the North have become the popular names for many visitors such as Quan An Ngon Restaurant, Sen Ho Tay Restaurant, Ha Thanh Sen Restaurant, Bun Ta shop, Vietnamese noodle shop, and Vietnamese food street with hundreds of daily dishes for visitors to choose. These restaurants are top choices for Vietnam group tour packages.
Millions of overseas Vietnamese have also contributed to bringing popular traditional food in many countries around the world, most well known as Pho.
Attractive adventure travel
Adventure travel is one type of tourism attracting the attention of many tourists and also the reason why you should definitely travel to Vietnam. With its three-quarters of hilly terrain, numerous creeks, beautiful caves, more than 3,000 km of coastline, many tropical rainforests as well as nature reserves and large national parks, Vietnam has great potential for the adventure travel.
The most appropriate types of adventure travel include walking, climbing, diving, windsurfing, parachuting, racing, motorcycling, biking, boat racing, etc in the majestic, beautiful and pristine mountainous areas in the North and Central Highlands which are the great places for adventure tours in Vietnam.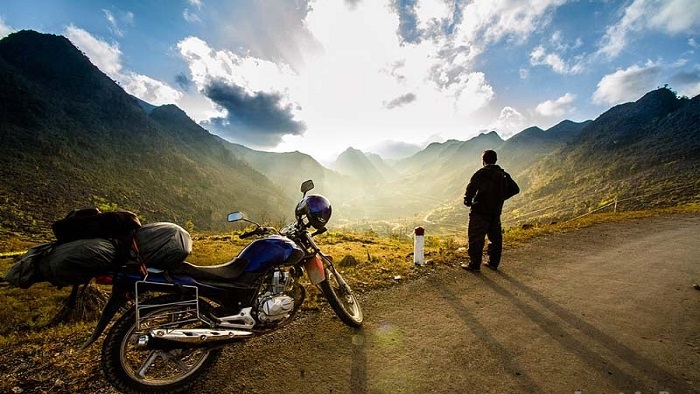 Motorbike travel in Vietnam
Friendly person
Asia is the friendliest place in the world for foreigners to live and work in. Among them, Thailand, Vietnam, Hong Kong (China) and Malaysia are the top countries.
In addition, the Hub Park travel website, when coming to Vietnam, also emphasizes that Vietnam is a typical South East Asian country for the local enthusiasm. Visitors coming to Vietnam will always be amazed at the generosity of the local people here. In particular, the smile is characteristic of the Vietnamese, smiling to anyone, anywhere...
If you concern about Vietnam travel, please contact us for more information. Share this article if it is helpful for you!