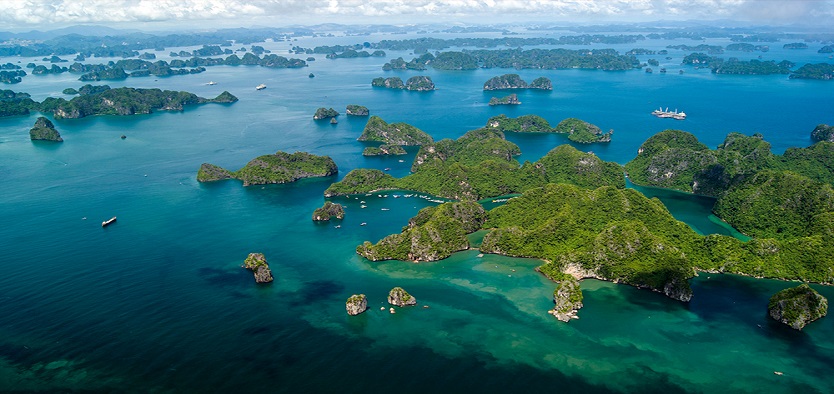 Located on the coast of Southeast Asia, the country of Vietnam has lots of beautiful attractions and amazing tourist destinations to visit and experience. Here are the amazing places we would recommend to anyone thinking of visiting the South of Vietnam in no particular order:
1. Saigon (Ho Chi Minh City)
Although Hanoi is where the head of Vietnam is, Ho Chi Minh (formerly Saigon) is probably where its heart can be found. This bustling city of around 7 million inhabitants is a hive of activity 24/7. There is a huge amount to do in the city, the main tourist attractions are probably the Reunification Palace which is the site where the Vietnam War symbolically came to an end. Interestingly the city is also home to a cathedral named after Notre Dame in Paris (picture below) – visiting hours are limited but it is well worth a look.
Saigon Opera House (Municipal Theatre): Modelled on the Petit Palais in Paris, this striking example of French Colonial architecture is easy to reach and regularly hosts some of the city's best concerts.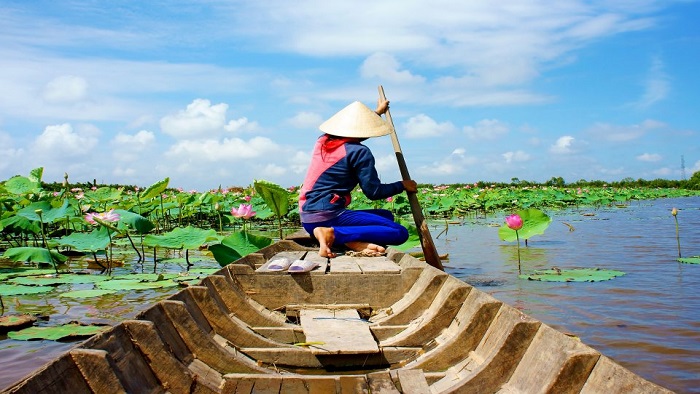 What to see in Southern Vietnam
How did the Americans lose the Vietnam War? On a Saigon excursion, your guide will lead you through hidden trap-doors to explore the Cu Chi tunnels that helped thwart the US army at every turn. Visitors to the tunnels will be led by a guide who takes you through a maze of tight dark tunnels where you get a real feel for how the Vietcong lived. A tour of a Vietcong headquarters, complete with maps on the wall, ends with trying some of the rations that would have been eaten by the Vietcong during periods where they could not get out. You may also get the chance to test out some of the military hardware leftovers such as M16 and AK47 rifles on the onsite shooting range.
2. Mekong Delta
Here you can find the most beautiful places to see in Mekong Delta.
Cai Be Floating Market is still the principal attraction on a boat tour from Vinh Long, though it has shrunk considerably due to the building of bridges in the delta and the subsequent transportation of goods by road rather than the river. The market is at its best around 6 am.
Wholesalers on big boat moor here, each specializes in different types of fruit or vegetable and hangs samples of their goods from tall wooden poles. It's an hour by boat from Vinh Long. Besides, Cai Rang and Phong Dien floating markets are also very famous floating markets in Mekong Delta. Visiting one of three markets is one of the things you do not miss in the list of what to do in Mekong Delta.
Traveling almost 6km to the west of Chau Doc Town, An Giang Province, you will have a chance to view the 230m-high Sam Mountain with beautiful landscapes and many historic remains. Sam Mountain is the highest mountain in the Mekong Delta.
On the way there, you can enjoy the sights of the two paddy fields along the road, and drop by for a short visit to a small Khmer village. You will have a short walk up on the mountainside to see the daily life of mountain people. There are dozens of pagodas and temples, many of them set in caves, around Sam Mountain. The Chinese influence is obvious and Sam Mountain is a favorite spot for ethnic Chinese (both pilgrims from Vietnam and abroad).
In a fantastic location facing the Can Tho River and decorated with huge incense coils, Ong temple is set inside the Guangzhou Assembly Hall, and wandering through its incense-coil-filled interior is very enjoyable. It was originally built in the late 19th century to worship Kuang Kung, a deity symbolizing loyalty, justice, reason, intelligence, honor, and courage, among other merits.
People are often eager to rush to Ca Mau Cape just to have a chance to touch the southern point of Vietnam. However, the Mekong Delta of Ca Mau has more to offer such as its evergreen cajuput forest for tourists to admire the fresh atmosphere, indulge in the pure surroundings as well as explore the riddles of nature.
3. Cat Tien National Park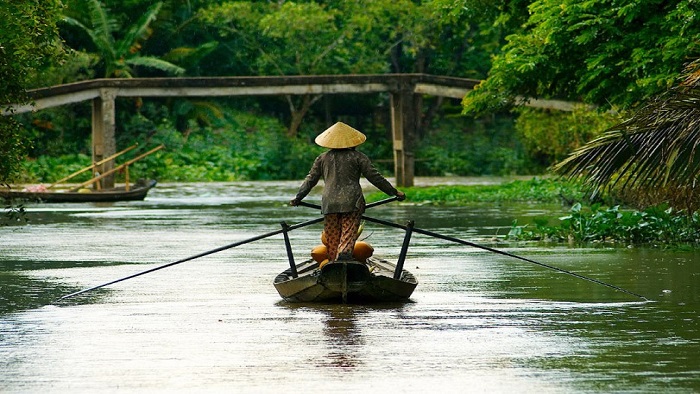 What to see in Southern Vietnam
Measuring around 720km², this famous Vietnam National Park is a treasure trove of wildlife and it is home to many endangered species. We would highly recommend visiting the park even if it's just passing through it is that good. It is a fair way from Ho Chi Minh City through (about 150km) so be warned that the journey will take several hours, especially on Vietnamese roads.
Once inside one of the largest areas of rainforest in Vietnam, it's like you're transported into another world. The dense jungle is obviously a risky place for someone to be who doesn't know what they're doing; for this reason, you should always be accompanied by a guide. If you're fortunate enough you may see Asian elephants, bears, tigers, and hornbills.
4. Phu Quoc island
Although the quiet island of Phu Quoc lies just off the coast of Cambodia it is part of Vietnamese territory and is becoming increasingly popular. It has acquired a bit of legendary status with backpackers in Vietnam due to its stunning beaches, clear seas and great bars
It is pretty much like any high-class beach destination in the world. Aside from relaxing by the pool or lounging at the bar with a cocktail or two, there are plenty of things to do in Phu Quoc. Seeing as you are so close to such beautiful water it's a shame not get involved with that at some point; jet skiing, diving, fishing, and even personal boat hire are all great options.
Here are some of the amazing attractions you should visit on Phu Quoc Island of South Vietnam:
Pepper fields
Buddhist temples
Vietnam's most popular Fish Sauce Manufacturer
Waterfalls
Pearls from the local oysters
A Prisoner of War camp from the Vietnam War turned into a tourist attraction
Southern Vietnam is a land of beautiful natural scenery and unique culture. If you need further information, don't hesitate to let us know. Please like and share the article with others if you find it useful. Thank you.