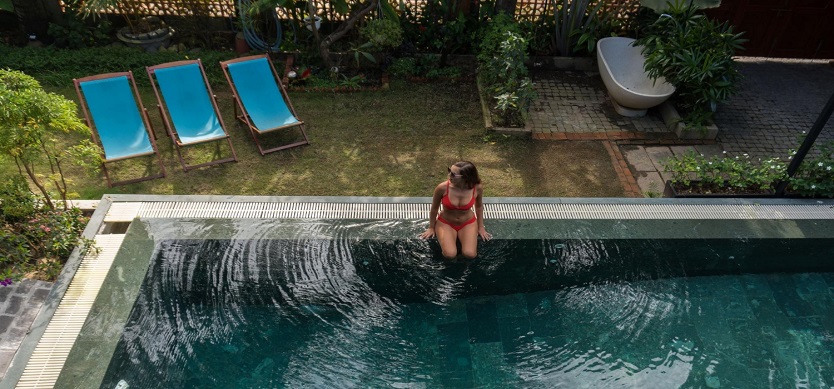 Being a tourist city, especially attracting a large number of foreign tourists, Hoi An does not lack comfortable hotels and resorts. In the center of the city, the price of the room is quite high, but it is hard to have available rooms. Tourists should book at least 2 months in advance for a good price. In the peak season, if you book late, you can find rooms away from the center, such as Huynh Thuc Khang Street, near the bus station, or Thai Phien Road.
My Son II Hotel
Address: 44 Tran Cao Van, Hoi An, Quang Nam
Hoa My II Hotel is a 2-star hotel in the same system of Hoa My I hotel. It takes a 5-minute walk to Hoi An ancient town and from Da Nang International Airport is approximately 45 minutes by car.
Hoa My II is a 2-star international standard hotel with 20 spacious rooms with balcony, large windows facing the street. All rooms are fully equipped with air-conditioner, bathtub, water heater, refrigerator, cable TV, local and international telephone. Guests can relax and enjoy the quiet space with an indoor swimming pool.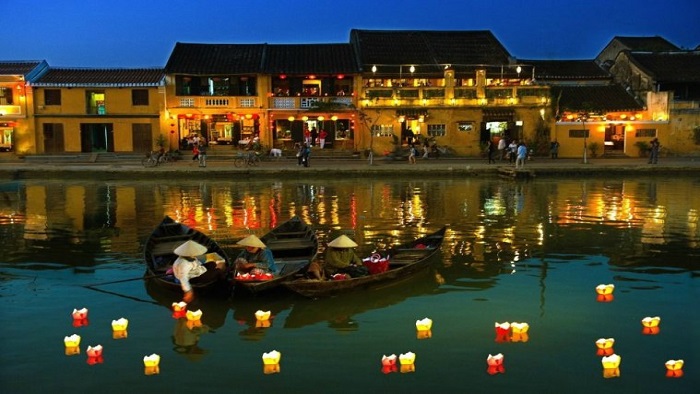 Where to stay in Hoi An
Hoa My II Hotel has its own restaurant serving European and Asian dishes and local specialties. There are also services such as booking air tickets, train tickets, car, and organizing tours.
Green Field Hotel Hoi An
Address: 423 Cua Dai, Hoi An, Quang Nam
The Green Field Hoi An Hotel is ideally located in the heart of Hoi An, 35 km from the airport and Da Nang Railway Station. You can walk to the center of Hoi An ancient town and very conveniently go to other famous tourist attractions in the city such as Hoi An night market, Hoi An covered bridge or Hoi An riverside.
Green Field Hotel Hoi An was built in 1999 with a 3-star standard, with the motto "Quality - Friendly - Efficient". The stay at Green Field Hotel will make you feel satisfied and fully comfortable as home.
The hotel has 60 bedrooms, most of them with balconies overlooking the pool and garden. All rooms have windows with modern amenities and a full range of three-star hotel services. The restaurant serves up to 100 guests with many Asian-European dishes, famous cocktails, and specialties of Hoi An, located next to the swimming pool. The outdoor pool with massage services designed by French technology will surely make guests feel relaxing and separated from the noisy outside noise.
With a convenient location, visitors can design their own schedule or book tours exploring the famous sites at the hotel front desk to get the most memorable Hoi An trip. About 500 m from the post office and bank, 800 m from the market and the ancient town, only 10 minutes by foot to Cua Dai beach, the hotel is conveniently located for bathing and shopping.
Aurora Riverside Hoi An
Address: 242 Cua Dai, Hoi An, Quang Nam
Aurora Riverside is a 3-star hotel with 6 floors of 64 well-equipped rooms. The hotel is located near Hoi An ancient town, surrounded by beautiful gardens. From the hotel, you can admire the green rice fields to the horizon and the romantic and poetic river Do.
With the elegant design, the friendliness and enthusiasm of the staff, you will have a comfortable and relaxing sleep after a long day of exploring in any room type.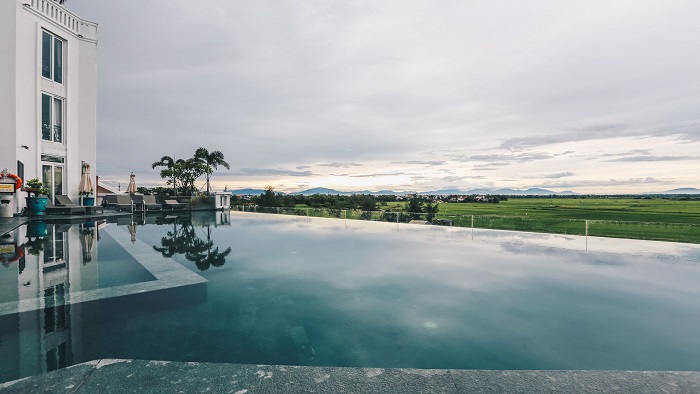 Where to stay in Hoi An
The Field Restaurant is the outdoor restaurant of the hotel, located on the first floor, with traditional décor, with views of the Do river. The restaurant serves local specialties, European and Asian dishes for about 200 guests. With experienced chefs and enthusiastic staff, The Field Restaurant will bring you traditional Vietnamese, European and Asian dishes. Guests can choose to sit out on the porch overlooking the pool or sit indoor with a cozy and luxurious space.
Almanity Hoi An Wellness Resort
Address: 326 Ly Thuong Kiet, Hoi An, Quang Nam
Located in Hoi An Ancient Town, Almanity Hoi An Wellness Resort is the perfect place to feel Hoi An and its surroundings. Only 1 km from the city center and 30 km from the airport, this 4-star hotel attracts numerous travelers each year. This modern hotel is in the vicinity of popular city attractions. At Almanity Hoi An Wellness Resort, impeccable service and state-of-the-art facilities make for an unforgettable stay.
In addition, all guest rooms have a distinctly comfortable feel. Many rooms feature a variety of comforts such as television LCD/plasma screen, in-room safe, bathrobe, air conditioning, desks to please even the most discerning guests. The hotel offers recreational facilities, which include massage, indoor pool, sauna, spa, kids club. Almanity Hoi An Wellness Resort is an ideal place of stay for travelers seeking charm, comfort, and convenience in Hoi An.
Guests can enjoy a panoramic view of Hoi An ancient town, Hoai river, Thu Bon river, etc. or boat on the river to visit Cu Lao Cham, Cua Dai beach. These are the famous places of Quang Nam with many tourists choosing to book tours and discover.
Hoi An Beach Resort
Address: 01 Cua Dai, Hoi An, Quang Nam
Hoi An Beach Resort is a 4-star hotel located between the romantic De Vong river and Cua Dai Beach, famous for its ancient Vietnamese villas and houses. The rooms have a peaceful and wonderful atmosphere with TV, refrigerators, water heater, scenic balconies, free Wi-fi in all rooms, safety boxes, travel services, currency exchange, car rental, etc. Come here, nothing is more attractive than enjoying the Vietnamese cuisine at the restaurant of the resort. Besides the great food, you will enjoy the traditional dance and music performed by local artists.
If you are interested in discovering intangible heritage or exploring nature, this Vietnam beach resort offers tours to Hoi An, Cu Lao Cham, My Son, traditional handicraft villages, Tien stream, etc. Or you can enjoy the delicious specialties here such as green eel porridge, Quang noodles, etc.
With a staff of experienced, professional style, 24/7 service, and modern facilities, your trip will be more complete and meaningful if you choose Hoi An Beach Resort.
Here are some suggestions for you about places to stay when traveling around Hoi An ancient town. Hope that you can choose suitable accommodation for your trip to this beautiful city.
For more information about Vietnam package tours and travel guides, please visit our website. You also can share this post if it is useful for you.