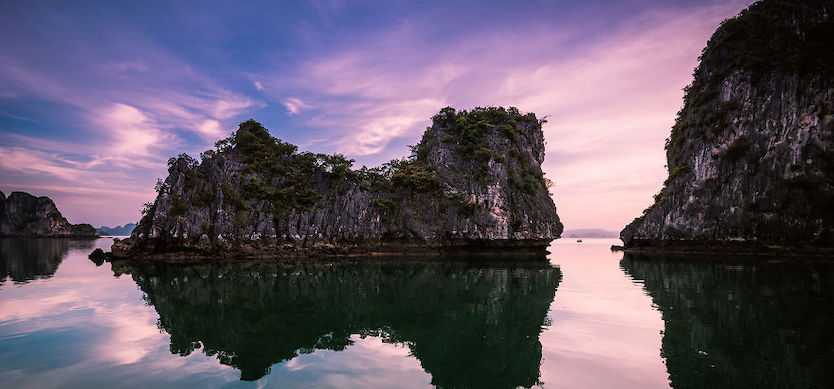 UNESCO has repeatedly recognized Halong Bay as a World Natural Heritage with thousands of islands made by magnificent nature as a vivid marine picture.
Traveling to Halong Bay from Northern Vietnam is very easy and accessible, but for those from the Central like Hoi An, it's more complicated.
But don't worry. You'll find all the necessary things to have a safe and convenient trip to Halong Bay from Hoi An in this article. Read on choose the best way for you.
How far is it from Hoi An to Halong Bay?
Halong Bay is located in the Gulf of Tonkin, Halong city with diverse flora and fauna, charming islands, beaches, rocky islands, and unique culture, attracting a lot of domestic and foreign visitors every year.
At the same time, Hoi An ancient town is a tourist spot in Quang Nam province, near the famous city of Da Nang. Therefore, a combining trip of both Da Nang - Hoi An - Halong Bay will leave you a memorable experience on your vacation. After visiting Da Nang, you can move to Hoi An and then transfer to Halong by various means.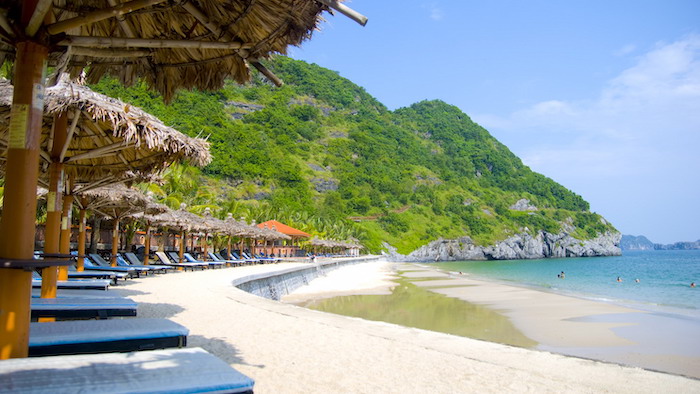 Halong Bay beaches
The route from Hoi An to Halong Bay is quite far, about 900 kilometers. Hence, you can reach here by plane and passenger bus.
Best ways to move from Hoi An to Halong Bay
Plane
Traveling by plane is the fastest yet most expensive means of transportation from Hoi An. But if you can hunt deals, your budget will be saved with ticket promotion.
However, because both Quang Nam province and Halong city don't have an airport, you must transfer from Hoi An to Da Nang International Airport to Cat Bi Airport (Hai Phong) or Noi Bai International Airport (Hanoi), then continue to go to Halong.
Hoi An - Da Nang - Hai Phong - Halong Bay
From Hoi An to Da Nang Airport, you can choose to go by taxi or passenger bus. The price of a 4-seat taxi is about VND 350,000-430,000, and a bus is approximately VND 140,000/guest. Travel time is 1 hour.
The ticket prices from Da Nang Airport to Cat Bi Airport are around VND 1.1-2.5 million depending on different airlines and times. The travel time is 1.25 hours.
From Cat Bi airport to Halong Bay is about 65 kilometers, so you can choose to get here by passenger bus or taxi. The taxi will cost you VND 700,000-850,000 for 4 people.
If you go want to catch a bus, you need to move to the nearest bus stations to save costs and time such as Cau Rao or Niem Nghia. Ka Long (0332 223 186), O Ho (0974 989 989), and Hai Phong (0313 856 275) are the recommended bus lines for you. Ticket prices are VND 120,000-140,000/guest.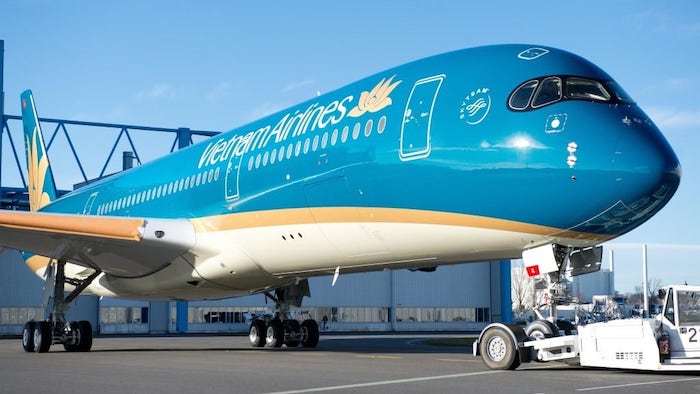 Traveling to Halong Bay by plane
Hoi An - Da Nang - Hanoi - Halong Bay
After reaching Noi Bai airport, if you want to spend some days exploring the capital city, you can choose a bus, passenger bus, or taxi which respective prices of VND 14,000, VND 30,000, and VND 150,000-220,000 (4-seat taxi).
After exploring Hanoi, let's catch a taxi to My Dinh or Luong Yen bus stations to buy bus tickets to Bai Chay bus station (Halong city) how to get from Hanoi to Halong Bay. Travel time is about 3.5-4 hours, and the ticket price is VND 100,000-200,000/guest.
Also, limousines are a convenient means of transportation that you can consider. Compared to passenger buses, the limos are more comfortable with high-standard services on the bus like air conditioning, water tissue, free water, charging, and Wifi, etc. The ticket price is around VND 180,000-240,000/guest. Tam Bao Anh, Green Lion, Ninh Quynh, Phuc Xuyen, and Minh Anh are the reputable bus lines for travelers.
Passenger car
There are many bus lines offering the route Hoi An - Halong, so it's very convenient for travelers that they don't have to move among many destinations. The most reputable bus companies include Kumho and Luxury Transport. The ticket price is around VND 450,000-650,000/guest.
Nevertheless, it will take you more than 16 hours to get to Halong Bay.
How to visit around Halong Bay
Staying on Halong cruises
To visit Lan Ha Bay from Halong and other attractions on Halong Bay, there's no better way than stay on a ship. With a cruise tour, you'll be able to explore the most popular sites and enjoy various activities in the caves, fishing villages, on the islands and beaches, etc. The prices for a 2-day Halong Bay tour are diverse, from VND 2 million to 9 million/guest.
Otherwise, there's a variety of private boat day-tours for you to enjoy the bay. The fare is VND 1-1.3 million/guest. You can combine the visit to Halong bay and the city by renting a motorbike at VND 100,000-150,000/day.
Hope that with our detailed guides of ways to move to Halong Bay from Hoi An, you'll be able to save the joyful time here. Also, for further information, don't hesitate to let us know or visit our website. If you find the article useful for you, please like and share it with others. Thank you.