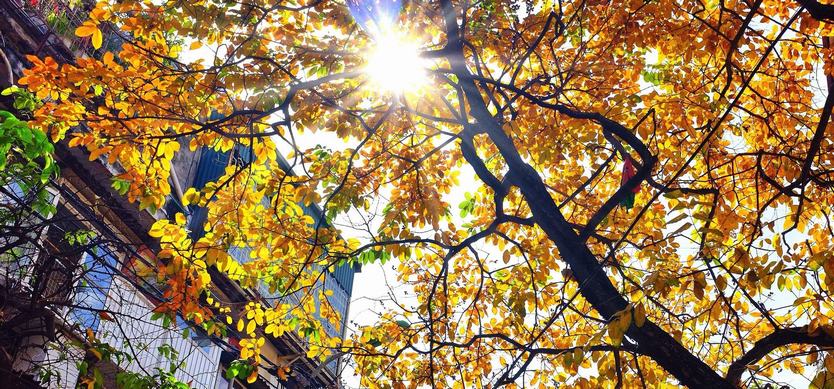 Just to autumn, Hanoi has promptly put on her a glamorous gown. Time as stops to catch the autumn quietly through the old town, surfing on moss roof and leaving behind a carpet of rustling yellow leaves. The sky is full of nostalgia.
I sometimes come to Hanoi on the balmy autumn day, and little indescribable emotions are always in my mind. Perhaps there is no place on this S-shaped land where you can feel the gentle and deepness as Hanoi autumn. Space is outlined by the blue color of the sky, sunshine, golden leaves, and the pristine white of "Ao Dai" dress flying on a windy afternoon.
The fall is a priceless gift nature has given to this thousands of years land, and then only once of coming is a thousand times of missing. I love the early morning of wandering on the old streets and seeing a new day. On an early morning, the roads are too quiet and peace. The morning market is crowded by sisters preparing her full burden of "Cốm Làng Vòng," fresh fruits of autumn to go to all Hanoi streets.
Specialties of Hanoi in autumn
Green rice flakes of Vong village
This dish is considered to be the unique one on a Hanoi tour and often come from Vong Village (Lang Vong). Being pass from generations to generations, the traditional recipe has not changed a bit, and that keeps its taste. The rice made from large-size-glutinous rice during early autumn. Green rice is fried, slimy when eating and has a strong paddy field smell. This green rice flake is the best gift for your family and friends.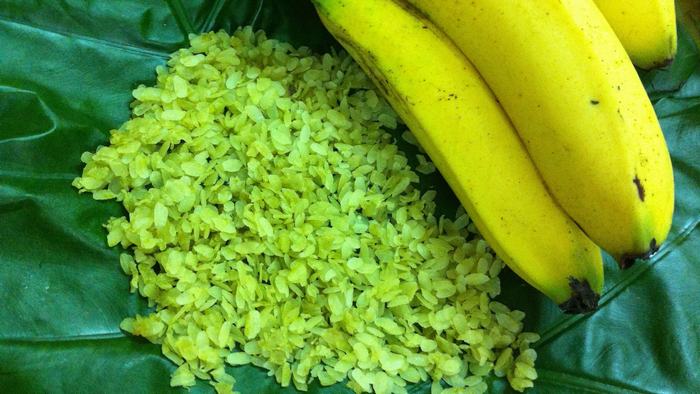 Green rice flakes of Vong village
Sugared dry apricot Hang Duong
The apricot located on Hang Duong street especially suits the people who love sour taste combined with a little sweet and spicy. These sugared dry apricot store has appeared for a long time, passing the traditional to generations. You can also check out these stores like Tien Thinh (21 Hang Duong St.), Hong Lam (11 Hang Duong St.), Gia Loi, Gia Thinh, etc. This product has various flavors suitable for many tourist tastes.
Green rice flakes cake Hang Than
Made of green rice flakes, this meal has an elegant & pure taste. The flakes are selected carefully. One famous store in this street will be the Nguyen Ninh. Many tourists have been there.
Places to visit in Hanoi
Exquisite silk Hang Gai & Van Phuc Village
Famous for enchanting silks through many years, this product is made from original sewing silk, which is sensational fresh. Ao dai – Vietnam traditional dress – is made by this material, and you should visit Hang Gai to obtain these. You can also contact directly to Van Phuc Village for a better price.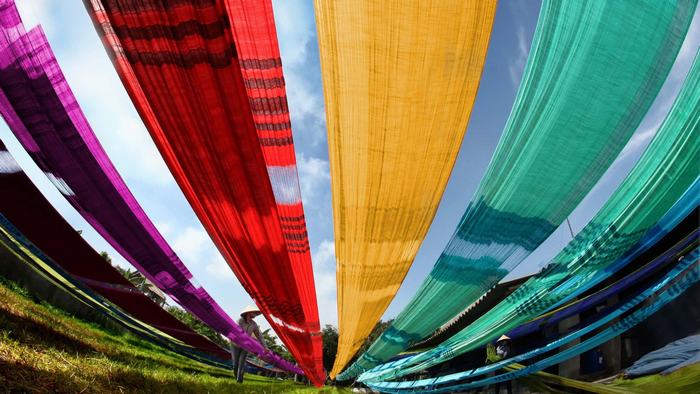 Van Phuc Village
West Lake, Tay Ho Temple, Tran Quoc Temple
West Lake is considered to be "the green field of Ha Noi capital" due to its large squares size among other famous lakes in Hanoi. Many restaurants surround the lake, creating a harmonic and charming scene.
Not far from West Lake is the Tay Ho Temple, which is the altar for the holy Lieu Hanh princess. The altar accepted guest coming for the blessing.
Ancient Tran Quoc pagoda lies on a goldfish island, closed to Thanh Nien St, and built from Le Thanh Tong imperial to strengthen the nation. On the opposite, Quan Thanh Temple is also a place you should pay a visit during autumn. Built from the Ly Dynasty, this temple has a giant statue & bell made in dark bronze in 1677.
In autumn, all these places coat themselves on an elegant & soft yellowish. And thus, many tourists consider these places to be the most beautiful place in Hanoi during autumn.
There is Madam Nguyet Home 1 – H2H, a cozy & lovely homestay which you can pay a visit for a relatively low price. Among many homestay Hanoi, this is the most beautiful on in our opinions.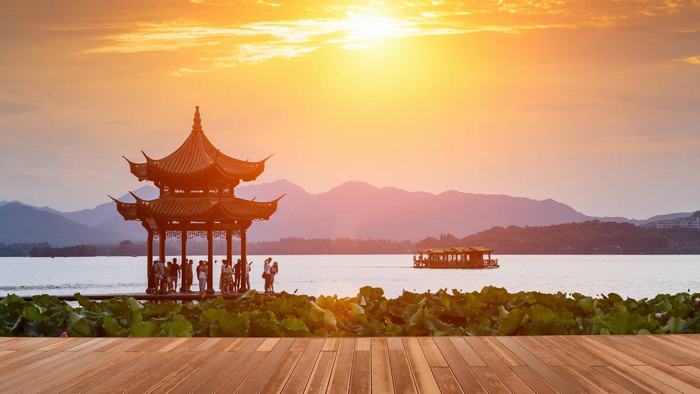 West Lake at the sunset
The Old Quarter
Mixing with many crowded streets and complex old building, the old quarter has become a famous tourist place from all over the place. Walking is the only way to discover this place at the fullest with its zig-zag structure. All the quarter is connected by a small & deep alley which there's only one can walk in.
Take a slow walk in Hoan Kiem lake, visit the ancient turtle temple. It is the thing you could do in this area. These also happen to be the old street in Hanoi Old palace or Hoa Lo Prison.
We hope you had a brief and complete view about Hanoi in autumn. For more information about Vietnam group tour, you can visit our website. Do not hesitate to contact us if you have any questions. Have a nice trip!