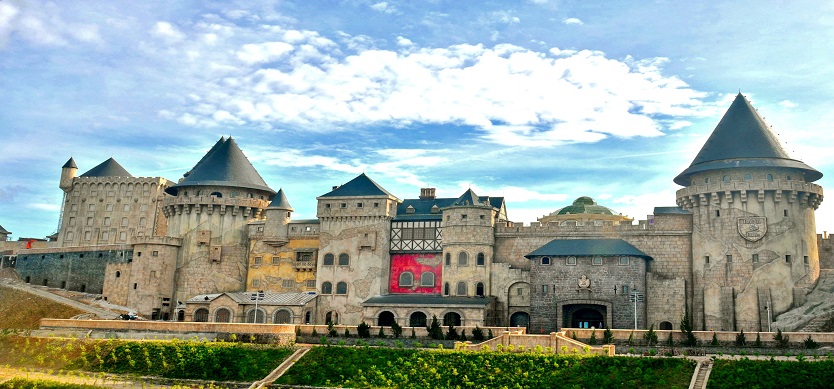 Located in Ninh Hoa, Hoa Vang district, apart from Danang 40 kilometers to the southwest, Ba Na – Mount Chua is a tourist destination that tourists coming to Danang should not miss in their trip. It is 1,487 meters high over the sea level. The climate is relatively cool with average temperatures below 20 degrees around the year. Along with the majestic mountain scenery, Ba Na Hills is one of the most attractive destinations not only in Danang but also in the central region.
The ideal time to travel to Ba Na Hills
Tourists coming to Vietnam often spend some days visiting Danang and then take the Danang Hoi An tour. And most of the tourists coming to Danang from Hoi An often choose to spend the first day visiting Ba Na Hills.
In Ba Na Hills, with a cool climate all year round, a day can experience four seasons: spring in the morning, summer at noon, autumn in the afternoon and winter in the evening. Tourists can travel to Ba Na Hills at any time of the year. Compared with Da Lat, Ba Na Hills Danang has precedence of a panoramic view. From the top of the mountain, one can have a vast view of the sea, Danang city, rice fields spreading to the horizon.
Touristy moment of Ba Na is from April to September each year as travelers tend to go in the summer and this period coincides with the long holidays. If you're a fan of the bustle, this is the appropriate time to meet and interact with many domestic and foreign friends. If you want to find a quiet space to avoid the noise of urban place, you can choose to go to Ba Na Hills in midweek or winter period, from October to February.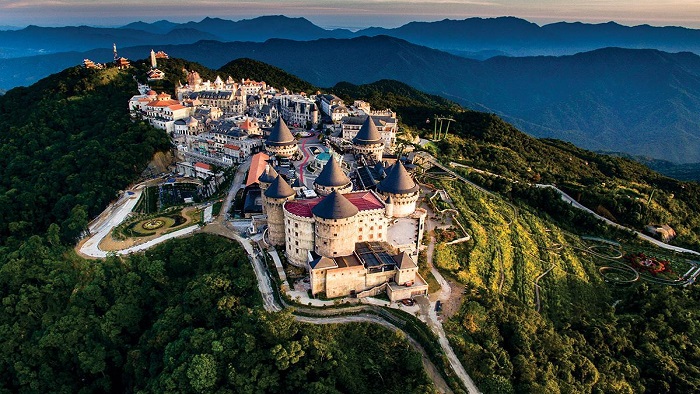 Ba Na Hills from above
How to get to Ba Na Hills
There are several ways to Ba Na, depending on the number of people that you can choose appropriate transportation. Ba Na Cable Car serves not only transport passengers up and down Ba Na Hills but also an attractive tourism product. Sitting on cabin cables hanging halfway clouds, looking down at the bottom of the vast mountains, tourists can see the mountains, waterfalls… which are very impressive and spectacular.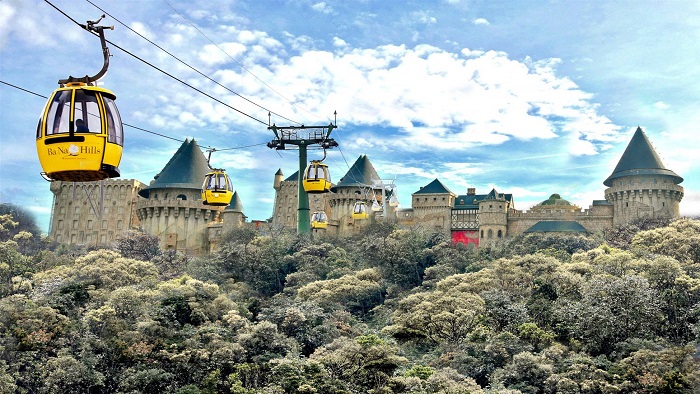 Ba Na Hills cable car
What to see in Ba Na Hills
Train service mountaineering
Previously, when tourists want to visit Le Jardin D'Amour garden or Debay wine cellar, they have to queue, which takes a lot of time. However, this problem has been overcome completely with the train service mountaineering. Not only can tourists save time, but they also see the honest and approachable landscape of Ba Na Hills. Looks "adventure" but actually train system has been designed and equipped very definitely, absolutely safe for all ages. Ticket price for adults is 100,000 / ticket and you get a free wine cellar tour.
Le Jardin D'Amour Flower Garden
This great flower garden is designed in European style and divided into seven small gardens. Le Jardin D'Amour Flower Garden is romantic, ancient and picturesque. Each small flower garden carries one theme and different layout to the gathering of so many beautiful flowers of Europe. Le Jardin D'Amour Flower Garden promises an interesting and multicolor space for those who want to take photos.
Debay Wine Cellar
Debay Wine Cellar is located just beyond the Shakyamuni Statue, built in 1923 and still in excellent condition. Tourists coming to Ba Na Hills do not forget to discover the Debay Wine Cellar, home to an abundance of grape wines. Once a luxury entertainment area for the French, Debay now offers a large stocked bar with cocktails, light snacks and, of course, various grapes and wine vintages. It's really a good idea to discover the cellar under warm light, surrounded by the scent of European wine, along with oak-wood wine tanks.
Fantasy Park
With an area of 21,000 m2, Ba Na Hills Fantasy Park satisfies the entertainment demands of all ages, featuring amusing games for children to X-games for adults. Once you come here, you will get lost in an entertainment paradise with all kinds of game, from the game for tiny kids to the arcade adventure, thrills… all in all. The international-standard theme park also provides three main food courts serving Western and Asian food alongside souvenir shops offering various mementos to choose from.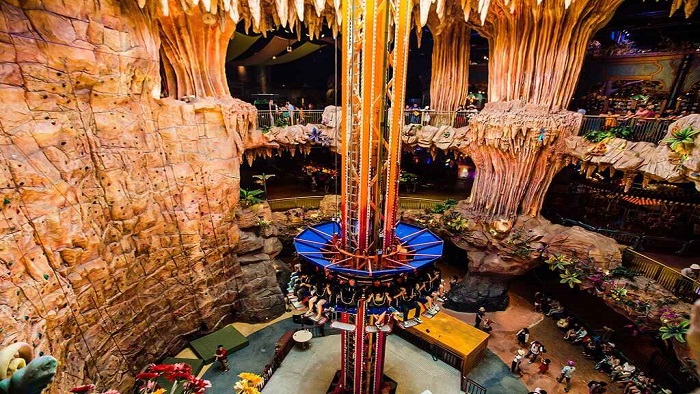 Fantasy Park
Wax Museum
In the Wax Museum, tourists can see a copy of showcase politicians, celebrities from all over the world. Here, they can meet and take pictures with the actors, soccer stars like Lionel Messi, David Beckham, movie star Jet Li… Admission fee is 100,000 VND for adults and children over 1.3 m. Free for children under 1.3 m.
Mo Stream
At the base of the Ba Na Mountain, about 30 kilometers west of Danang, Mo Stream is another attraction worth a visit, typically in combination with a trek up the mountain. The pristine stream lures people by its natural landscape. The most striking feature is the harmony of stream and cliffs in nature. Coming here, you can take the greatest pleasure of swimming in the cool water.
Hopefully, with this experience, you will have an interesting and meaningful trip to Ba Na Hills with your relatives and friends. If you have any question, please contact us via the Vietnam group tour. Thank you!