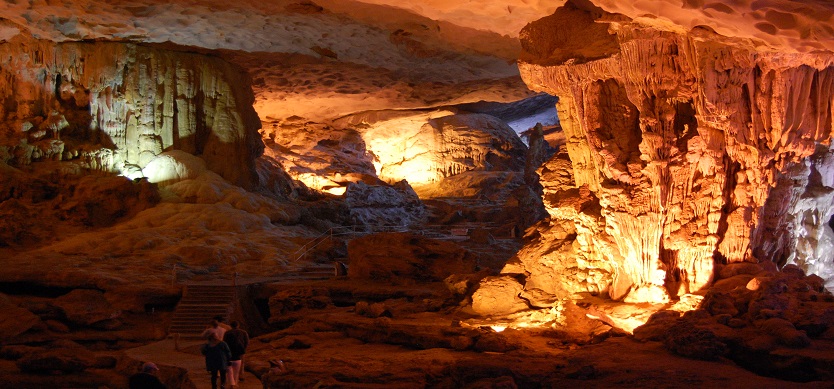 Thien Canh Son is a fairly wild cave located on Bai Tu Long Bay and Halong Bay, hidden in the Cong Do conservation area. This is a pristine and vast cave covered with thousands-year-old magnificent limestone stalactites and stalagmites as a fairytale castle, becoming an ideal place where to go in Vietnam.
Thien Canh Son - a mountain of the heaven
Thien Canh Son cave is also called Hang Co (Grass cave) by the local people. The entire area has approximately 1,600 large and small islands, many of which have small caves inside like the beautiful pearls of the ocean. The gate to this world is not always available because you cannot step into the cave in the water. Therefore, many rare dry caves exist to unveil the beauty of Halong Bay. The name of Thien Canh Son cave has said it all: a mountain of heaven - a mysterious wild beauty oversleeping for thousands of years.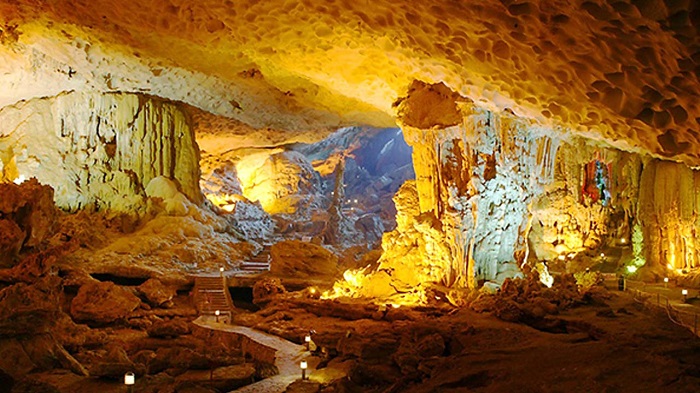 Thien Canh Son cave
To visit this cave, visitors have to step up about 100 stone steps which are placed under the forest canopy and climbing cliffs. Crossing the way will bring to tourists the new and exciting feeling as climbing to the sky gate.
With the mysterious beauty of stalactites inside the cave, Thien Canh Son is like a theater in the middle of the sea. The whole dome here is covered with thousands of sparkling stalactites together with the wavy arches creating unique images, stone statues, dragons, and flowers. All the landscapes have made a beautiful world beyond imagination.
The stalactites inside the cave have created many unique images such as the portrait of a lotus or a baby elephant. The ceiling is covered with a layer of "shiny carpet" with a variety of sparkling stalactites appearing as the beautiful view of "hanging lights", stone statues, and elephants, etc. The stalactites are thousands of years old with a myriad of unique and impressive shapes that make visitors fascinated and cannot take their eyes off.
Get out of Thien Canh Son cave, tourists will be surprised by the beauty of Bai Tu Long Bay when viewed from above. Here they can enjoy the scenery and take beautiful pictures to save this memorable impression. Right at the bottom of Thien Canh Son cave is a flat and long white sandy beach. After visiting the cave, visitors can freely bathe or join the Kayak on this beach. The vegetation at the foot of the cave is also extremely diverse and luxuriant, covering from the foot to the top of the rocks, suitable for those who love to learn and study plants.
In the vast space of Thien Canh Son cave, a number of restaurants are built with the unique architecture. Especially, guests can order and eat in the cave with family, friends, and relatives. Thien Canh Son cave will definitely offer visitors the moments of peace, romance, and originality that nowhere else has.
When to travel
Before visiting Halong, tourists should research the most appropriate time and the weather as well to get the best experience here. There are two periods that best suits for visitors: from March to May and from August to October. Otherwise, the time between December and February is very ideal for those who want to relax in a peaceful and dreaming trip to the sea.
Halong Bay in summer
How to travel
Halong city is approximately 170 kilometers from Hanoi, so travelers will have various choices to go from Hanoi to Halong Bay.
If travelers choose to drive a car, they can go along the Hanoi - Bac Ninh - Halong route in 2-3 hours, the Hanoi - Hai Duong - Halong route in 3-4 hours, or the Hanoi - Hai Duong Haiphong - Halong in 3-4 hours.
To be safer, tourists can choose the Hanoi to Halong Bay train at 5.15 a.m daily, taking about 7 hours to arrive. The train to Halong will start from Yen Vien station, Gia Lam, Hanoi.
The other way is picking up cars of different manufacturers to Bai Tu Long, Halong Bay with an average price ranging from VND 100,000-250,000/person depending on the standard and the destination of the car, lasting about 4-5 hours. Many prestigious car companies for them to choose are Dai Phat, Nghia Anh Limousine, Duc Thanh, Ka Long, etc.
To travel in the city, tourists can use taxi companies like Mong Cai, Halong, Hon Gai, Mai Linh, etc that they can be assured all the prices have listed on the car.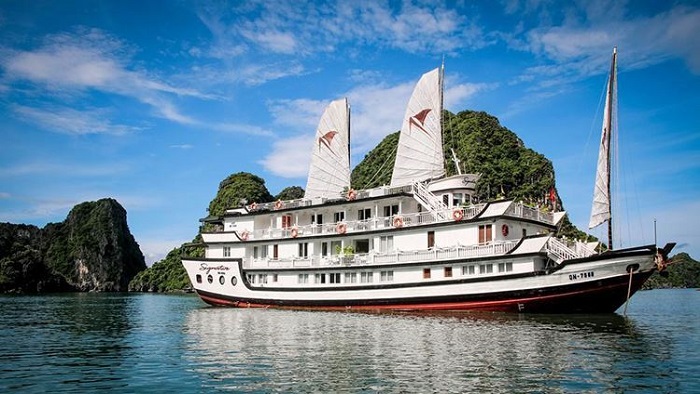 Cruising in Halong Bay
Visitors can go on a Halong tour cruise in Bai Chay port and Halong pier, or contact diverse companies to rent a boat such as Duong Hai company, Halong Bay service center, Hai Au company, Paradise Luxury Cruises, etc. Tourists can book a cruise on a daily basis, depending on the time and type of boat, and they better contact in advance to avoid high prices.
Thien Canh Son is one of the few caves with mysterious and unique beauty in Halong Bay. Coming to this place, visitors will have a wonderful, impressive and unforgettable experience in the journey to explore the land of heritage. If this is helpful for you, please like and share it with others. To have more information about a Vietnam group tour, don't hesitate to contact us. Thank you.